OPINION | Yesterday Once More in Congress as Rahul Gandhi Bets on Sonia Loyalists Despite Promising Change
The veterans are back in the Congress saddle and the impulse towards generational change has disappeared behind headlines celebrating Ahmed Patel's return from a brief political vanvas.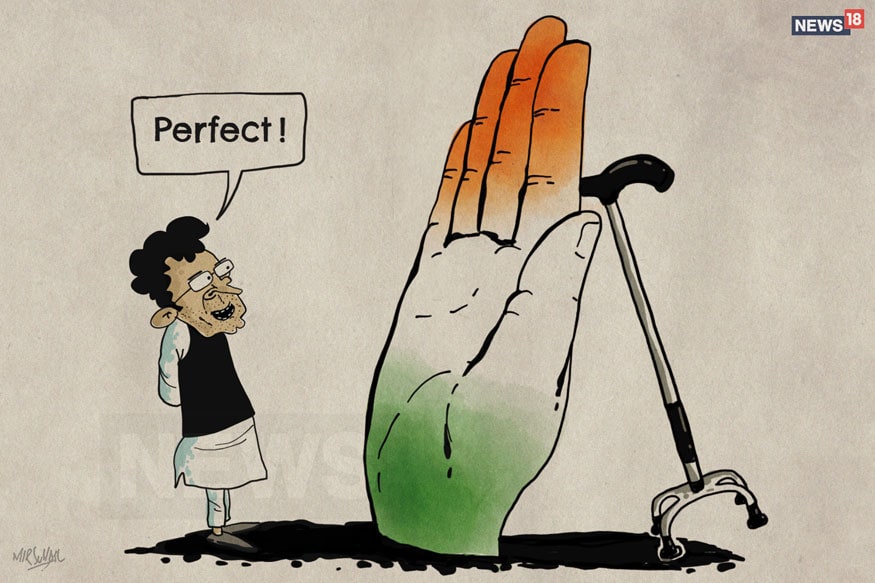 Illustraion by Mir Suhail/News18
Politicians don't retire at 60, fortunately for the Congress. If they did, the party would have a hard time finding trouble-shooters, money managers, negotiators, communicators, election managers and mass mobilisers. Rahul Gandhi had promised to build a new Congress with "talented" youngsters when he took over as party president, but remains profoundly dependent on the old guard.
The veterans are back in the saddle and the impulse towards generational change has disappeared behind headlines celebrating Ahmed Patel's return from a brief political vanvas. Unless, replacing the 89-year-old Motilal Vora with the 69-year old Patel and 87-year-old Karan Singh with 65-year-old Anand Sharma constitutes a generational shift!
At the Congress headquarters, it's yesterday once more. Familiar faces and the rabbit-warren of offices. Visitors might be forgiven for believing they are caught in a 2004 time warp. Clever wordsmith S Jaipal Reddy has returned as spokesperson of the AICC. Sloganeer Jairam Ramesh is once again setting up a 'war room' to draft the Congress strategy for 2019. Family loyalist Luizinho Faleiro is in charge of the North-East once more. Patel, indispensable backroom boy to four Congress presidents, will now serve a fifth, reprising his role as party Treasurer.
The Grand Old Party is accustomed to generational shifts. After all, Rahul represents the fifth generation of Nehru-Gandhis. But 14 years after he entered politics and five-and-a-half since he effectively took the reins, he has yet to put his stamp on the party. He has shuffled leaders like a deck of cards and finally wound up betting on his mother's aides.
As vice-president, Rahul tried to build his own core group comprising Madhusudan Mistry, Mohan Prakash, CP Joshi, BK Hariprasad etc. As president, he dropped them all and turned to the tried and trusted veterans. When the fate of Karnataka hung in the balance, seasoned trouble-shooters Ghulam Nabi Azad and Ashok Gehlot were despatched to out-manoeuvre the BJP by winning over the JD(S). Likewise, Patel and Kamal Nath were the chief negotiators in Meghalaya, where the Congress fell short of a majority. It was Gehlot who led the charge in Gujarat, where the Congress wrested 16 seats from the BJP.
The Congress Working Committee (CWC) is a senior citizen's club of septuagenarians and sexagenarians: Motilal Vora, Ambika Soni (75), Mallikarjun Kharge (76), Harish Rawat (70), Oommen Chandy (74), Ghulam Nabi Azad (69), Ashok Gehlot (67) and Dipak Babaria (65). The youngest members are Avinash Pandey (60), Mukul Wasnik (58) and general secretary KV Venugopal, aged 55.
Even as the old-timers are centre-stage in Delhi, their counterparts in the states are being exhorted to give way to youngsters. Babaria, as general secretary in-charge of Madhya Pradesh, created a furore by announcing that Assembly tickets would not be given to '60-plus' candidates. Had the 60-plus rule applied in 2014, the Congress strength in the Lok Sabha would have been negligible!
After he became vice-president and led the party to the 2014 debacle, Rahul's brigade made a strong push for a more youthful Congress. They complained bitterly about senior leaders who had enjoyed the trappings of power during the UPA government, but failed to look after the party's interests.
'Generational change' became a buzzword, with support from Rahul's grizzled confidants like Digvijaya Singh and Jairam Ramesh, who declared that "time was up" for 60-plus leaders and 30/40-year-olds deserved "positions of prominence" (he is 64).
Early on, Rahul attempted to alter the architecture of the Congress and institutionalise a mechanism to promote grassroots leaders up the ranks, but rapidly lost interest in the exercise. He made a push to infuse new blood at the top, but the old guard resisted him successfully. Captain Amarinder Singh refused to give way to Pratap Singh Bajwa, just as the Kamal Nath-Digvijaya Singh combine will not yield place to Jyotiraditya Scindia or Ashok Gehlot to Sachin Pilot.
Rahul himself is seen as youthful, but not as a youth leader. As a 'Gen X' politician, he should have appealed to the 'Gen Y' and 'Gen Z' demographic, but somehow lost the initiative to Narendra Modi. A comparison between Rahul and Akhilesh Yadav is irresistible; both are dynasts, but Akhilesh has proved himself in the field, led a government and enjoys an appeal across generations.
Greening the Congress is desirable and India is not short of capable youngsters, if the party cares to promote them. But as of now, it is the veterans who have the political skills, savvy and firepower to take on the BJP. Old is bold.
(Author is a senior journalist. Views are personal)
Get the best of News18 delivered to your inbox - subscribe to News18 Daybreak. Follow News18.com on Twitter, Instagram, Facebook, Telegram, TikTok and on YouTube, and stay in the know with what's happening in the world around you – in real time.
| Edited by: Nitya Thirumalai
Read full article