OPINION | Kamal Haasan and Rajinikanth May Bring Much-Needed Civility to Tamil Nadu Politics
Rajini and Kamal, the two actor-turned-politicians in a very different era may or may not succeed at the political box office but at least for injecting civility into the political ecosystem of Tamil Nadu, they need to be commended.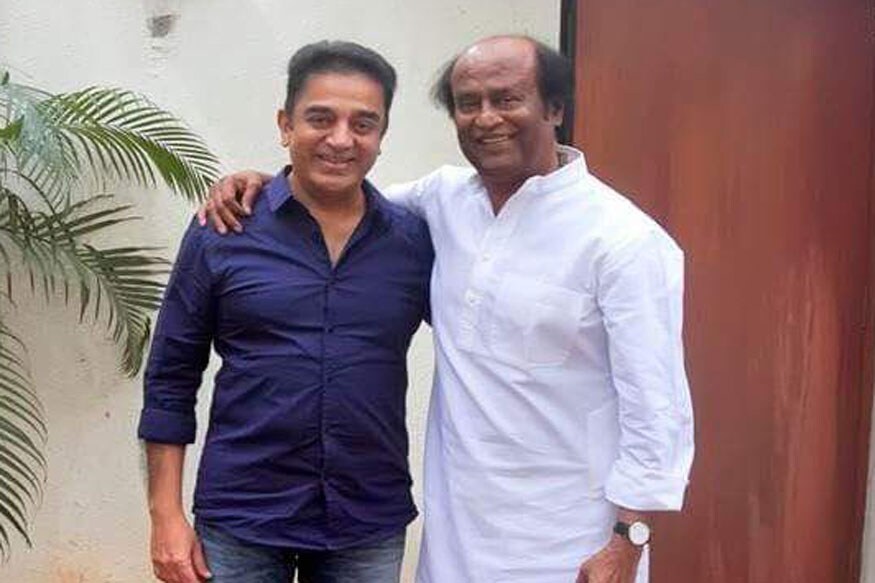 Kamal Haasan with Rajinikanth at his Poes Garden residence in Chennai (Photo: Twitter)
On a sleepy Sunday afternoon on February 18, Kamal Haasan decided to drive down a distance of less than 3 km, from his office in Alwarpet to Poes Garden in Chennai. His destination, the home of friend of over 40 years, Rajinikanth. According to the two actors, Kamal wanted to personally inform Rajini about his political tour from February 21 in Rameshwaram and Madurai. It was a courtesy call that lasted about 15 minutes.
"Courtesy" is not a word one often hears in Tamil Nadu politics. So in that sense, the fact that these two wannabe politicians can meet, greet and speak to each other is a promising sign. Even if there is a huge gap between their template of politics — Rajini's spiritual politics vs Kamal's Dravidian politics. Even if the intention is to guarantee a media overdrive, to ensure the two superstars remain talking points in TV studios before a big event. Akin to how the film industry spins a publicity binge before a release.
The argument that the two have been colleagues for long does not exactly wash because by the same yardstick, even M Karunanidhi, MG Ramachandran and J Jayalalithaa came from the same Kollywood cradle. Yet, the political theatre of Tamil Nadu between the 1970s and 2016, when the three dominated the scene, was marked more by vitriol and acrimony than by politeness. Though MGR and Karunanidhi had a personal equation going despite the bitter rivalry between the AIADMK and DMK, Jayalalithaa and Karunanidhi remained sworn enemies till the former's demise in 2016.
Jayalalithaa had good reason to be upset with the DMK right from the time she stepped into the political arena. In her biography of Jayalalithaa, Vaasanthi refers to the party conference in Cuddalore in June 1982 when the whole town gathered to hear the queen of the silver screen deliver her maiden political speech. "They mainly came to see a pretty face and were instead treated to an impressive, fiery oration," wrote Vaasanthi. The DMK, however, described her political entry as "Cuddalore Cabaret" in its party paper.
But the incident that soured their relations forever was the shameful episode inside the Tamil Nadu Assembly in 1989. When Jayalalithaa accused the ruling DMK of tapping her phones, Karunanidhi who was CM reportedly made a remark that irked her. The AIADMK created a ruckus in the House. The Speaker adjourned the House and as Jayalalithaa was walking out, DMK leader Duraimurugan clutched at her saree and reportedly tried to pull it. A furious and upset Jayalalithaa swore not to set foot inside the Assembly till she won the next election and crush this show of male chauvinism.
Jayalalithaa kept her word. Two years after that incident, she returned to the Assembly as Chief Minister with 225 seats, reducing the DMK-led alliance to a paltry seven. Her alliance vote percentage at 59.8 percent was double that of DMK's 30 percent. Karunanidhi chose to resign from his seat instead of attending the Assembly. Bureaucrats of that time say it was because Karunanidhi was apprehensive of an attack by the AIADMK inside the Assembly to avenge for the 1989 assault on Jayalalithaa.
When Jayalalithaa was sworn in as CM, MK Stalin was not accommodated in the front row during the swearing-in ceremony, despite heading a DMK strength of 89 in the House. Karunanidhi fumed at this "deliberate humiliation" saying "Jayalalithaa has not changed, she will never change". That forced Jayalalithaa to clarify that there was no intention to insult Stalin.
When Jayalalithaa was hospitalised in September 2016, members of Karunanidhi's family visited Apollo Hospital. After she passed away, Stalin paid his respects at Rajaji Hall and the party described her a fighter for the cause of Tamil Nadu.
Karunanidhi and MGR too had their moments when they tried to spite each other. Karunanidhi tried to promote his eldest son MK Muthu as an actor, even copying MGR's mannerisms. The aim was to exploit his charisma politically for the DMK but Muthu came a cropper at the box office, became the butt of jokes and turned into an alcoholic.
On his part, MGR who did not allow Karunanidhi to become CM till his death in 1987, looked for ways to outmanoeuvre his former colleague in the DMK. When Karunanidhi became an MLC in 1984, MGR brought a resolution in the Tamil Nadu Assembly to abolish the Legislative Council, on the grounds that it served no real purpose. The real aim, the DMK believed, was to deny Karunanidhi a forum to speak from.
MK Stalin, however, believes MGR had a special affection for both him and Karunanidhi. "We cannot forget MGR chiding people who called Thalaivar (Karunanidhi) by name. He enthused me when I acted in DMK's propaganda dramas," he said a couple of years ago.
MGR had once said that though he had found Karunanidhi's politics disagreeable, he was one of the most charming persons he had known. When MGR died, Karunanidhi was inconsolable. He spoke of their friendship and said the two were able to serve Tamil Nadu, though in contrasting styles.
Rajini and Kamal, the two actor-turned-politicians in a very different era may or may not succeed at the political box office but at least for injecting civility into the political ecosystem of Tamil Nadu, they need to be commended.
(Author is a senior journalist. Views are personal.)
| Edited by: Bijaya Das
Read full article
Countdown To
Elections Results
To Assembly Elections 2018 Results