Karni Sena's Protests Have Got Nothing to do With Honouring a Woman
Rajasthan has the poorest track record vis-a-vis women literacy and safety.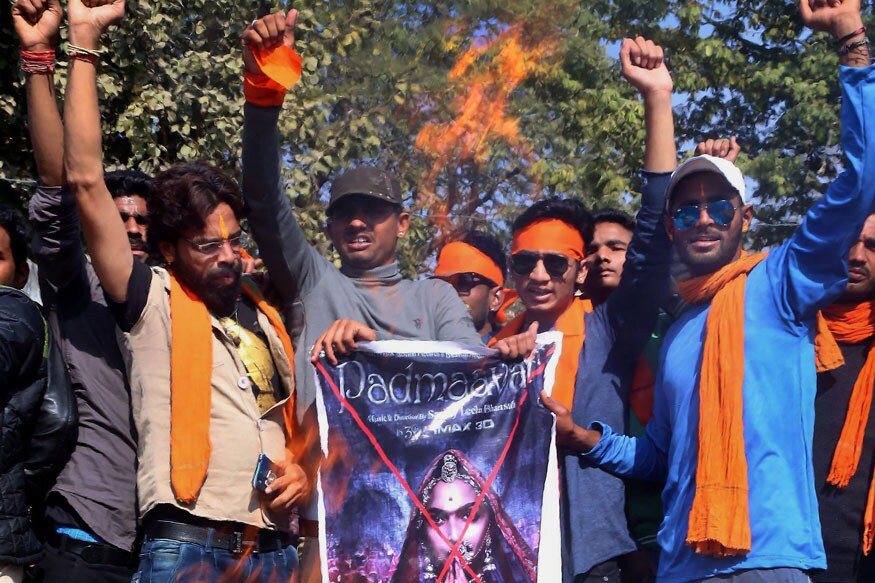 Karni Sena members protest against the release of film 'Padmaavat' at Beawar in Rajasthan on January 24, 2018. (Image: PTI)
"You are a woman, be in control." This statement from Vivek Shekhawat set the record straight for me and for everyone who would have been watching a heated conversation between me and the member of the Rajput Karni Sena.
There was no room for doubt. No room to think even once that these men were genuinely upset about history being distorted or about Rani Padmavati's honour being in danger.
This was live television, I was doing my regular job of presenting the afternoon news and news had come in about members of the Karni Sena setting vehicles on fire in Ahmedabad protesting against the impending release of the controversial film Padmaavat. To my shock, this self-proclaimed upholder of women's rights challenged me to show a single FIR against him or any other person involved in arson. I couldn't.
#PadmaavatRow -- You are a woman, keep your language in control: Vivek Shekhawat, Karni Sena to @snehamordani #IWillSeePadmaavat pic.twitter.com/Au0qeuap2H

— News18 (@CNNnews18) January 23, 2018
Referring to the miscreants as goons I continued to ask him questions when he shot at me and reminded me how I as a woman have no right to take a man on. I took him on, albeit, calmly, not giving in to his extremely misogynistic statement, reminding him of the dictionary meaning of 'goon' and why he and others from Rajput Karni Sena are just that.
It was only later when the video clip of this heated exchange went viral did I realize the gravity of what he had said and why he had said it. Comments poured in, supporting me for standing up to this thuggish behavior, many pointing out to the irony of the situation. Rajput Karni Sena was trying to defend a woman's honour by asking another to shut up!
And this was not the first time. Mahipal Makrana, another regular on television news channels, once asked me to be thankful that Rajput Karni Sena was the champion of women's rights and I should be thankful to them! While bizarre claims and shocking statements are nothing new for us, these two statements spoke volumes of who these men were and how this publicity hungry group of unemployed youth had found a political opportunity in Rani Padmavati.
Had that not been these case, a failed politician, Lokendra Singh Kalvi, head of the Shri Rajput Karni Sena, would have led his men better to raise the issue of women rights. Rajasthan has the poorest track record vis-a-vis women literacy and safety. To then say that the state is no place for women would actually not be an exaggeration. Factor this, Rajasthan is among the states having worst sex ratios in the country. Rajasthan ranks 23rd in terms of child sex ratio with 888 girls for every 1000 boys. The National Family Health Survey (NHFS) - 4 has revealed that 19% men and women in Rajasthan want more sons than daughters. Only 1 percent want more daughters than sons. This is in stark contrast to the national figures. The survey found that 92.5 per cent men in Rajasthan want at least one male offspring compared to 89% women who said they wanted a son. There is a huge disparity between male and female literacy ratio. Male literacy ratio stands at 79.19%, compared to the mere 52.12% of female literacy. Over 11% of the girls were not enrolled in schools in 2011-12. Even among those who are, the dropout rates are really high owing to child labour and child marriage. Out of every 1 lakh women, at least 244 die giving birth, one of the highest in the country.
Be rest assured, these figures don't shock Lokendra Kalvi or workers of the Karni Sena. No protests for the dying baby girls or those being married off as children. Not a single voice has been raised for the so called upholders of womens rights. And to quote a twitter user who supported my standing up to Vivek Shekhawat, 'Rani Padmavati in heaven or somewhere in folklore, would have been very sad today, and ashamed of having such supporters like him.'
(The writer is a news anchor with CNN News18. Views expressed are her own.)
Get the best of News18 delivered to your inbox - subscribe to News18 Daybreak. Follow News18.com on Twitter, Instagram, Facebook, Telegram, TikTok and on YouTube, and stay in the know with what's happening in the world around you – in real time.
| Edited by: Bijaya Das
Read full article