OPINION | Kerala Floods: A Tale of Immeasurable Pain and the Undying Human Spirit
Having covered the floods from the southern to the northern part of Kerala, we saw tragedy up close -- people crying out for help from the terraces of their houses, helplessness, and the insurmountable pain of seeing one's life savings being washed away. However, above all, we saw ordinary people turn into heroes, who selflessly tried to save lives and helped in whatever way possible.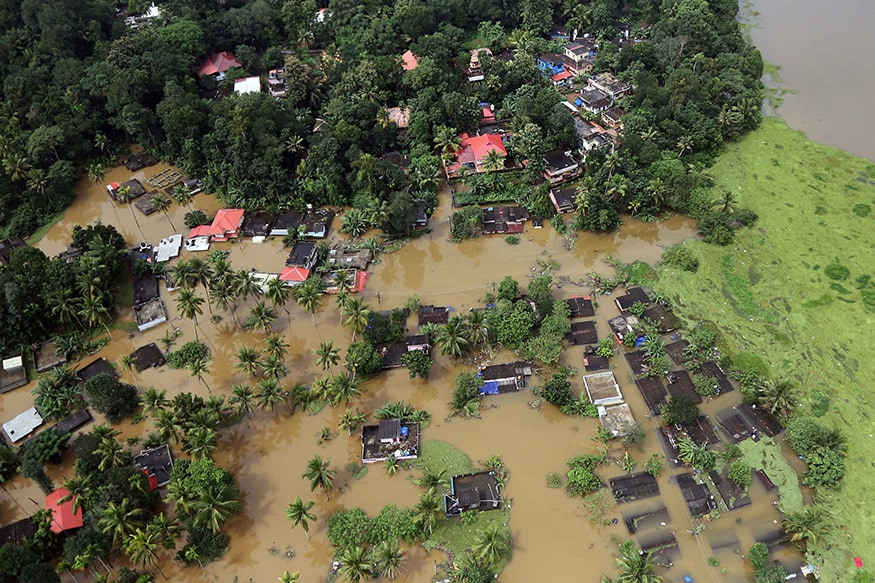 File photo showing partially submerged houses at a flooded area in the southern state of Kerala. (Image: Reuters)
For every Malayalee, rains are an integral part of their life and they enjoy every aspect of it. Initially, I too was enjoying the rains and was happy that compared to previous years the state was receiving heavy rains this time. But things changed for the worst from August 8 when after 26 years, due to unprecedented rains, the shutters of Idukki dam were opened.
When our team headed out from Trivandrum on August 9, little did we know that we will end up covering the biggest natural disaster of our times, and nor did we expect to spend the next 14 days on the roads of the most difficult terrain, in the most difficult of situations.
Having covered the floods from the southern to the northern part of Kerala, we saw tragedy up close -- people crying out for help from the terraces of their houses, helplessness, and the insurmountable pain of seeing one's life savings being washed away. However, above all, we saw ordinary people who became heroes, who selflessly tried to save lives and helped in whatever way possible.
All through this tragedy, we saw the unity and the positive spirit of people to overcome the crisis, which, for me has been the biggest lesson.
After coming back to base it took me a few days to write about it because that was the extent of devastation and human pain I saw for 14 days. There are days when I still wake up in the middle of the night with the images of destruction and people crying out for help, playing in my head.
Velayudhan, a native of Chattiyanpara in Malappuram lost his mother, brother and brother's family in the landslide. We went to Chattiyanpara, where there is nothing left to show, that there was once, indeed a house. Velayudhan was shattered when met him. "I saw my mother lying lifeless under the sand. I don't remember anything after that" he said, as he broke down.
He, along with the neighbors tried to search for his family on the night of the landslide but found nothing. The next morning, it was Velayudhan who discovered his mother's lifeless body.
His elder brother Subramanyan along with his wife, two children and their relative also died.
The bodies of Subramanyan's wife and children were found in the same place where the house once stood. When the bodies were recovered, the children were seen hugging and holding onto their mother.
We started the coverage from Aluva as the water levels in Periyar River rose. From there we went to Malappuram district, travelling to which was strenuous as many roads were damaged and washed away.
Normally it takes about three to three and a half hours, but it took us five and a half hours to reach Malappuram. The scenes were heart wrenching – damaged roads, crumbling two storey houses, trees uprooted and rivers overflowing. We had to trek several kilometers to reach the area where the landslides had occurred.
At the relief camp in Malappuram, we saw a young mother who along with her two year old child stayed inside the house for hours as water levels rose. Locals tied ropes, and somehow managed to reach to her and rescue them.
Then we headed to Wayanad, one of the worst flood affected areas. My heart bled when I saw the extent of havoc the floods had wretched across the majestic beauty of Wayanad.
Full grown banana plantations,coffee,tea, spices,areca nut trees, paddy fields all inundated in water. Houses damaged and in many areas people had been isolated. Water levels rose by the minute on roads due to which many had to leave their homes at midnight.
We were in Wayand when we heard that shutters of Mullaperiyar dam might be opened. With the extent of rainfall that Kerala was receiving and about 35 dams already opened, we knew the situation could get worse, especially for those situated at the downstream of Periyar.
Early morning around 2.35 am on August 15, the shutters of Mullaperiyar dam were opened.
We tried to rush back to Aluva from Wayanad. But in many places the roads were inundated and we had to either take detours through the interior roads or take the risk of driving through waist levels of water.
At Kozhikode district also, we saw extensive damage, with three storey houses completely destroyed and huge coconut trees uprooted everywhere. At a relief camp in Kozhikode, we saw a family whose house warming was on August 17 but their entire house and land was washed away. They had spent Rs 30 lakhs for building the house, an amount they had taken on loan.
By the time we reached Trissur, it was past midnight and we crossed several main roads that were inundated and had to take several detours. So we halted in Trissur, in the hope of reaching Aluva by morning.
At Chalakudy, we saw the most heart breaking scenes. Families were standing on the terraces of their house and calling out for help as the water had reached the first floor of the houses. There was no drinking water and food and mobile networks are completely down, leaving the people completely isolated. We stood on the Chalakudy Bridge along with police, as we together waited for boats to reach the people and rescue them.
A few kilometers away, we saw a family that was rescued and brought to safety on a country made boat. There was a 10-year-old boy and his grandmother and even after getting rescued, the little boy's eyes were filled with fear and tears.
He reminded me of my younger brother, I went to him, held him and tried to speak but he couldn't hold back his tears. His mother said that water has entered up to the first floor of their house, his father is back at home and he can come back only after all the women are brought out. The thought of his father staying back petrified the little one.
When we moved further from Chalakudy, the water levels were much above the waist. Throughout the journey we saw selfless volunteers standing on the roads, in waist deep water and heavy rains, trying to ensure a passage for vehicles and people.
We couldn't cross beyond, Athani in Ernakulam district as roads were completely inundated. We had to stop at Angamaly, where on one side you have the overflowing Periyar River, and on other, the Chalakudy River.
We stayed we at the Holy Family School relief camp in Angamaly for the next two days where we got to personally experience the way life worked in relief camps.
All the 1,000 people present at the camp at that time were extremely worried about the future and concerned about their lives. Many ran out of their home without even being able to take a single pair of clothes. Several of them had lost their documents, books of children, electronic appliances, clothes, kitchen appliances and their entire savings. Many had to encounter snakes and other reptiles on their way out.
The most disturbing image at the relief camp was that of two cancer patients, who were in the middle of chemotherapy, when the floods struck and forced them to recede to the safety of relief camps.
One of them was so exhausted and fragile that she couldn't even get up and about seven people carried her and brought her to the camp. The other had to jump a wall in this condition to get out of her house.
We slept at the relief camp on benches, sustaining ourselves on the food provided to us there for two days. The connectivity was also down, and we were completely isolated from the outside world
We were lucky that the people living nearby offered us their bathrooms to freshen up. We could see that the medical camps were conducted efficiently and good food was provided at the camp.
The MLA of Angamaly Roji M John, was present at the relief camp at all times during our stay, as he diligently tried to arrange for supplies and provide lodging to people. All the politicians, right from the council, the Panchayath chairperson, to the MLA worked hand in hand to help the people.
We also met several real life heroes on our journey. For instance, at Kalady there were a group of 40 men who saved around 300 people by making makeshift boats out of drums. Many of them did not even know rowing but in the face of the catastrophe, they were determined in their task of rescuing people.
We witnessed the efforts and services of the state police and the fire force personnel, who, even with limited resources, plunged to help the people tirelessly for days.
Even through all this, the undying spirit of people to overcome the crisis and fight this calamity out remained.
The spirit was infectious and the people at relief camps were undeterred no matter what. They welcomed king Mahabali, sang Onam songs and even danced; making a strong statement that even in this time of crisis they are not ready give up on their hopes and positivity.
The next phase is rebuilding Kerala. I hope that the state will not repeat its mistakes and development will only be sustainable.
Kerala has a long coast line and is also bordered by the Western Ghats, and so, I hope the ecologically sensitive nature of the state will be taken into consideration during rebuilding.
Get the best of News18 delivered to your inbox - subscribe to News18 Daybreak. Follow News18.com on Twitter, Instagram, Facebook, TikTok and on YouTube, and stay in the know with what's happening in the world around you – in real time.
Subscribe to Moneycontrol Pro and gain access to curated markets data, trading recommendations, equity analysis, investment ideas, insights from market gurus and much more. Get Moneycontrol PRO for 1 year at price of 3 months. Use code FREEDOM.
Read full article