OPINION | Lalu Prasad Yadav Back in Jail, But Don't Write His Political Obituary Just Yet
Nobody plays the masses better than Lalu Prasad Yadav. And he knows it too well that much bigger 'political sharks' have survived much bigger charges of crime and corruption in this country.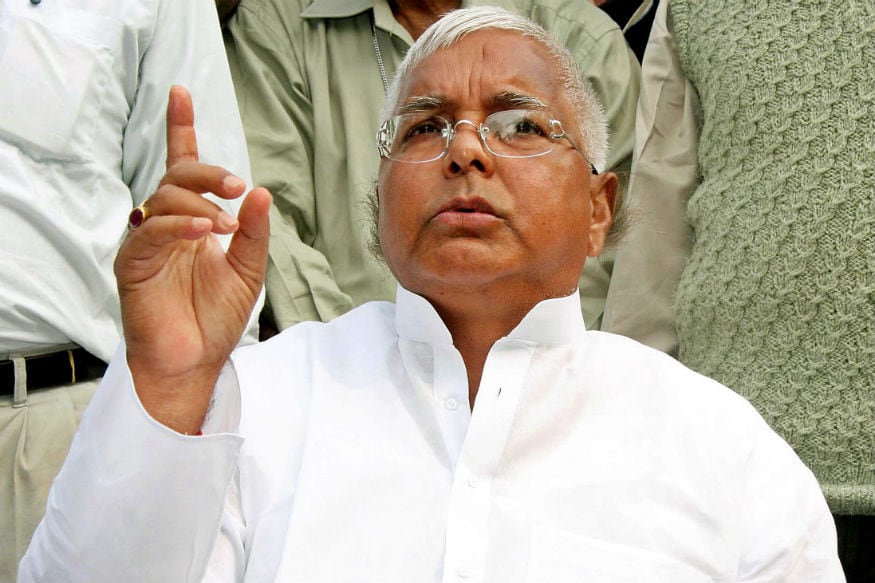 File photo of RJD chief Lalu Prasad Yadav. (Reuters)
Politicians are always ready with 'conspiracy theory' to defend charges of their complicity in cases of crime and corruption even if they are caught — literally — red-handed, or worse, with their pants down in video stings.
So, when RJD chief Lalu Prasad plays the same hackneyed tune to pledge his innocence in the infamous fodder scam, it comes as no surprise.
After all, he knows it too well that much bigger 'political sharks' have survived much bigger charges of crime and corruption in this country. He would also know that when his voters see him taken to jail for a case involving a pittance of Rs 85 lakh, his 'conspiracy theory' will find resonance with them. After all, A Raja and Kanimozhi went scot free in case of much bigger loot.
For those of us who pursued the fodder scam cases since 1996 and closely followed the twists and turns, Lalu Yadav's complicity was never doubtful. He doled out a series of favours to the officials and masterminds of the scam, gave them extension of services, overlooked media reports about the excess withdrawals from the state treasury, did not act on questions raised in the state Assembly, travelled on air tickets purchased by them, and allegedly pocketed a portion of the loot.
In the present case, Lalu Yadav was charged under Section 120B of the IPC, dealing with conspiracy. A common intent among the accused was a must to prove the complicity of an individual under this provision.
His supporters are bound to ask if a chief minister will conspire with several other politicians, bureaucrats and officials to plot an embezzlement of mere Rs 85 lakh.
What would be his share in such a crime when he could easily get hundred times more money by a mere nod of the head?
Of course, the overall loot in the fodder scam was about Rs 900 crore involving half-a-dozen state treasuries. The CBI charged Lalu Yadav in five different cases, making sure he will spend the better part of his life in the jail. Lalu's plea that all the cases should be clubbed together since they are based on similar charges and evidences was upheld by CBI Sessions Court. This led to dropping of proceedings against him in the present case. But the Supreme Court quashed the High Court's relief to Lalu Yadav, setting the stage for his conviction for what will be termed as 'petty theft' in today's scenario where the going rate for even transfer and posting is manifold.
Lalu Yadav's conviction is a big boon for Nitish Kumar-led JD(U)-BJP alliance in Bihar. If Lalu Yadav does not get early bail, it will be a tough task for his son Tejashwi Yadav to lead the RJD in the 2019 General Elections.
The Jharkhand High Court has been mostly reluctant to grant bail in cases where a convict has not spent half of his jail sentence. Even if the HC grants bail to Lalu, the matter is bound to go to the Supreme Court. The CBI would surely appeal against any such reprieve given to a man seen as a sworn enemy of the ruling party at the Centre. The whole process could take several months during which the RJD would be like a rudderless ship.
The days ahead would be equally challenging for the Lalu clan. Tejashwi Yadav, who could have led the party in Lalu's absence, is himself facing serious trouble in the IRCTC hotel case. The Enforcement Directorate has registered cases against several members of Lalu Prasad's family under the provisions of the Prevention of Money Laundering Act (PMLA). Lalu Yadav's daughter Misa Bharti and wife Rabri Devi also figure in the cases. The matter dates back to the time when Lalu Yadav was the railway minister in the UPA government.
With the probe agencies showing a remarkable alacrity in proceeding against his family, Lalu Yadav faces serious personal and political crisis. But still, it will be too early to write his political obituary.
The result of the last assembly polls, where the RJD emerged as the single largest party in alliance with the JD(U), shows that his Yadav-Muslim support base remains intact. In addition, to a section of the poor in rural Bihar, Lalu Yadav will forever remain a 'messiah' who liberated them from the yoke of upper caste landlords. No one can blame them for falling for his 'conspiracy theory' hook, line and sinker. They can also not be blamed for thinking that he has been singled out because he was a 'rustic' politician who did not know how to manipulate the system like 'bigger sharks' do in the power center of Delhi.
While Lalu Yadav's political base is unlikely to be affected by his second conviction, if he does not come out of jail soon, and the ED continues to tighten the screws around his family members, there could be a threat of a schism in his party. Much will depend on how his trusted leaders unite to keep the flock together.
But if Lalu is out on bail in a month or two, he is bound to unleash a statewide campaign to project himself a 'martyr' crucified for fighting the scourge of communalism and raising the voice of the backward castes.
He would also hope that those disillusioned by the 2G scam verdict might treat him much more sympathetically.
Few know better than Lalu Yadav how to manipulate the masses. After all, he once convinced them that flood is better for them because it gave them access to fish, and building road in harmful for them because they can be run over by speeding vehicles!
— The writer is a senior journalist who has followed the fodder scam since the beginning. Views are personal Catch the Biggest Newsmakers and the Biggest Newsbreaks on CNN-News18, your favourite English TV news channel. Keep watching CNN-News18 at just 50 Paise per Month. Contact your cable /DTH operator Now!
*Rental / capacity fee of Rs.130/- as charged by cable / DTH operator may apply. **GST extra.


| Edited by: Nitya Thirumalai
Read full article
Countdown To
Elections Results
To Assembly Elections 2018 Results