OPINION | Let's Give Hope to Our Rural Healthcare System on the World Health Day
The horizontal and vertical growth in our healthcare system and services can best be summarised from the fact that even after 70 years of Independence, people in rural areas are forced to carry dead bodies on their shoulders while being denied transportation from the respective hospitals.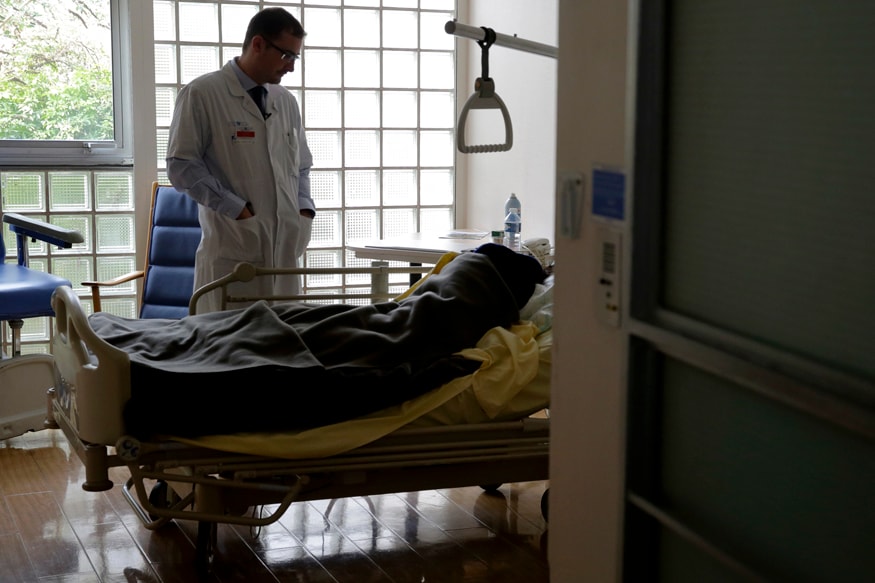 Image for representation. (Reuters)
Undeniably, private healthcare system in India has always been in demand for providing world-class facilities, quality care at a reasonable cost. It is also true and indeed our heads hang in shame while we compare such facilities with ones in rural, remote areas.
The horizontal and vertical growth in our healthcare system and services can best be summarised from the fact that even after 70 years of Independence, people in rural areas are forced to carry dead bodies on their shoulders while being denied transportation from the respective hospitals.
As per the latest estimates put forward by the Minister of State for Health and Family Welfare, of the total 25,650 Primary Health Centres (PHC) in the country, 15,700 have only one doctor in each hospital and 1,974 centres don't have a single doctor. Furthermore, in 9,183 centres, there are no lab technicians while 4,744 centres do not have a pharmacist.
As the World Health Organisation's findings, the density of doctors at the national level was 79.7 per 100,000 population, which is inadequate to accommodate the requirement of 1.3 billion people in the country.
Even though the government is putting in strenuous efforts to enhance the current healthcare systems by opening PHCs and helping the poor via free medical facilities, qualitative and quantitative availability of primary healthcare services is very less in remote areas.
Far away from the hustle of the city lives, somewhere in the rural areas, people suffer from the brutality of life due to poor medical facilities. Adults, as well as children, face a life of uncertainty as the healthcare system is only accessible to those who have the penny in their pockets and can easily afford medical facilities. Hence, there is insignificant frailty in the rural healthcare services due to certain medical issues for the poor masses in India.
Dr M Wasim Ghori, Healthcare Consultant and co-founder Director of Rx Healing Canvas, Mumbai and Brand Ambassador — Education UK — British Council India says, "India, according to a report by the United Nations, found that 75% of the healthcare infrastructure, including medical specialists and doctors, are concentrated in urban areas. Only 27% of the population lives in urban India. On the other hand, around 716 million people stay in rural areas and get hit by the chronic lack of primary healthcare facilities. Even private hospitals and quality healthcare are limited to the urban region. Economists, as well as investors, prefer to invest in the urban areas as compared to not-so-profitable rural areas."
On the possible way out, Ghori says, "The only way to bring a ray of hope is by implementing defined policy with a set of proper guidelines, which will ensure sustainability of rural healthcare plans. This idea is also going to attract the private sectors, wherein investors would be interested in making an investment in rural healthcare segments like remote diagnostics, telemedicine services and operation of other rural health-related services. Thereby, these private players will address the emerging health issues and eradicate the wide range of diseases from our societies."
In India, around 700 million people reside in rural areas, where the current state of medical facilities is deplorable. Though there are plenty of programs and policies run by the government for promoting a healthy infrastructure by allowing medical facilities to every individual, there still is a dire need for the procedures and new practices to ensure that timely healthcare reaches the rural parts of India. The effectiveness of policies and programs run by the government are questionable due to gaps occurring in the midst of their implementations.
On the rural and urban divide, Dr Abha Agrawal, MD, FACP, FACHE (USA) and founder of A4 Clinics, Indore says, "The reason for the shocking disparity between cities and villages is that India spends a paltry 1.2% of its GDP on the healthcare sector. In contrast, USA spends almost 21% of its GDP on the healthcare sector. Of this small sum, government caters to the little over 20% of population and the rest is covered by the private sector, which is driven by profits."
"This glaring disparity leaves more than half the Indian population with no access to even the basic health care they should get. In addition, there is little to no insurance coverage. So, an unanticipated unplanned healthcare emergency is one of the topmost causes of financial ruin in India. Furthermore, the government primary health care centres and hospitals in the rural areas also suffer as a result of rampant corruption. The funds get lost in corruption, the staff on duty hardly shows up and the physical buildings remain dilapidated," adds Dr Abha.
On the question of why the doctors deliberately keep away from the rural areas, Dr. Dharminder Nagar, Managing Director and CEO of Paras Healthcare, Gurgaon says, "It's no surprise that rural healthcare is in bad shape as simply no doctor and their families can live in the rural areas with absolutely zero social infrastructures. Social infrastructure and healthcare infrastructure go hand in hand." However, a parliamentary committee has very recently recommended that all doctors passing from the Indian medical colleges must serve in the rural areas for at least one year so that the shortage of doctors can be addressed.
Presently some states have made it compulsory for the medical graduates from the government medical colleges to serve in the remote areas. Perhaps, it is a ray of hope but there remains still big challenge for India to face for rural healthcare planning.
(Author is a freelance journalist. Views are personal.)
Get the best of News18 delivered to your inbox - subscribe to News18 Daybreak. Follow News18.com on Twitter, Instagram, Facebook, Telegram, TikTok and on YouTube, and stay in the know with what's happening in the world around you – in real time.
| Edited by: Aditya Nair
Read full article