OPINION | Modi Govt's Muscular Policy Has Failed With End of Unholy Alliance in J&K, Says Former interlocutor MM Ansari
A non-performing government of strange bedfellows, who reluctantly formed a political alliance after prolonged discussion, has been doomed, mainly because of differences in the state's priorities and approaches to deal with them.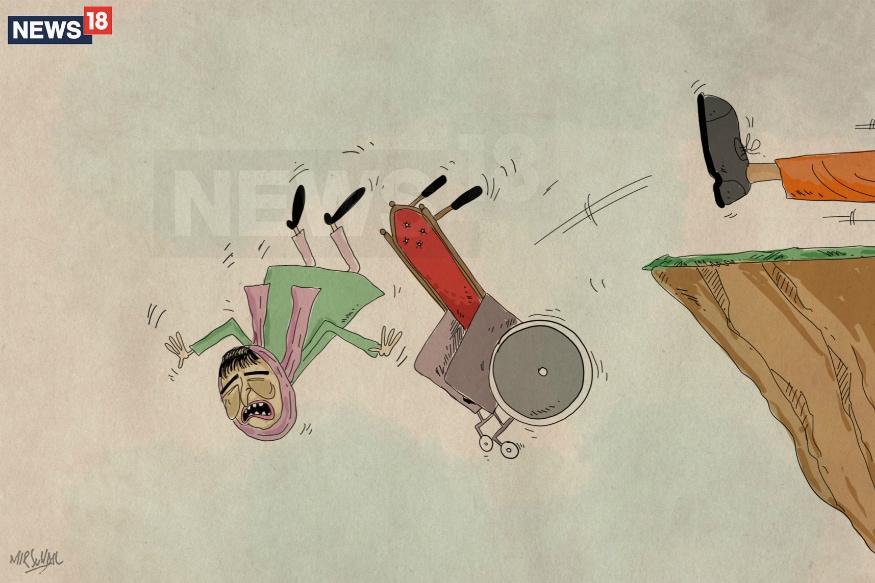 Illustration by Mir Suhail/News18.com
The BJP has dumped alliance partner PDP after escalation of tensions with Pakistan in the aftermath of surgical strikes, skirmishes on borders and deteriorating law and order situation in the Jammu and Kashmir leading to killings of senior journalist Shujaat Bukhari and rifleman Aurangzeb.
In the last three years of this alliance government, there has been unprecedented loss of lives of civilians and security personnel, and human rights violations, be it the Kathua rape case or the brutal suppression of militancy. Unfortunately, the agenda of the alliance between the BJP and the PDP, which was formed despite ideological differences between the parties, has not been implemented in letter and spirit.
For instance, providing opportunities for quality education, healthcare and employment to remove prolonged alienation among youth was relegated to lower importance. And, no worthwhile effort was made to resolve political disputes by engaging major stakeholders, namely Pakistan and separatist leaders. Instead, people suffered grievous losses due to frequent skirmishes on the Line of Control, stone pelting and shutdowns in the Valley. The tall promises made by the alliance government to bring peace and development has thus been unfulfilled.
A non-performing government of strange bedfellows, who reluctantly formed a political alliance after prolonged discussion, has been doomed, mainly because of differences in the state's priorities and approaches to deal with them.
While the BJP has always favoured abrogation of Article 370 of the Constitution, the PDP has maintained that this provision, which guarantees 'greater autonomy' to the state, must stay without erosion of the accepted principles.
Moreover, the PDP insisted on reaching out to separatist leaders as well as Pakistan for ending militancy and restoring durable peace and tranquillity in the state. Against this, the BJP merely provided lip service and resorted to muscular and militaristic approach and used brutal force to suppress uprisings led by the youth. This has hardly helped to suppress the mass movement in abating militancy in the state.
Realising that there is a deep sense of victimhood in the Kashmir Valley and people are yearning for peace to lead a life of dignity and honour, Prime Minister Narendra Modi in his Independence Day speech said that the Kashmir problem could be solved only by embracing Kashmir and not by "gaali or goli" (abuses or bullets). Yet, no headway has been made in this regard.
Now that the alliance government is gone, the muscular approach of handling Kashmir must also go and more humane and democratic strategies should be evolved to address all issues raised by the people of J&K. We venture herein below to outline the measures that ought to be taken to restore peace.
Under Governor's rule, a concerted effort must be made to address the issue of human rights violations due to which people have hugely suffered. Use of pellet guns, which has blinded and crippled a large number of youths, must be discontinued. Those who are displaced from the border and LoC areas must also be duly taken care of on humanitarian grounds. There is urgent need for applying healing touch to all those who have suffered due to insurgency and militancy. It would then be possible to conduct pending elections of Panchyats and parliamentary polls as well.
Secondly, while it seems unlikely that the BJP government, which is committed to abrogate Article 370, will reach out to Pakistan to engage in a meaningful dialogue process, it is possible for the state administration under Governor's rule to mend fences with the separatist leaders, particularly in matters of promoting welfare and development of the state. Moreover, the success of forthcoming Amarnath Yatra largely depends on the support of local people. With reduction in the anger of youth, peaceful culmination of this pilgrimage will greatly contribute to promoting peace process in the state.
Thirdly, it is an accepted fact now that prolonged use of brutal force by security forces is no solution to the complex political problem of the state. Army chiefs and other security-related experts have also acknowledged the fact that security forces are not meant to fighting youth who exercise their democratic rights. Yet, the political leadership across parties issue contradictory statements on the plans and processes of dealing with Kashmir problems. There is, therefore, a need to change the diagonally opposite narratives of the BJP at the Centre and other mainstream parties in the state. Hopefully, there will be convergence of views to deal with all the contentious issues through democratic process. In effect, militancy and stone-pelting will substantially decline to attain normalcy in the state.
Fourthly, in the recent past, Pakistan's politicians and officials from the army have debated as to why and how it allowed the establishment of terror infrastructure and why did they sponsor terror attack in Mumbai in 2008, and at others places, namely at Pathankot and Uri. In my view, there is growing realisation in Pakistan about its wrong policy on Kashmir that results in frequent ceasefire violations on the Line of Control (LoC).
Fifth, the fall of unpopular and corrupt government such as the BJP-PDP alliance, provides an opportunity for the Governor's office to implement various confidence building measures (CBMs) as suggested by various expert committees from time to time.
Unfortunately, the promises made thus far for implementation of CBMs have been unfulfilled. The policy of 'Sabka Saath, Sabka Vikas' has also remained a distant dream for Kashmiris. Therefore, this is the time to implement PM Modi's policy of embracing Kashmiris, rather than abusing them, to deal with their problems.
Sixth, it is unthinkable to conduct day-to-day business and social life without internet services, which are frequently disconnected due to different reasons. Internet services must be regularly maintained and assured to allow for optimum use of information and communication technologies for socioeconomic progress.
Seventh, India is a vibrant democratic country with secular credentials. In such a multi-cultural and diverse society, democratic means of resolution of contentious issues is considered the best socio-political option. A prolonged imposition of draconian laws, namely Armed Forces Special Power Act (AFSPA) and Public Safety Act (PSA) is indeed negation of democratic rights of people. As a gesture of goodwill, these laws must be withdrawn to win the hearts and minds of people. The imposition of these laws have done more harm than good in our attempts to address victimhood of Kashmiris, who have never enjoyed equal rights as compared to the rest of Indian citizens. These laws must be revoked to embrace the people of J&K.
Eighth, the implementation of central schemes that cater for educational and health services, rural roads, electricity and water supply, and other essential services are hardly effectively implemented due to rampant corruption, lack of accountability of concerned officials and lack of regular functioning of democratic institutions, such as, Panchayats, and human rights and information commissions. It is the poorest of the poor who suffer the most.
Therefore, implementation of all the central schemes must be enforced. And, the details of achievements in this regard must be put in public domain.
Ninth, the grievances of displaced and migrant persons, particularly Kashmiri Pandits must be addressed as per their aspirations. And, they must be taken on board to address the Kashmir issue.
Tenth, all the districts of J&K widely differ in terms of geo-climatic and ethnic compositions. The aspirations of these regions for equitable development must be addressed as per the recommendations made in the Interlocutors Report entitled 'A New Compact with the People of J&K' in 2011.
Finally, there is speculation that the BJP has dumped the PDP with a selfish motive of putting the entire blame of misgovernance on Mehbooba Mufti and to polarise forthcoming elections on communal lines. While the BJP may succeed in doing so, it has surely missed the opportunity to win the hearts of Kashmiris, which was expected from a powerful central government under Narendra Modi who spoke of embracing Kashmiris. The question is — are Kashmiris with us?
(The author is a former CIC, UGC member and interlocutor on J&K. Views are personal.)
Get the best of News18 delivered to your inbox - subscribe to News18 Daybreak. Follow News18.com on Twitter, Instagram, Facebook, Telegram, TikTok and on YouTube, and stay in the know with what's happening in the world around you – in real time.
| Edited by: Nitya Thirumalai
Read full article