OPINION | Naveen Patnaik's Surprise Rajya Sabha Card Shows His 2019 Game Plan
Two of the three candidates are rank outsiders — media baron Soumya Ranjan Patnaik and education entrepreneur Achyuta Samanta.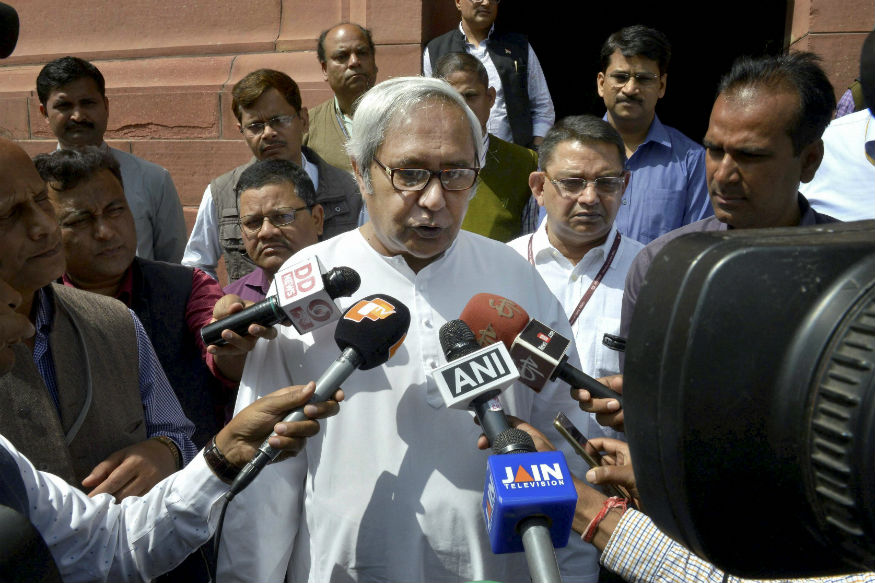 File photo of BJD chief and Odisha CM Naveen Patnaik. (PTI)
Trust Naveen Patnaik to spring a surprise. The Odisha Chief Minister and BJD supremo just loves keeping his cards close to his chest and leaving others to play the guessing game, whether it is naming candidates for Assembly or Lok Sabha elections or the formation/reshuffle of his Council of Ministers.
And it was no different on Wednesday evening when he named the party's three candidates for the March 23 Rajya Sabha elections.
Patnaik had sent party men on a wild goose chase upon his return from New Delhi on February 25 when he said that only 'political' people will be sent to the Upper House this time. Two of the three outgoing members — hockey legend Dilip Tirkey and social worker AV Swamy — are non-politicians as were two others — cine star Anubhav Mohanty and sculptor Raghunath Mohapatra, who were sent to the Rajya Sabha later.
Predictably, the announcement set in motion a mad scramble among senior BJD leaders without a post since everyone assumed all three seats would go to party leaders.
But when the names were announced, they left everyone surprised and several BJD leaders crest fallen. Two of the three seats went to rank outsiders — media baron and president of fringe political outfit Ama Odisha Party (AOP) Soumya Ranjan Patnaik and educational entrepreneur Achyuta Samanta, who has earned worldwide fame for running what is touted to be the largest residential school in the world where 25,000 tribal children are provided free boarding and education.
Both Patnaik and Samanta had joined the BJD barely six hours before being named party candidates for the Rajya Sabha, making it the quickest elevation to a political post for anyone in the party.
While Patnaik at least technically qualified as a political personality, heading as he did the AOP, Samanta's nomination raised many eyebrows.
Naveen, as is his wont, never bothered to explain what made him go back on his word that only politicians would be chosen. But a someone commented that six hours were long enough for Samanta to qualify as a politician!
The third seat went to BJD leader Prasanta Nanda, whose name hardly figured in the animated speculation that preceded the announcement. While he and Samanta were surprise choices, Patnaik's was the only name that was being feverishly discussed as a candidate for some time now.
And there was a reason for that. The man who had been among the harshest critics of Naveen Patnaik for years and led a series of agitations on issues of farmers, victims of chit-fund companies, language and prohibition in recent years had suddenly started appearing extremely squeamish about taking on the Chief Minister.
Long-time readers of Sambad, the Odia daily that he edits, had discerned a distinct change in the tone and tenor of political stories and comments appearing in the newspaper. The daily, known for years as a bitter critic of the BJD, its president and its government, had done a complete volte-face in recent weeks.
Visuals of Patnaik engaged in intimate chatter with the Chief Minister's trusted private secretary VK Pandian at the February 15 meeting in New Delhi — where the CM announced the sponsorship of the Indian hockey team by the Odisha government — had confirmed the growing proximity between the two erstwhile foes.
In contrast, Samanta's proximity to Patnaik was the worst-kept secret in Odisha. Under fire for alleged land grab to set up his sprawling educational empire, he was widely seen as being protected by the Naveen Patnaik government.
Kalinga TV, the news channel run by his group of institutions, is widely seen as a mouthpiece of the government. On its part, the Naveen Patnaik government has refused to act on the NGT directive asking it to free forest land under illegal possession of KIIT and KISS, the two flagship ventures of his educational conglomerate.
In giving Samanta the BJD ticket for Rajya Sabha, therefore, Patnaik was only formally acknowledging what had been a cozy relationship.
Apart from his penchant for surprise, the choices showed Patnaik's new-found confidence in the wake of the resounding victory in the by-election in Bijepur, a seat won by the Congress in the last three elections even as the BJD held sway over the rest of the state.
Many within the party were sceptical when Patnaik roped in the widow of Subal Sahu, the three-time Congress MLA whose untimely death last August necessitated the bypolls, and straightaway named her the BJD candidate.
But the eventual victory margin of 42,000 plus votes proved that the move was a masterstroke. Emboldened by the thumping win in Bijepur, Patnaik obviously felt confident to name two outsiders at the cost of party aspirants.
Though former chairperson of the State Commission for Women Jyoti Panigrahi, one of the many aspirants for a party ticket, did voice her "disappointment" at being ignored, there is not even a hint of a revolt brewing within the party.
In choosing Messrs Patnaik and Samanta, Patnaik was clearly looking beyond the Rajya Sabha and into the next election. By getting Patnaik on board, he not only neutralised a powerful opponent, but also had the entire Eastern Media Limited (EML) which runs Sambad and the popular Kanak TV, on his side.
With OTV, the No. 1 Odia news channel owned by Jay Panda's family now firmly in 'enemy camp' following the suspension of the Kendrapara MP from the BJD, Patnaik needed a major media house to compensate for the 'loss' and EML provided a ready and worthy replacement.
Though Samanta, too, owns a TV channel, it was not a major consideration in rewarding him with a Rajya Sabha membership. What Patnaik was actually eyeing was the support of thousands of adivasi parents beholden to Samanta for providing free education to their children, the institutions run by him and his much talked about networking abilities.
With 118 BJD MLAs, including latest entrant Rita Sahu, in a House of 147, it is a foregone conclusion that all three candidates named by Patnaik would sail through. Master manager of perception that he is, the BJD boss has successfully sold what was a choice guided strictly by cold political considerations as an act of recognising 'quality people'.
After all, Patnaik is an 'intellectual', while Samanta is a 'social worker'. Even Prasanta Nanda, the lone candidate from the BJD ranks, is a veteran film actor and director. Except for some cynics in the party, most people have hailed Patnaik's decision.
The irony of Dharmendra Pradhan, the man being projected by the BJP as the chief ministerial face in Odisha, shifting from Bihar to Madhya Pradesh for a Rajya Sabha seat is not lost on anyone.
(The author is a senior journalist. Views are personal)
| Edited by: Nitya Thirumalai
Read full article
Countdown To
Elections Results
To Assembly Elections 2018 Results