Padmaavat Row: Will the Real Karni Sena Please Shut Up
The far-right outfit already showed their own sense of dignity and chivalry when they threatened to slice off the ears and nose of Deepika Padukone, who essays the fictional non-Rajput queen whose sense of honor the Sena is purporting to protect.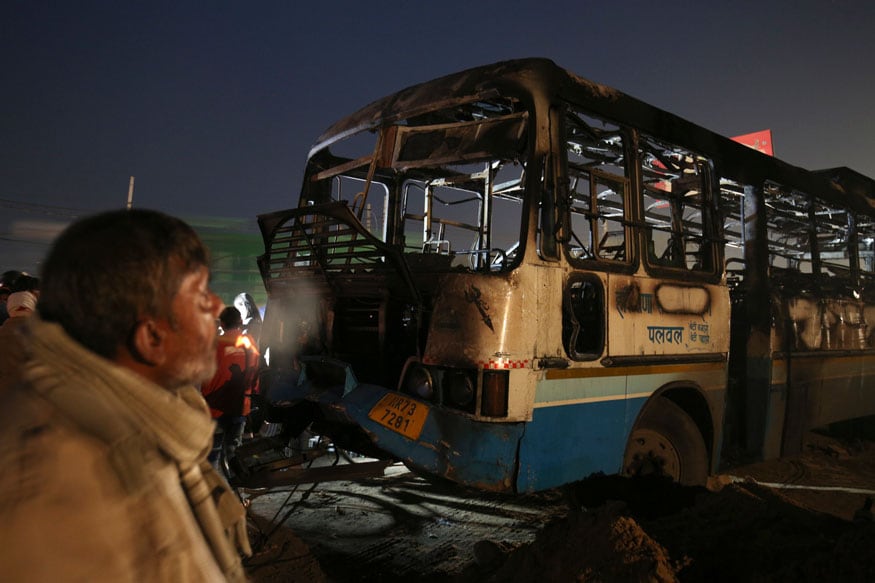 Driver Sukhbir Singh, stands next to a Haryana Roadways bus that was torched by a suspected mob protesting against the release of Bollywood film Padmaavat in Sohna Road, near Guragon, Haryana. (Image: AP)
In his Tony award acceptance speech in 2016, musical maven Lin-Manuel Miranda said so memorably, "And love is love is love is love is love is love is love is love; cannot be killed or swept aside." More than a year later, a little-known fringe group called the Sri Rajput Karni Sena took the exact opposite sentiment as 'hate is hate is hate is hate is hate is hate is hate is hate..' and just ran with it, in the process becoming one of the most talked about groups in India. So good job on the public outreach, guys. How about you all stop now?
This whole charade, of course, began when the Karni Sena decided to capitalize on the fact that director Sanjay Leela Bhansali was making a film based on a centuries-old fictional account of a centuries-older military campaign of dubious historicity. Said military campaign involved the 1303 invasion of the Rajput kingdom of Mewar, specifically the fort of Chittor, by the armies of the Delhi Sultanate and Islamic ruler Alauddin Khilji.
Khilji, who fancied himself as a second Alexander, needed to capture Chittorgarh in order to facilitate his eventual subjugation of the whole of Rajputana. This clearly wasn't juicy enough for 16th Century writer Malik Muhammad Jayasi -- who added the character of a Sri Lankan princess named Padmini as the main motivation for Khilji's conquest – when he recounted the expedition in his epic poem Padmavat. Because who wants power and influence over entire populaces as well as wealth as long as you can get a girl, right?
And so the poem involves several romanticized takes on real events as well as several fictionalized ones to make for a stirring tale of romance and riwaaz, pomp and princesses, forts and fallacies; one of its first characters is a talking parrot for non-denominational deity's sake. The point I'm trying to make is, it was a work of fiction, only vaguely inspired by real events occurring over 200 years ago. And the movie that's causing such furor among the Karni Sena and other fringe groups with way too much time on their hands is based on this selfsame poem from over 500 years ago. Basically, Padmaavat is as historical as the Zack Snyder-directed Frank Miller's 300, which was "inspired" by the Battle of Thermopylae and featured an anthropomorphized goat musician as well as another dude with razor-saws in the place of arms.
Padmaavat is no less fantastical in nature, beginning with Sinhalese princess Padmavati (that's right! she's not even Indian, never mind Rajput) who likes to parkour through the forests and Buddhist caves of Sri Lanka while hunting deer and chilling with the monks respectively. Meanwhile, Alauddin Khilji's character is introduced as he returns to his uncle Jalaluddin's court in Afghanistan after having captured a live full-grown ostrich!
Other notable scenes include a cohort of Alauddin's cavalry plunging to their deaths in a pit that suddenly opens up in front of Chittorgarh, the abyss having dimensions that would put the mines of Moria to shame, and a bizarre battle sequence wherein a headless warrior continues to parry and fence with several enemy swordsmen despite being decapitated several moments ago. This last is a response to an earlier dialogue from the film which goes along the lines of "The warrior who keeps fighting even when his head is separated from his body is a Rajput."
In fact, the whole film is a cloying mixture of love letter to, and fanboy-fiction about, the Rajputs and their valor, with every scene full of instances of the chivalry, courtliness, and sense of fair play of this great martial race, as opposed to the cruel and dishonorable Muslim soldiers and their even crueler and more dishonorable sultan aka Alauddin. So what's the problem, Karni Sena?
The far-right outfit already showed their own sense of dignity and chivalry when they threatened to slice off the ears and nose of Deepika Padukone, who essays the fictional non-Rajput queen whose sense of honor the Sena is purporting to protect; before that, they stormed the sets of the film and assaulted Bhansali in another demonstration of grace.
Since then of course, the Sena moved on to greater words and deeds, whether they were threatening the film's crew and cinema halls that would screen the movie or stringing up a corpse outside Chittorgarh or promising bloodshed across the country; basically holding state governments hostage (not that some state governments seem to mind). Seriously, well done, Karni Sena. ISIS would be proud of you.
And then yesterday, there was a watershed moment. An entire nation sat, transfixed in horror, as a mob attacked a school bus, pelting it with stones and terrifying the students and teachers seated inside. As the outrage over that singular event spread, the Karni Sena proved their lack of a spine once and for all by denying any involvement. Because it's one thing to talk big and threaten the safety and lives of living women and another thing entirely when actual deeds involving screaming and crying children are captured so viscerally on film. Sadly, the former gets one publicity, while, unsurprisingly, the latter destroys one's image.
Now that the Karni Sena has attempted to distance itself from the incident, especially since 18 of the attacking goons have been remanded to police custody, we can figure out just what they stand for. Nothing but noise apparently. Let's hope they now stay muted.​
Get the best of News18 delivered to your inbox - subscribe to News18 Daybreak. Follow News18.com on Twitter, Instagram, Facebook, Telegram, TikTok and on YouTube, and stay in the know with what's happening in the world around you – in real time.
Read full article