OPINION | Pakistan's Deep State Selected Imran Khan as PM, But Why He Can't be My Captain Anymore
Growing up in the 80s and the 90s, my greatest idol and hero was Imran Khan. But what transpired in the last few months made me decide that I have to cast my vote against him at all costs.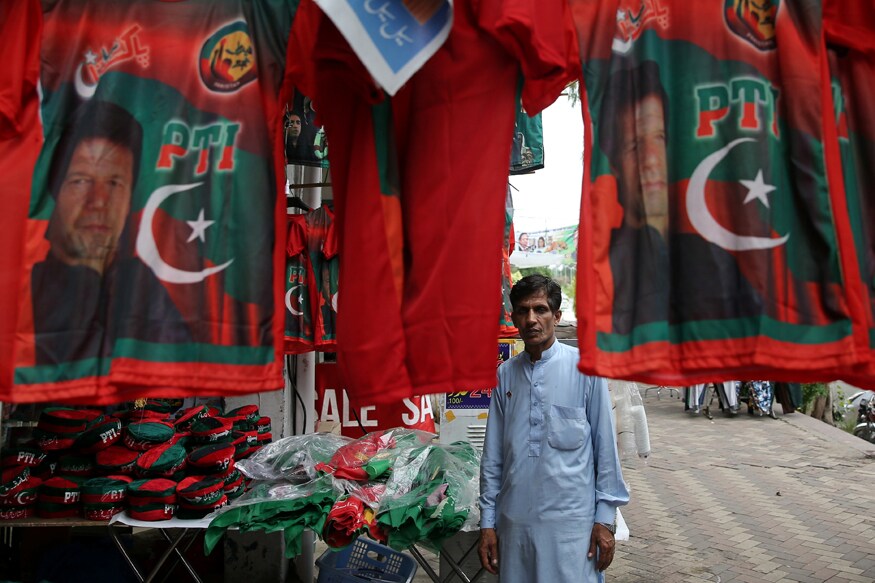 A man stands next to the t-shirts with images of Imran Khan, leader of the Pakistan Tehreek-e-Insaf (PTI) at a market, a day after general election in Islamabad, Pakistan, July 26, 2018. REUTERS/Athit Perawongmetha -
The entire world is said to be in the grip of populism. People have cited US President Donald Trump, Prime Minister Narendra Modi and Turkey President Erdogan as examples of this global trend. Common sense would suggest that PTI's entirely unexpected surge in Pakistan is keeping with this trend. However, that is only part of the story.
Pakistan is no stranger to controversy when it comes to the veracity of the election results but these elections are the first elections to be disputed by every political party other than the one that has won. The reason is that irregularities are just too numerous to sweep under the rug; polling agents of all political parties except PTI were thrown out in most constituencies while the counting was still going on and Form 45 was not issued, results were deliberately delayed in the same odious fashion as some of our court decisions have been in recent years.
Given that these are the dirtiest and most controversial elections in our history going back to when representative government was first introduced in this region, is it simply a victory of populism simpliciter or are they entirely manufactured and engineered by the powers that be?
Growing up in the 80s and the 90s, my greatest idol and hero was Imran Khan. His pictures, portraits etc adorned my room. No one came close to him, not even the founding father Mr Jinnah or the popular PPP leader Zulfikar Ali Bhutto. My family was staunchly pro-Pakistan People's Party, and therefore, Benazir Bhutto was no doubt the favourite politician in our household.
I was the first one to raise the flag of rebellion when only 17 years of age, I joined Imran Khan's newly minted Pakistan Tehreek-e-Insaf so bowled over was I by his charisma. He had won the World Cup and was a Lahore boy like me. Even though I had received the same privileged British high school education as Imran, I remember endorsing his agenda of abolishing all different systems of education and mainstreaming the entire country into one single system in the Urdu language.
Naively, I also endorsed his agenda of hanging the corrupt politicians. PTI did not win even a single seat in 1997 but that did not dampen my enthusiasm. Next year when I went to college in the US, I met a prominent politician from a religious party in New York who I almost got into a fistfight with because he told me that Imran Khan was a hypocrite. As I read more of history and the politics, I developed grave doubts about many of Imran Khan's more radical propositions like Jirga system instead of the English legal system and his ideas about bringing about a true Islamic revolution in Pakistan.
Still, I remained a card-carrying member of the party and upon my return to Pakistan some years later I rejoined the party's organization, now as a voting adult. At the time it used to be 10 or 15 of us who would carry PTI flags at a corner meeting in Lahore. PTI was nowhere in the political scene.
As a lawyer, I endorsed Imran Khan's position in the lawyers' movement. Since in 2008 PTI was not contesting elections, I voted for the PPP but my heart remained with PTI. In October 2011, we were galvanized once more with a massive public meeting at Lahore's Minar-e-Pakistan. When the elections came in 2013, I voted for Imran Khan directly from NA-122 in Lahore. For the first time, PTI emerged as a force to be reckoned with all over Pakistan.
It was not until 2014 that I began to question my commitment to Imran, who was still a hero to me. First came his ill-advised civil disobedience movement against Prime Minister Nawaz Sharif's government. Everyone could see that the movement was actually supported by the deep state to pressure Nawaz Sharif into giving up his policy of peace with India and to stop trying General Musharraf for treason under Article 6 of the Constitution.
Secondly, and more importantly, was a young woman who approached me for legal advice in 2014. I cannot say much about her for the fear of revealing her identity, but her story disillusioned me greatly. She had allegedly been impregnated by Imran Khan during a wild orgy in Bani Gala and now the born again Muslim was pressuring her to keep quiet. My advice to her was to get an abortion paid for by Imran but retain the DNA of the fetus. This was potentially serious business in the country given its hardline laws on adultery that had been put on the statute books by General Zia's dictatorship.
I also hushed up the matter in other ways. To my mind, what occurred between consenting adults was no one's business even though my hero had acted abysmally in the aftermath of the issue. Regardless, she told me stories of massive cocaine use, ecstasy and wild sexual encounters. I was shattered but I kept my big mouth shut, hoping against hope that she was lying. Imran Khan, meanwhile, got married to TV anchor Reham Khan and later divorced her.
In 2016, when Imran Khan started his campaign against Nawaz Sharif on the Panama issue, I had the opportunity of having dinner with him at the home of one of Pakistan's leading businessmen, who also happened to be my firm's client. During this conversation, he quoted a purported saying of the Holy Prophet (PBUH) that when an oppressive ruler rules a people, it stops raining in the country.
This saying mind you is disputed in Islamic canon as being weak. The point that Imran was making was that since Nawaz was an oppressive ruler, rains had stopped in Pakistan. Ironically there was a heavy downpour the next day. The so-called Panama Gate and the ouster of Nawaz Sharif through the Supreme Court in 2017 was nothing but a travesty in my understanding of the Constitution.
Yet, everything that had happened till then still did not entirely shake my faith in Imran. I put it down to politics and was neutral about him winning the elections. Then came the Election Act 2017 amendments issue. Pakistan as a signatory of ICCPR has to ensure that every citizen of Pakistan no matter what religion he or she belongs to must be guaranteed the right to vote. PML-N government attempted to ensure that members of the much maligned and marginalized Ahmadi community were also allowed to vote in the general elections.
Imran Khan and his new found ally Shaikh Rasheed – who Imran had once declared he would not hire as peon - took up arms against the amendments and declared them to be a blasphemy against the Holy Prophet (PBUH).
For the uninitiated, Ahmadis had been declared non-Muslim by the largely secular PPP government in 1974 through the 2nd Amendment to the 1973 Constitution. Further restrictions had been put on them by General Zia in 1984 and when General Musharraf restored the joint electorate in Pakistan he nonetheless put them on a supplementary list effectively disenfranchising them.
Wrong as the second Amendment is, the Election Act amendments did not deal with the question of Ahmadis' faith but only their right to vote. Imran has campaigned on this single issue. This was a complete breach of faith for me as a Pakistani who wants to see Pakistan as a progressive modern democracy. Historically this issue was first raised by Majlis-e-Ahrar-e-Islam against the All India Muslim League in the 1940s. Majlis-e-Ahrar-e-Islam objected to Mr Jinnah's decision to include Ahmadis in the Muslim League, including Pakistan's famous first foreign minister Zafrullah Khan. Mr Jinnah refused to relent on the issue and Majlis-e-Ahrar-e-Islam began calling him Kafir-e-Azam or the Great Infidel as opposed to Quaid-e-Azam or the Great Leader as he was referred to by his followers.
Those were different times of course and Majlis-e-Ahrar was badly defeated at the polls despite the fact that they were backed by such great all India leaders as Maulana Azad and Mahatma Gandhi.
By resorting to Majlis-e-Ahrar's tactics against Nawaz Sharif, to me Imran Khan lost all respect. Ironically, in his book "Pakistan a Personal History", Imran had himself criticized PPP's second Amendment.
Secondly, Imran and his party began attacking the free media, including the fiercely independent and neutral Dawn, which is in my opinion Mr Jinnah's finest legacy bequeathed to Pakistan. Imran called Dawn the agent of Indian RAW and Indian government.
For the first time in Pakistan's history, India actually became an election issue. Also disturbing was the fact that Imran secretly married a spiritual faith healer called Bushra Maneka in January this year. When the report came out he blatantly denied it, only to accept it in February. Bushra Maneka had claimed that Imran Khan married her, she had been given signs that Imran would become the next Prime Minister. While it seems that this bit has come true, one shudders to think that a superstitious and deeply prejudiced man like this has now become the Prime Minister of a nuclear armed nation.
In May 2018, Reham Khan, Imran Khan's ex-wife, contacted me about the active campaign of defamation being led by his supporters in the media. I took her case and suddenly my life turned upside down. I was abused and attacked by the PTI social media team on Twitter. When I read Reham's book, I understood why – she has confirmed everything the young woman in 2014 told me. Imran is every bit as vicious, unethical and violent person as people say he is.
One particular story upset me greatly - Imran Khan boasted to Reham that he had once broken his first wife Jemima Goldsmith's arm. I publicly asked Jemima to confirm or deny this but she failed to do so. The double standards are apparent. Jemima probably would not vote for a violent and abusive man in elections in the UK but is still sticking behind the "father of my sons" in Pakistan. Apparently we Pakistanis are just children of a lesser god, the kind of cannon fodder the British treated us as during their colonial rule.
For these reasons and more, I decided to cast my vote against Imran Khan at all costs. Given what had been going on in the recent months, it was clear that the powers that be are hell bent on making Imran Khan the Prime Minister by hook or by crook. What I did not know was to what extent they would go in installing him. Therefore, Imran Khan is not my Prime Minister. I believe in an inclusive democratic and secular Pakistan at peace with its neighbours that Mr Jinnah promised us. Imran is the antithesis of that vision. As a Pakistani, as a South Asian and as a human being, I will never accept him as a legitimate head of government in my country, come what may.
(Yasser Latif Hamdani is an advocate at the Pakistan High Court and visiting fellow at Harvard Law School. The views expressed in the article are entirely his own.)
Read full article