OPINION | Rajasthan and Madhya Pradesh Brace for Culture Shocks as Ashok Gehlot, Kamal Nath Take Over
While Shivraj Singh Chouhan was affable and accessible, Kamal Nath is a far cry from his 'on-of-the-soil' image. In Rajasthan, the genial and low-key Ashok Gehlot replaces Vasundhara Raje.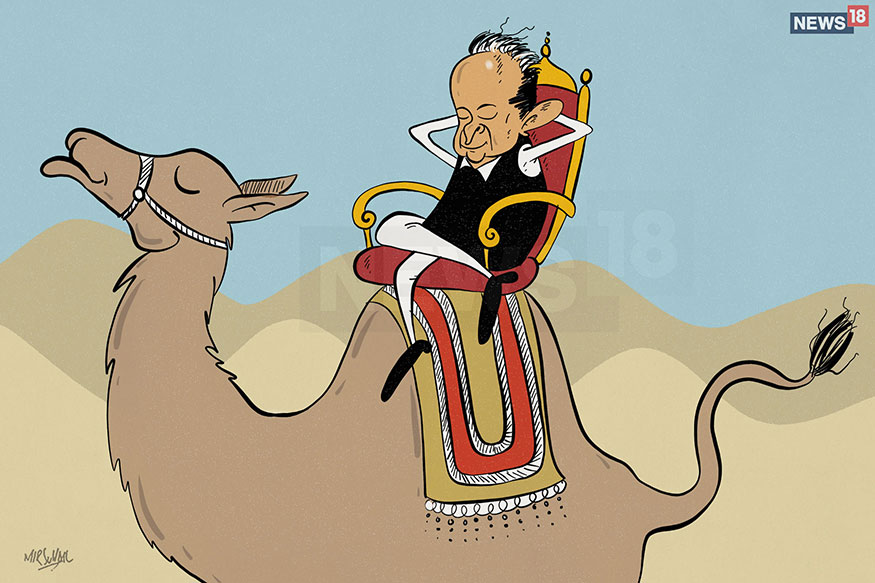 News18 Creative by Mir Suhail.
A culture shock awaits the people of Rajasthan and Madhya Pradesh.
The two new chief ministers who took charge of these states on Monday are an antithesis of their predecessors both in temperament and in their style of functioning.
While the outgoing three-term Madhya Pradesh CM Shivraj Singh Chouhan, popularly known as 'mamaji', was both affable and accessible, Kamal Nath is a far cry from his 'on-of-the-soil' image. And in Rajasthan, the genial and low-key Ashok Gehlot replaced Vasundhara Raje, whose arrogance and royal manners, sets her far apart from her successor.
As the two Congress chief ministers get down to work, people will have to adjust to very different personalities in office. It is inevitable that comparisons will be made between the present and the previous leaders in the coming days.
Unlike Gehlot, Kamal Nath has not been known to the people of Madhya Pradesh in his present avatar. Though a nine-term MP from Chhindwara, his influence has been confined to this region. And even though he has nurtured his constituency zealously, his sights have always been set on the global stage as he roamed the world both in his personal and official capacities, hobnobbing with leading international personalities.
Back home, Kamal Nath has been a competent administrator, acquitting himself well in the various ministries he headed in Delhi. But his brisk manner and tight time management does not allow him the luxury of indulging in idle chatter. A meeting with him does not last more than a few minutes as his mind is invariably wandering to his next appointment while drumming his fingers impatiently on his table. Hyperactive and impossible to pin down, he has always proved to be extremely elusive.
Kamal Nath is essentially a businessman at heart, weighing every favour doled out in terms of what he will get in return. Having honed his negotiating skills in the international field as Union environment and commerce minister, he was known to use them to drive a hard bargain even in his ministerial interactions. His usual opening line is "What's the deal. What can you do for me if I agree to your demands?"
For instance, when service chiefs put in a request for land when he was heading the urban development ministry, Kamal Nath told them point blank that for every acre allocated, they should promise to provide employment to 100 youths from his constituency Chhindwara. "Nothing comes for free" is his motto.
Since he lacks in people's skills like Shivraj Singh Chouhan, Kamal Nath will have to overcome this handicap by living up to his reputation of running an efficient government. The new chief minister can hope to make good if he comes true on the Congress party's election promises, especially waiving off farm loans within 10 days of coming to power. In fact, development and last-mile delivery will be the key to Kamal Nath's success, especially since he does not have the advantage which Chouhan had of reaching out to the aam aadmi through the various yatras he undertook during his long tenure in office.
Gehlot, on the other hand, has to begin a conversation with people to make up for his predecessor's inaccessibility and haughty manner. It is not that Vasundhara Raje was a poor administrator. On the contrary, she is said to have implemented a host of welfare schemes and made strenuous efforts to invite industry to Rajasthan. But her arrogance and inability to hard sell her government's achievements are said to be among the chief reasons for the Bharatiya Janata Party's defeat in Rajasthan.
Gehlot, who has returned to the chief minister's post for the third time, should not have a problem in his public outreach as his simple and agreeable nature has always been his trump card. Like the BJP's Chouhan, Gehlot is known to keep an open house and even stop by at roadside teashops to converse with the common man to learn about their problems, a trait which has endeared him to the electorate in Rajasthan.
But Gehlot cannot depend on his charm offensive alone to win the hearts and minds of the people. As in the case of Madhya Pradesh and Chhattisgarh, the new chief minister will also have to put his administrative skills to good use to ensure that the promises made in the election manifesto are implemented within the specified time-frame.
Whether it is Gehlot, Kamal Nath or Chhattisgarh chief minister Bhupesh Baghel, none of them have the luxury of time to deliver on their promises. They have to hit the ground running as the next big electoral battle is just a few months away. They all face multiple financial challenges as they get down to the nitty-gritty of governance in their respective states. Their performance in the next three months will be crucial as it will have a direct bearing on the 2019 Lok Sabha polls.
The new Congress chief ministers have to ensure that anti-incumbency does not set in before the general election and that the Congress can keep up the momentum of its victories in the three state assemblies.
(Author is a senior journalist. Views are personal)
Get the best of News18 delivered to your inbox - subscribe to News18 Daybreak. Follow News18.com on Twitter, Instagram, Facebook, Telegram, TikTok and on YouTube, and stay in the know with what's happening in the world around you – in real time.
| Edited by: Nitya Thirumalai
Read full article