May 15, 1999: The Day Tariq Anwar Joined Sharad Pawar's Revolt Against 'Foreign Lady' Sonia
Some Congress leaders feel that had Tariq Anwar not left in 1999, he would have been in the big leagues with Ahmad Patel and Ghulam Nabi Azad.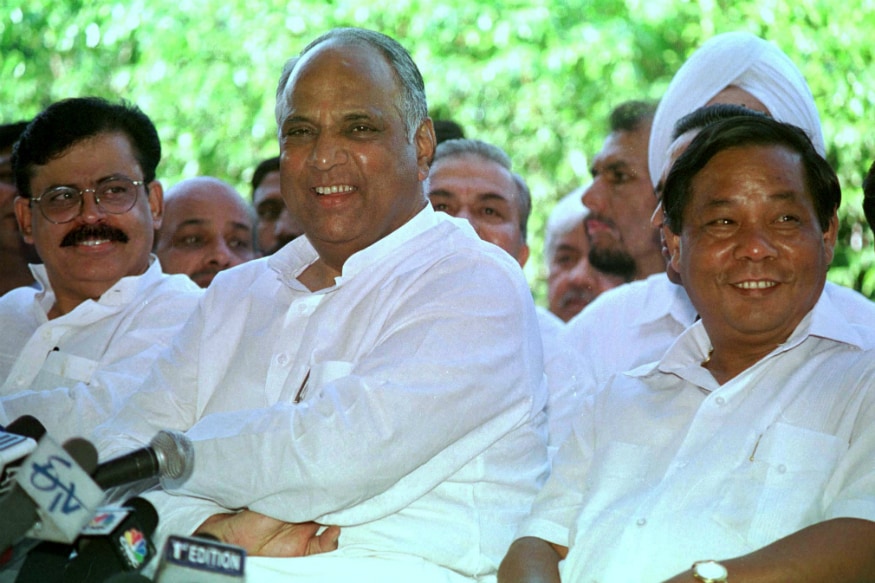 In this May 24, 1999 photo, Sharad Pawar, flanked by Tariq Anwar (L) and PA Sangma, addresses a news conference after the trio's expulsion from the Congress. (Reuters)
For Tariq Anwar, it has been a long and chequered journey since May 15, 1999 when he, along with Sharad Pawar and PA Sangma, had raised the banner of revolt against then Congress chief Sonia Gandhi on the grounds of her foreign origin.
Interestingly, Anwar was not particularly close to Pawar or Sangma. His grudge against Sonia was due to the marginalisation of his long-time mentor Sitaram Kesri, who was ousted as AICC chief by Sonia barely a year before. Pawar used to taunt Anwar as part of 'Kesri coterie' consisting of "teen miyan, ek meera", a reference to three Muslims —Anwar, Ghulam Nabi Azad and Ahmad Patel.
Anwar has now joined the Congress in the presence of Rahul Gandhi.
The genial and suave Anwar has many friends in his parent organisation. In fact, there is no dearth of Congress leaders who feel that had Anwar not crossed over, he would have been in league with Ahmad Patel and Azad, who have served as eyes and ears of successive Congress presidents since the Rajiv Gandhi era.
A quick recap is in order on the events that had led to Anwar, Pawar and Sangma revolting against Sonia. On May 15, 1999, most Congress Working Committee members were growing restless, anxious to catch up with India's cricket World Cup opener against South Africa in England.
The evening CWC meeting was supposed to be a brief one, where everyone was in a hurry to finalise the list of candidates for the Goa Assembly elections and discuss the Rajiv Gandhi assassination case as well as poll alliances, so that cricket enthusiasts could return to their television sets as early as possible. Sitting on spotless white sheets, Sharad Pawar smiled and Sangma stood up. The rebellion in the Congress had begun, signalled by the 'Mighty Maratha', executed by the diminutive samurai with a swish of his razor-sharp tongue, and watched by Sonia and the rest of her stunned council.
As recounted by those present at the meeting, Sangma slowly built a case for how the BJP campaign against Sonia's foreign origins was seeping deep down to even remote villages. Then came the unkindest cut. "We know very little about you, about your parents," Sangma told Sonia.
Those present claim that Sonia was shocked by Sangma's bluntness, who was drafted into the CWC as her nominee. The third signatory, Sitaram Kesri's protégé Tariq Anwar, too, had survived in the CWC even after his mentor's departure, courtesy Sonia. Then the man she had made Leader of the Opposition (until Sonia herself became a Lok Sabha member in September 1999) picked up from where Sangma left off.
With opening remarks as deceptive as his smiling signal, Pawar said Sonia Gandhi had done a great job as the party chief. "You brought unity in the party and revamped the organisation. However, the Congress has not succeeded in answering the BJP's campaign about your foreign origins. Let us take a serious note of it."
The lady from Orbassano was confronting a crisis that was graver than the one her husband had faced a decade ago when he battled corruption charges in the Bofors gun deal or the ones her mother-in-law Indira Gandhi faced in 1969, when she had to witness a split in the Congress, and in 1977 when she had to face a humiliating electoral defeat.
Suddenly reality dawned on Sonia — she continued to be a loner in what she had thought to be her own 'parivar'.
Sangma went on, "When people ask us why the Congress has failed to get a qualified Indian among (India's) 980 million citizens as its prime ministerial candidate, we have no answer. I think they are right."
Perhaps superstar Amitabh Bachchan was right when he said Congressmen were merely using the Nehru–Gandhi family to stay in power, Sonia wondered. After all, it was these leaders who had pleaded with her to take the reins of the Congress and 'liberate' the party from Sitaram Kesri.
After Sangma had finished his speech, Rajesh Pilot tried to see some merit in what Pawar and Sangma had said. Pilot, however, did not join the rebels' rank, favouring the newly elected MPs to address the leadership issue. At that juncture, RK Dhawan lost his cool. He rubbished the Sharad–Sangma theory and said, "Bhai, you seem to be taking up the BJP-RSS agenda."
Dhawan had barely finished when the CWC members saw Sonia get up and walk out of the room. As Ghulam Nabi Azad, Ahmad Patel, Mohsina Kidwai, K. Karunakaran, Vijay Bhaskar Reddy, Jitendra Prasada and Sitaram Kesri looked on uncomfortably, not knowing what to do, Arjun Singh suddenly got up and ran after her, not waiting to even put on his shoes.
Sonia kept walking, her footsteps loud in the silence. Suddenly, she turned around to see Singh, barefoot, hands folded. He did not say anything — he did not need to. The folded hands conveyed both a request for her to stay on and remorse, his own and that of a large section of party workers.
Singh's gesture was a measure of the stakes involved. It was he who had mastermind the 'draft Sonia campaign'. If she were to walk out of the party, it would be the end of all his dreams, ranging from his desire to see the Congress stage a comeback in national politics to his personal ambition for high office.
A CWC member said the incident was a chilling reminder of 1977, when Indira Gandhi received a letter with a similar message from Jagjivan Ram, challenging her authority as she had lost the confidence of the party and the people. "Sonia Gandhi considers her mother-in-law to be her role model. She now has to fight and prove herself like Indira Gandhi," he added.
Sonia, however, had no illusions about herself. When some CWC members approached her asking to her to fight back like Indira, Sonia retorted in uncharacteristic manner, "I am not the daughter of Jawaharlal Nehru!"
Ironically, it was Sonia herself who raised the issue of the BJP's campaign against her foreign origins, asserting she would fight till the end. Sitting next to Pawar, Dhawan told her comfortingly: "Madam, you are not alone in this battle. We are all with you."
Once Sonia walked away, the CWC meeting ended on an abrupt note with Arjun Singh drafting a resolution that attacked the BJP's campaign against Sonia. Pawar and Sangma were unfazed. While leaving, they told Pranab Mukherjee that it was their last CWC meeting.
Just after the meeting, when Mukherjee, Madhavrao Scindia and others were pretending to concentrate on the list of nominees for Goa, Sonia received the letter from the trio that read like a chargesheet against her. Sonia did not bother to read it. Vincent George called up senior leaders, including Arjun Singh, Mukherjee and Dr Manmohan Singh to formulate a response.
Arjun Singh took charge to deal with the crisis. The veteran warhorse quickly branded Pawar, Sangma and Anwar present-day 'Mir Jafars' for their 'betrayal'. He told party leaders that Pawar had lived up to his reputation for ruthlessness by attacking Sonia when she was most vulnerable. It was Singh, as vice president of the party, who had used his influence to convince a reluctant Rajiv Gandhi to bring back Pawar in the Congress in 1985.
Pawar's critics point out that shortly after Rajiv's death, he was one of the signatories to the long list of Congress leaders demanding Sonia Gandhi take charge of the party. She had then flatly refused to do so. Again, in 1997, when the Congress plotters quietly staged a coup and Sonia Gandhi took over from Kesri, Pawar was an active player.
In fact, a few days before taking on Sonia on the foreigner issue, Pawar was given the key responsibility of acquiring signatures from probable allies soon after the fall of the Vajpayee government. The letter had made it clear that Sonia would be the prime ministerial candidate. Pawar was also entrusted with the crucial job of stitching up alliances in other states. He was in Chennai only a few days before the rebellion for talks with the All India Anna Dravida Munnetra Kazhagam (AIADMK) chief, Jayalalithaa. He was to be in Chennai the day after the CWC meet.
To many, the revolt had been brewing for some months. Beneath the professional veneer, Pawar and Sonia Gandhi never seemed to get along with each other. She preferred to maintain a distance, keeping in mind Rajiv's opinion that Pawar was a good leader but not one to be trusted.
Pawar was not new either to performing sudden somersaults or going against someone whom he had supported. Early in his career, in 1978, he had brought down a Congress government in Maharashtra headed by Vasantdada Patil. According to VN Gadgil, Pawar defended Patil in the Assembly during the no-confidence motion and, after finishing the speech, went straight to the Governor withdrawing support for Patil.
Pawar told his confidants in February 1999 that the Congress was now revolving around 20 Canning Lane, where Arjun Singh lived. But Singh was not his target. It seemed later to Sonia that Pawar was unwilling to play Singh's role as the second-in-command.
In May 1999, Pawar was 58 and knew fully well that if Sonia took charge, his prospects of securing the prime job in the country would disappear.
In Pawar's scheme of things, revolt against Sonia was based upon a scenario that no political party or group would get majority in the 13th Lok Sabha. Former prime minister Chandra Shekhar, Samajwadi Party leader Mulayam Singh Yadav and Samata Party leader George Fernandes were said to be his close associates who convinced him to make a bid for the Prime Minister's post. The logic was simple — as long as Sonia was Congress chief, regional satraps like Chandrababu Naidu, Mayawati, Mulayam Singh Yadav, Mamata
Banerjee and Jayalalithaa would not back her for the top job.
Pawar, on the other hand, was confident of running a coalition. The 1999 general elections gave a clear mandate to the BJP and its allies. What was worse for Pawar was that in his home turf of Maharashtra, he finished behind the Congress in the state assembly polls. The Congress got 76 seats while Pawar's group bagged 58.
(The author is visiting fellow at the Observer Research Foundation and a journalist. Views are personal)
Get the best of News18 delivered to your inbox - subscribe to News18 Daybreak. Follow News18.com on Twitter, Instagram, Facebook, TikTok and on YouTube, and stay in the know with what's happening in the world around you – in real time.
Subscribe to Moneycontrol Pro and gain access to curated markets data, trading recommendations, equity analysis, investment ideas, insights from market gurus and much more. Get Moneycontrol PRO for 1 year at price of 3 months. Use code FREEDOM.
| Edited by: Nitya Thirumalai
Read full article