OPINION | TN's Political Vacuum Sucked in Rajini, But It Doesn't Guarantee Electoral Success
Rajinikanth's announcement that he will launch a political party ahead of the next election and contest all 234 Assembly seats in the state will certainly shake up the political dynamics of the southern state.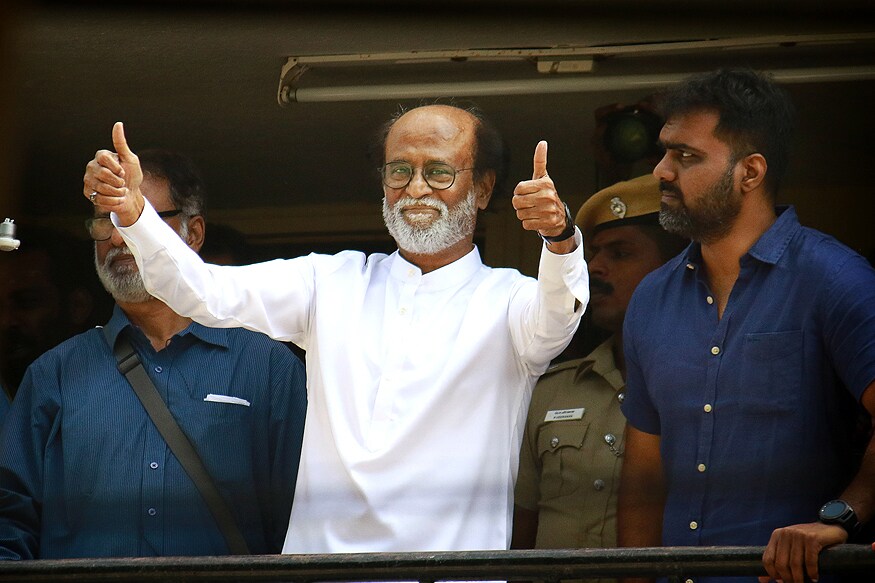 Superstar Rajinikanth gestures to his fans after announcing his political entry, in Chennai on Sunday. (AP Photo/R Parthibhan)
Politics has jumped into Rajinikanth, as Twitterati say! And, it's happened in a Tamil Nadu where there is no J Jayalalithaa and M Karunanidhi is confined to a wheelchair.
Rajinikanth's announcement that he will launch a political party ahead of the next election and contest all 234 Assembly seats in the state will certainly shake up the political dynamics of the southern state.
Firstly, there is a political flux in Tamil Nadu, which over the last three decades was dominated by the Jayalalithaa versus Karunanidhi battle.
With Jayalalithaa's demise and Karunanidhi retreating from active public engagement, the next assembly polls will be the first in nearly three decades where neither will be leading a campaign. The state is in the quest for a personality.
MK Stalin is a leader, but not one who has the stature of his father M Karunanidhi.
TTV Dinakaran has stunned observers with his win in the RK Nagar by-election, but is far from emerging as a successor to Jayalalithaa. The rest of the AIADMK seems irrelevant.
The personality vacuum in Tamil politics is what has sucked Rajinikanth into it. But that vacuum is not a guarantee for electoral success. The superstar needs to go through a metamorphosis to become a politician.
Even today, as he announced his entry into politics, it was like he was acting out a charged movie dialogue and not making a tempered political speech. But that's his style and his biggest selling point.
At this stage, tt cannot be predicted that his style and fan following will sweep an election. At the same time, it cannot be said that he will fail. Only an election can decide that and before he faces that election, he will have to face a few challenges.
First, Rajinikanth certainly has credibility and fan following unparalleled in the state, but he is a reluctant politician and a declared spiritualist.
He has often retreated into long spans of spiritual silence in the Himalayas and shied away from public attention, but he has also refused to give up his superstar status. It's like having the best of both worlds, and choosing which one he wants at different points in time.
But politics is a 24/7, 365-day job and the challenge would be to cope with being in the public eye all through. He has two films which are coming up - Kaala and 2.0. Once he launches his own political party, he needs to bid his acting career goodbye. This is where he needs to show a decisive image change.
The second test would be to show that he can take the bull by its horns. In the past, Rajinikanth has taken political sides, but never led a campaign. Hence, there is no way to judge if he will be accepted as a politician by his fans and the electorate.
In 1996, when there was enormous angst against Jayalalithaa's first regime as chief minister (1991 to 1996), Rajinikanth had openly opposed her and said "even God can't save the state if she comes back".
In 1998, he made a statement endorsing the Congress faction led by GK Moopanar as an alternative to the DMK and AIADMK, but refused to get dragged in further. In the same year, his film Padayappa had charged dialogues, apparently hitting out at Jayalalithaa.
Many of his films, before and after Padayappa had scenes where he would be asked to join politics, amid great applause, but the hero would not commit.
All along, the image is of one who is willing to enter politics to save the people, not for his own benefit.
This is the crux of the narrative he conveyed, in his announcement, when he stated that his party would have to be "the guardians of democracy". This is easier said than done.
To choose candidates, find electoral equations and create a political party with booth level cadre is an uphill task. He has, for the moment, ruled out an alliance with any party and hence needs to achieve these ahead of an Assembly election and that could be as late as 2021 or as early as 2018.
The electorate will be closely watching those who surround Rajinikanth, the politician and that would make or break his credibility.
Thirdly, political opponents are likely to raise linguistic identity issues around him. If not overtly, they would do it subtly and covertly.
In the past, when water disputes between Tamil Nadu and Karnataka over the Cauvery river erupted, sections of the Tamil polity and film world had singled out Rajinikanth as a 'Kannadiga'.
Rajinikanth was born in a Marathi speaking family in Karnataka and had worked as a bus conductor in Bengaluru till his entry in Tamil cinema. He has been disturbed by such vicious remarks and has made emotional responses to such malicious campaigns against him.
These uncharitable comments about his linguistic identity did not go down well with the public in the state and he remains the superstar, but will it be different if he is to be Chief Minister? This is a delicate question, but Dravidian politics has had historic contradictions.
EVR Periyar, father of the Dravidian movement, hailed from family with ancestry to Kannada language; MG Ramachandran was born in a Malayalam-speaking family and J Jayalalithaa was born to a Brahmin family to lead a political party that rose from an anti-Brahmin movement.
It's likely that Rajinikanth's linguistic identity will not be an emotive issue for the electorate, but his opponents may attempt to make it one. It's a delicate issue and will have repercussions in Karnataka as well.
Finally, what ideology does he represent?
Ahead of the 2014 elections, he had said his vote was for the Bharatiya Janata Party. Narendra Modi had even visited Rajinikanth. But Rajinikanth, who is a deeply spiritual Hindu, cannot be assumed to be a supporter of a Hindu political identity or a BJP ally.
Rajinikanth's star appeal cuts across religion. Further, Tamil Nadu's Dravidian tradition has ensured that the electorate has, hitherto, rejected the BJP and is an ideological barrier to Hindutva.
The Bharatiya Janata Party, by itself, is not seen as an electoral force in the state. The main political parties have always been wary of an alliance with the BJP as it could create a secular plank for all other opposition parties to unite.
This is why despite her friendship and solidarity with Narendra Modi, J Jayalalithaa refused a political alliance with the BJP.
Rajinikanth's main proposition is an alternative to the DMK and AIADMK, which is why his announcement confines to forming a party ahead of an Assembly election and not a parliamentary election.
This leaves the window open to guesses on which side he would support at a national level. He will play those cards close to the chest and it would hurt his credibility to be seen as being close to any existing political party. His ideology, in other words, is likely to be fluid and suit his political circumstances without committing himself.
It will be essential for a superstar to answer tough questions about his views, thoughts and solutions that he proposes to offer the electorate for his political entry to succeed. The times when a Rajinikanth film was a guaranteed hit at the box office have gone.
Even he has to make a good film for it to succeed at the box office and certainly only a good political script will succeed in an election. He has taken his time to announce his political entry and Tamil Nadu will be watching the script unfold closely before delivering a verdict.
(The author is a senior journalist. Views are personal)
| Edited by: Nitya Thirumalai
Read full article