OPINION | Trump's First Tweet of 2018 Shows His Grudges Against Nuclear-Armed Pakistan
Of the $123 billion worth losses bore by Pakistan itself for the war against terrorism, only $33 billion was reimbursed by the US.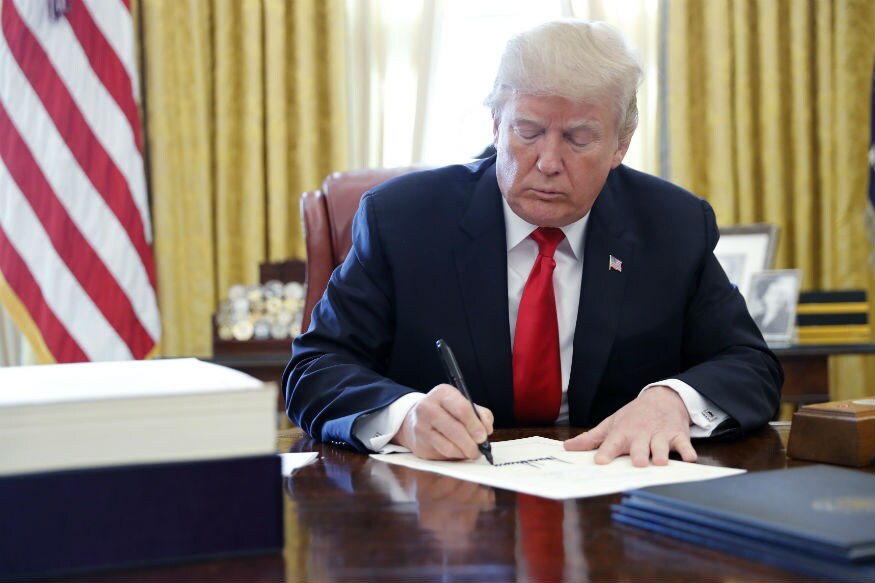 File photo of US President Donald Trump.
"If you can't control your tweeting habits, then stop tweeting," said a seasoned political commentator of CNN, Ana Navarro, on national television in her remarks against the not-so-friendly-tweeter American President Donald Trump.
This came as no surprise since President Trump doesn't let go off anything from his Twitter radar; be it his white supremacist rant, anti-Mexican sentiments, selective trade restrictive policies, or anti-Muslim videos retweets — Trump's twitter handle is all encompassing.
It is the very reason for his sweeping electoral victory, as per most analysts. His Twitter following is second only in popularity to his political arch-rival and former American President Barack Obama.
Nonetheless, given the habitual rhetoric of the US President whose electoral victory itself generated endless riots, civil resentment and divide amongst Americans, his very first tweet of 2018 spoke volumes of his grudges against the only nuclear-armed Muslim State of the world, Pakistan.
Recovering from the shock of his approval rating released by the PEW Research Centre on December 7, 2017 at mere 32%, President Trump tweeted of "generously" showering Pakistan with $33bn of US Aid stretched over a span of 15 years.
It was never worth the tireless war undertaken by the state of Pakistan for eradication of terrorism; a war that was always America's and had begun with their militarizing of the Talibans and Haqqanis against the Soviet Union.
This policy was always foreseen as a never ending one and eventually turned out so, with the Americans being the first ones to unsubscribe to it as a paradigm shift in their policy doctrines; when America walked out on these wine and dine partners of theirs, they turned bitter and resentful. Notably it came as no surprise since President Trump's Afghan Policy of August 2017 which sought face-saving from the 15-year old American troops' deployment in Afghanistan, followed by his latest anti-Pakistan tweet rant, weren't mandated by the relevant historical and context which is aforementioned.
One would arguably question that if, as per New York Times and officiated USA figures, 15 years of NATO troops deployment in Afghanistan has been incapable of mainstreaming/taming 30% of Afghan territory till date, why would these questionable terror outfits need a "safe haven/hideout" in Pakistan, when they're readily available and well-harboured in Afghanistan itself? Alas!
Retrospectively, Pakistan was at the crossroads and dilemma of this soured alliance between the US and its unofficial warriors- faithful but war-torn state of Pakistan chose to abide by this mess that wasn't theirs in the first place and it cost them a fortune.
Accredited as the country that have undertaken multiple clean-up operations along counterterrorism narrative namely Operation Al-Mizan (2002-2006), Operation Raah-e-Haq (2007), Operation Sher-e-Dil (2008), Operation Zalzala(2008-09), Operation Sirat-e-Mustaqeem(2008), Operation Raah-e-Raast & Raah-e-Nijaat(2009), Operation Koh-i-Safaid(2011), Operation Zarb-e-Azb(2013-2017) and Operation Radd-ul-Fasaad (2017 and ongoing), this didn't come easy for Pakistan.
Sacrifices and costs amounting to US $123.13bn, stripping the country's GDP growth, loss of 70,000 people in indiscriminate bloodshed including women and children, armed and paramilitary forces, Pakistan bore heavy losses due to cross-border terrorism and must we reckon that irrespective of a civilian or military government in power, this particular cause was common and dear to all.
As we speak, the intelligentsia is pre-emptive of any malicious plans of the non-state actors which may be under engineering outside Pakistan and also within through their internal proxies at work, success rate of these recent most operations particularly Radd-ul-Fasaad and earlier Zarb-e-Azb has been as high as upto 90% and this is exactly what the USA is envious of, given the fact that 15 years of American occupation only epitomizes failures and exhaustion which has only worsened in the last week of year 2017 with around 100 casualties in Afghanistan, claimed by the ISIS.
On the contrary, those 30% of uncontrolled Afghan territory is hosting Mullah Fazlullah, chief of the Tehreek-e-Taliban Pakistan (TTP) who has unapologetically masterminded heinous acts of cross border terrorism in Pakistan.
Afghan Ambassador to Pakistan Dr Umar Zakhelwal is one end, on record for having admitted to these "safe havens" in the uncontrollable half of Afghanistan while on the other side of the picture former Afghan President Hamid Karzai (informal alias Mayor of Kabul since only Kabul was what he could control) has backed President Trump for his unabashed, far from reality anti Pakistan rant. One may now comfortably subscribe to the truer picture and decide for themselves who in here has duality in their role(s).
Talking business, in totality of the $123bn worth losses bore by Pakistan itself for the war against terrorism, only $33bn was reimbursed by the USA alongside violation by USA of the bilateral Coalition Support Fund Agreement through halting these disburses in last three years which tantamount to most of this figure of $33bn, far from the term "aid".
Thankfully for Pakistan, this made up only 1% of the country's total budgetary expenditure which it could well beyond compensate through other friendlier and time-tested means/avenues such as China.
The magnanimous China Pakistan Economic Corridor project is the most recent testament and fortification of the historical bond between China and Pakistan, further bolstered by Russia, China and Iran.
Given the magnitude of this project, rumours and politicisation are natural to follow but they've always been brushed aside by the robustness of bilateralism between the two main stakeholders; China and Pakistan. Enlivening like always was the back of China, post President Trump's stance; standing solid as a rock by the side of Pakistan as in the Kashmir issue, NSG membership and Palestinian struggle. Not like all eggs in one basket, rather different eggs from different baskets assembling under the common roof of CPEC; as if the USA had left Pakistan with any other option but this.
(Mona Alam is Islamabad-based political and security analyst. Views are personal)
Get the best of News18 delivered to your inbox - subscribe to News18 Daybreak. Follow News18.com on Twitter, Instagram, Facebook, Telegram, TikTok and on YouTube, and stay in the know with what's happening in the world around you – in real time.
| Edited by: Nitya Thirumalai
Read full article