OPINION | Violence Over Vedanta's Sterlite Plant Calls for Shareholders to Hold Strong Moral Compass
Learning from the climate change movement, when companies violate environmental norms and human rights, it is moral responsibility of the shareholders to take charge.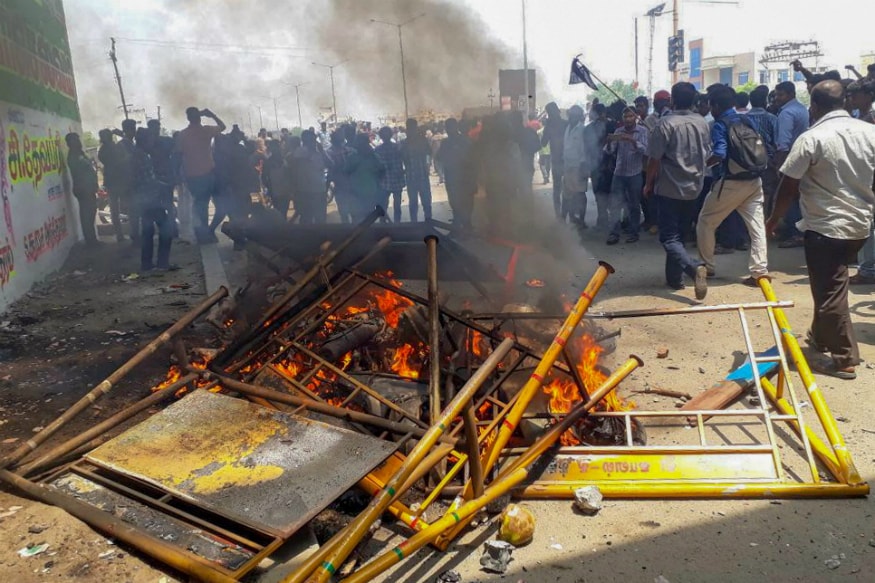 Smoke billows from burning barricades as agitators march to demand the closure of Vedanta's Sterlite Copper unit in Tuticorin on May 22. (PTI)
The case of Vedanta-Sterlite Copper smelter in Thoothukudi, Tamil Nadu has once again brought to light the nexus between companies and government that disregards well-being of people and environment.
The NDA government gave concession to the company by getting around the mandatory environmental safety regulations and even the National Green Tribunal's order on frivolous grounds.
The plant has been accused of dumping copper slag in a river, causing air pollution, contaminating groundwater and a risk to fisheries. The health study conducted in 2008, when the smelter was running at a much lower capacity, found increased prevalence rate of asthma and respiratory infections caused due to the air pollution in the area.
The residents have been protesting for over 100 days demanding closure of the smelter and this week 13 people were killed in police firing. The contentious expansion of the smelter was stayed by the Madras High Court on May 23. The Tamil Nadu Pollution Control Board also sprang into action and ordered the closure of the plant, leading to disconnection of power supply.
Sterlite Copper of the London-listed Vedanta group has been a habitual offender. It remained closed for weeks in 2013 after the case came up at the National Green Tribunal (NGT) and the Supreme Court found that it polluted the environment through harmful emissions and slapped a fine of Rs 100 crore.
The reports revealed that successive governments have been in cahoots with the company to provide exception from public consultation for the plant's expansion, which now has been made mandatory by the High Court.
Flouting environmental norms, in the name of development and economic growth, has turned India into the capital of world pollution deaths in 2015.
According to a report released last October by The Lancet Commission on Pollution and Health, out of nine million deaths worldwide, 2.5 million die prematurely in India. Another report on global climate change and its impact on health showed that India has had over 5 lakh premature deaths, second highest in the world, attributable to air pollution and Particulate Matter (PM) 2.5 concentration in the air.
As if that were not enough, India ranked among five worst nations in curbing environmental pollution as per a new green index released during the annual World Economic Forum meet in Davos this January.
Despite growing concerns world over, the country's obsession for economic growth coupled with corruption, continues to undermine environmental protection and human rights.
When governments do not pay heed, people and activists resort to courts and tribunals, which is often a lengthy process and many a times rendered ineffective due to mighty executive arm of the government.
In such situation of despondency, shareholders must assume high moral responsibility towards people and environment by holding the company to account.
Learning from the Climate movement
Back in 2010, after learning about the damaging consequences of coal mining on nature and people's health, a group of students from Swarthmore College near Philadelphia successfully convinced their Board of Managers to publicly sell their fossil fuel shares. This boosted the image of the college while painted fossil fuel industry in a bad light, highlighting ill-effects such as pollution and diseases.
With the slogan 'Divest from destruction, reinvest in justice', the divestment campaign against fossil fuels — the primary cause of climate change — reached 50 colleges by 2012.
In the US, Europe and other parts of the developed world, it is common for universities, religious organisations, pension funds, local authorities and even charitable foundations to invest in the form of stocks, bonds or funds to generate income.
Something that started as a student campaign is now a global divestment movement that led more than 500 institutions, including The Church of England and World Council of Churches, to make their portfolios "fossil free" with the invested assets totalling $3.4 trillion.
Last December, the World Bank at the One Planet Summit in Paris announced that it will end its financial support for oil and gas extraction by 2019 to halt climate change.
The movement recently saw more commitments, with New York City council pledging to divest its pension funds of $5 billion in fossil fuel investments, and Sussex University announcing plans to divest, joining 60 UK universities that have at least partially divested from oil, gas and coal.
The divestment movement stressed on moral and financial reasons to influence investors to move their money out of the unsustainable fossil fuel industry and invest in clean energy. The Paris Agreement on Climate Change in 2015 gave a clear signal that the days of the polluting industry are numbered.
We must take a leaf out of this success story, having a common objective of protecting nature and people's health, to educate, sensitise and even challenge investors to be responsible. We need a similar movement in India against companies which fearlessly pollute not only environment but also cause serious human rights violations.
Financial and reputational risks force companies to be accountable to their shareholders to remain relevant. Vedanta's stock plunged over 7 per cent after people lost lives in protests, but it was unarguably due to investors' financial self-interest.
The principles for responsible investment, supported by the UN, advocate for incorporating environmental, social and governance factors into investment decisions, to better manage risk and generate sustainable, long-term returns.
It is high time investors — individual or institutional — go beyond their immediate financial interests and embrace environmental protection not only as a legal requirement but a core value while making investment decisions.
(The author is a climate change expert based in New Delhi. He tweets under @harjeet11. Views are personal.)
| Edited by: Nitya Thirumalai
Read full article
Countdown To
Elections Results
To Assembly Elections 2018 Results