What Shujaat Bukhari and Aurangzeb's Sacrifice Tells Us, Writes Officer Who Led Surgical Strike Against Pakistan
Shujaat Bukhari and Aurangzeb employed different types of weapons in their professions, one wielded a pen while the other a gun. However, their vision and purpose were similar – to bring peace to their home.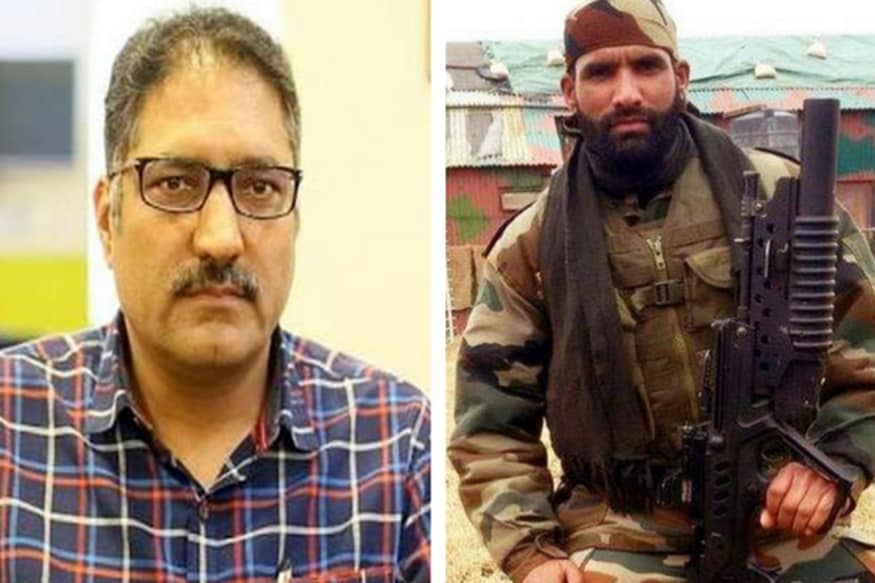 A combination photo of Rising Kashmir editor Shujaat Bukhari and Indian Army soldier Aurangzeb
I did not know Shujaat Bukhari very closely but have interacted with him on a few occasions. Our relationship could be described as being marked by mutual respect, and I admired him for his integrity and deep understanding of the nuances and complexities of the situation in Jammu and Kashmir. He was also a person who, while firmly and clearly articulating his views, would also give you the courtesy of a patient hearing. He was a mature, sensible voice from Kashmir who was passionate about peace. He was possibly killed because of these very qualities.
Aurangzeb belonged to 4 Jammu and Kashmir Light Infantry and was posted with the 44 Rashtriya Rifles at Shopian. I personally did not know him, but he would have been the typical Indian Army soldier – brave, fearless and bound by a strong sense of duty. Yet, these characteristics did not make him less human. He would have been excitedly looking forward to spending Eid with his family when he was pulled out of the car in which he commenced his journey for leave. While in uniform, I do not think he would have given more than a fleeting thought to his religious identity, but he was possibly killed because he was a Muslim soldier who had participated in operations against local terrorists.
Kashmir is no stranger to death and violence but there are some events that seem more tragic than others. Not because of the amount of blood spilled, but because they come at a time when peace and hope appear to have a chance over the continuing strife and despair. The deaths of Shujaat and Aurangzeb appear to have given a setback to any current chance of hope.
The Ramzan ceasefire seems to be heading towards an end. Even when it was announced it faced enormous challenges. I do not think enough time had been spent in preparing for it and taking various stakeholders on board. The Raksha Mantri was clearly surprised. Terrorist groups promptly rejected the ceasefire and continued to resort to killings and violence. Pakistan stepped up infiltration and firing along the borders. The separatists, who were offered an opportunity for dialogue, missed this chance due to their obdurate stance. This obviously led to some frustration among the soldiers on the ground who saw their hands tied even as grenades were being hurled at them.
However, there was also a silver lining. The announcement of the ceasefire created a ripple of hope and a narrative of giving peace a chance. The first two weeks were a period of cautious optimism as clashes between protesters and security forces reduced significantly. Civilian casualties, which lead to a cycle of further clashes during funerals and more deaths, dropped dramatically.
The Centre must be given credit for taking a bold and somewhat risky step of a unilateral ceasefire that was somewhat of a reversal from their past 'muscular' approach towards tackling the conflict in Kashmir.
Where do we go from here? It is obvious that operations are set to resume. With the intransigent attitude of terror groups and continuing support and infiltration from Pakistan, there is no second choice. Terrorists have to be reined in, particularly as the Amarnath Yatra is around the corner and no responsible government can afford to put the yatris at risk. It could carry a huge political cost.
However, even as soldiers spread out in an offensive against the terrorists, it must be remembered that the past one month did provide a glimmer of the middle ground that had almost disappeared during the past few years. It is here that solutions are to be found. The conflict in Jammu and Kashmir has many complex dimensions, and even as terrorists are hunted down, dialogue, outreach, youth engagement and counter-radicalisation efforts must continue.
The Ramzan ceasefire was perhaps the most important initiative undertaken by the government in recent years. It is important that we do not look at this period with a sense of failure or frustration but as providing us some pointers of the path towards conflict resolution. In this, the role of the local population will be crucial as they were the biggest beneficiaries of the cessation of operations by security forces. Terrorists will continue in their attempts to show that violence is the only way to achieve their goals and it is up to the people to demonstrate that they firmly reject this path. Obviously, for this to happen, the government must enjoy the confidence of the masses.
Shujaat Bukhari and Aurangzeb employed different types of weapons in their professions, one wielded a pen while the other a gun. However, their vision and purpose were similar – to bring peace to their home. However elusive peace may appear at this time, their deaths should not distract us from this purpose.
(The author is former Northern Commander, Indian Army, under whose leadership India carried out surgical strikes against Pakistan in 2016. Views are personal.)
Read full article