OPINION | The Atishi Surname Episode in AAP Shows How Caste Has Cast Its Stranglehold on Politics
Ram Manohar Lohia was the first leader to recognise the aspirations of the backward castes. Karpuri Thakur carried forward the flame. But Mandal Commission was the real turning point.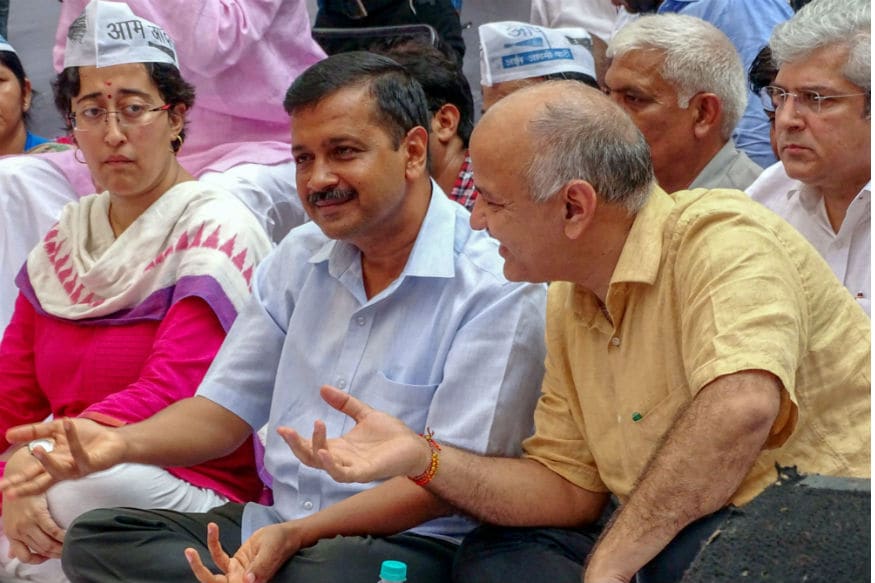 Delhi CM Arvind Kejriwal with deputy CM Manish Sisodia and Atishi. (PTI photo)
It is a funny but ironical story of my life. VP Singh was the prime minister. To checkmate Devi Lal, he announced the implementation of Mandal Commission recommendations to give 27% reservation to Other Backward Classes (OBC).
This sparked a nationwide furore. Upper caste boys started self-immolating. I was in JNU at the time and a few of my friends decided to do something. We all concluded that the caste system was the curse and we as "enlightened" students should drop our surnames to send a strong message to society at large.
We decided to assemble at the JNU library next day, take a vow and announce that we were dropping our respective surnames. Next day when I reached the library, I was surprised to note that none of the "revolutionaries" turned up. I was the only one. I waited for sometime and then unilaterally decided to drop my surname. I wrote a pamphlet and distributed it in the mess at dinnertime as was the tradition in JNU to communicate with the larger audience. Since then my name has been just Ashutosh.
But that day I learnt an important lesson that caste is integral to Hindu society and everyone be it Brahmin, Kshatriya, Vaishya or Shudra is married to the caste in which he or she is born and no divorce from caste is possible till death. Caste defines the identity of the person and dropping of surname was akin to forgetting one's caste and losing one's identity.
I informally continued without a surname. When I decided to contest parliamentary elections from Chandni Chowk I discussed with my wife and decided to officially delete my surname as I found it uncomfortable and hypocritical to bring back my surname for electoral purpose. Now my name was Ashutosh, officially too.
The first time I was introduced to AAP volunteers of Chandni Chowk constituency, to my utter surprise, my caste name was very prominently mentioned by party volunteers. They were happy that Chandni Chowk had "my-caste-men" in abundance and that would help me too. Despite my protest, the whisper campaign continued. While asking for votes, right before me, party volunteers used to sarcastically say, "Sir is very idealist and does not use his surname but he is of your 'Biradari' only." Newspapers carried stories about me and my caste. By the time votes were polled everybody knew my caste. A secret, for 24 years, (1990 to 2014), was revealed by politics.
As my caste name became public, the caste organisations across India started calling me to felicitate me and asking me to become a member which I politely declined. A few of them called up my father and complained that I was too arrogant. My father told me, "You are being too naive and you can't run away from your own caste people. My family and relatives can be in trouble, who will marry our girls?" It was difficult to withstand the pressure. I stopped receiving their phone calls.
When I heard about Atishi and that she had to drop her surname 'Marlena', which is not a caste name, due to the communal whisper campaign, I was not surprised. I just smiled. It so happened that at the same time I was reading a book written by Karpatriji Mehraj, who vehemently defended the caste system.
Karpatriji Mehraj had formed a party called Ram Rajya Parishad which contested elections in 1952 and won three seats too. He not only justified the caste system but found it reason enough for the sustenance of Hinduism despite the prevalence of other religions for thousands of years. He advocated that members of one caste should not mingle and marry in another caste as that would cause impurity of blood and would lead to destruction. He said, "If Brahmin and Harijan don't feel proud about their caste why will he feel proud about Hinduism."
VD Savarkar, the original icon of Hindutva, had said that it was due to the rigidity of the caste system that Hindu could not spread like Muslims did.
It was against the rigidity of the caste system that Ambedkar rebelled and said that unless caste was annihilated, there was no salvation for Dalits and annihilation of caste meant destruction of Hindu religion as caste was integral to Hinduism. He believed that it was the "graded inequality" which was the reason for the untouchability and exclusion of Dalits from the Hindu fold. He was the architect of the Indian constitution which demanded the demise of the inequality and offered equality before law. It was a revolutionary concept. But the constitutional equality could not mitigate social inequality.
Dalits and OBCs are still not accorded social dignity, they are still not treated as equals. The success of Kanshiram, Mulayam and Laloo Yadav in UP and Bihar is symptomatic of the age-old churning within the Hindu belief system. The upper caste is still not comfortable with the assertion of Dalits and Backwards. The blind support of the upper caste to Modi is indicative of the fact that the fight will only get more bitter in the coming days.
Therefore, to imagine that caste is no longer relevant in Indian political system, is to imagine an impossibility. From the selection of candidate to the making of cabinet, the caste equation is given prime importance.
Just after independence, the upper caste used to dominate every sphere of life but as the constitution unfolded and it became apparent that democracy was the game of numbers, bigger the number, greater is the possibility of participation in the power structure, the upper caste dominance started slipping.
Ram Manohar Lohia was the first leader to recognise the aspirations of the backward castes. Karpuri Thakur carried forward the flame. But Mandal Commission was the real turning point. The Backwards freed themselves from the clutches of upper caste dominance. It was this fundamental reason that since 1990 neither in UP nor in Bihar, no upper caste leader except Rajnath Singh and Ram Prakash Gupta for a very brief period and now Yogi Adityanath, could become the chief minister.
Dalit assertion is also on the rise. The emergence of Mayawati is not incidental. Even the BJP had to talk about social engineering. Govindacharya tried to change the social profile of the party, though, unsuccessfully.
Since 2014, Modi and Amit Shah combination has revived that formula, especially in UP and Bihar. In UP, the BJP deliberately tried to lure people other than the Jatavs within Dalits and other than Yadavs among the backwards; it was this social engineering that helped BJP win 71 seats in 2014 and 321 in UP Assembly seats in 2017. Even Congress had the winning caste formula in its hey days. It created an arithmetic of Brahmin, Dalit and Muslims. The Congress lost its traditional social base when it was seen vacillating on the issue of Mandal Commission and Babri Masjid. Post 1990, Congress was wiped out from UP and Bihar. The regional parties occupied the position once held by the Congress.
Caste is the sad reality of Indian polity. There seems to be no respite. So to cast aspersions on one individual or one party would not be right. Everyone is equally responsible. Let's hope that with the spread of urbanisation and industrialisation, this malaise will get obliterated but there is no knowing how long that will take.
(The writer is a former AAP leader and a veteran journalist. The views expressed are personal.)
Get the best of News18 delivered to your inbox - subscribe to News18 Daybreak. Follow News18.com on Twitter, Instagram, Facebook, Telegram, TikTok and on YouTube, and stay in the know with what's happening in the world around you – in real time.
| Edited by: Ashutosh Tripathi
Read full article