OPINION | Why Netas Should Use Data and Where Google Steps Into Play
Google trends has been able to correctly predict a streak of election results which has puzzled and befuddled the best of pollsters.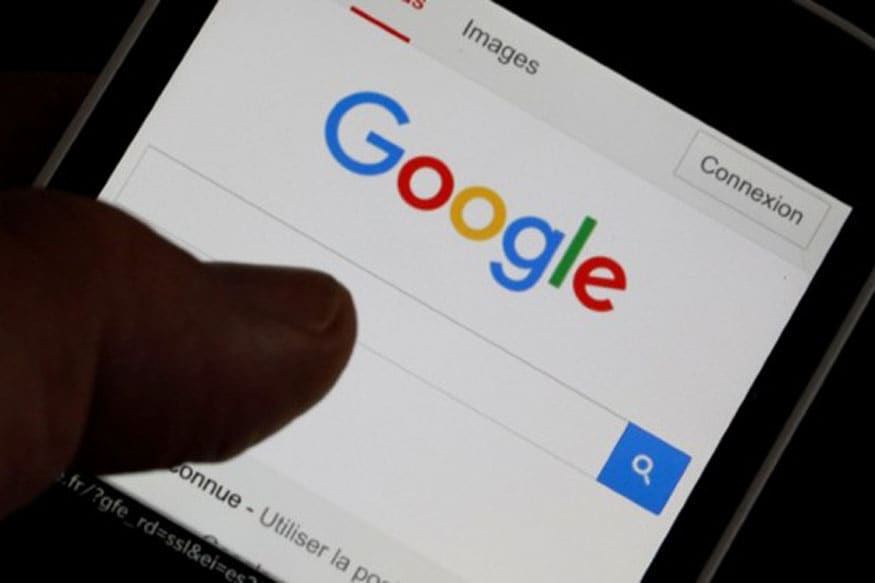 Representative Image.
I wake up in the morning to my smart-watch telling me I had a sound sleep. I take an Uber to go to office and the Google map tells me that I am running 5 minutes late for a meeting. During the day, Zomato recommends me a dish to order, Amazon recommends a book to read and Netflix suggests a movie to watch. These recommendations are based on algorithms that analyse my past buying or viewing behaviour. Data drives everything from the clothes I purchase, transportation I use to the trillion-dollar economy. Data has become ubiquitous in every industry be it FMCG, banking, retail etc.
It has even become integral in the hitherto traditional unorganised sectors like transportation, logistics etc with start-ups like Ola and Rivigo using data and technology to bring about a transformation in these traditional sectors. However, adoption in one of the oldest sectors, politics has been at a periphery.
A great example of a simple analytical technique is Google trends which is freely available. Google trends has been able to correctly predict a streak of election results which has puzzled and befuddled the best of pollsters. Google had correctly predicted that BJP will win in Gujarat. Based on Google trends of last 60 days prior to polling, the BJP were favoured to win. Google had also predicted that BJP will win in UP, Congress in Punjab, JD(U) and RJD alliance in Bihar and AAP in Delhi. A hit rate which convincingly beats many erudite poll pundits.
GUJARAT ELECTIONS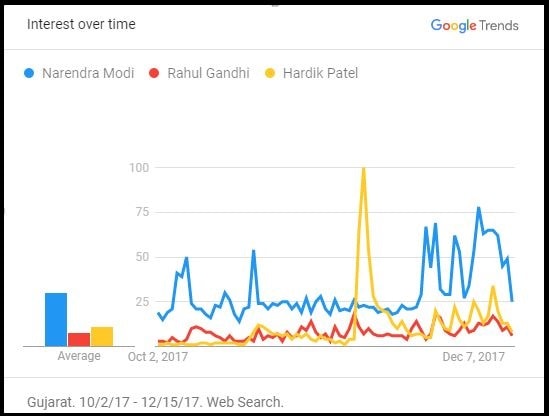 UP ELECTIONS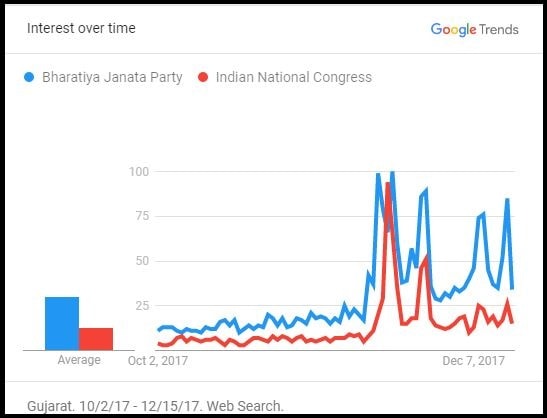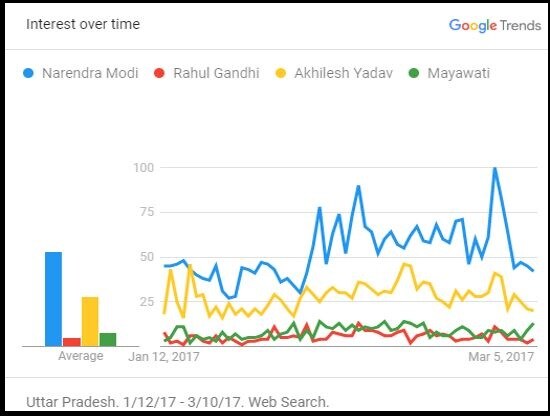 What does Google trends signify? Google trends in the context of election results prediction simply shows which party or which politician was searched more in Google and the trends can be analysed at national and state level on a daily, monthly or yearly basis.
With increasing smartphone penetration and dirt-cheap data rates, more people are online than ever. As per IAMAI report, there are about 500 million internet users in India. This generates a huge database of insights and opinion from a populace which dwarfs the typical sample of 1,000-2,000 voters used by polling agencies. It is for this reason that even a simple analytical technique like Google trends has yielded much better insights than many political pundits in India.
In the US where internet has a much higher penetration and usage, Google trends has been able to correctly predict the results of the last four presidential elections. Google trends chart as shown above is a very small example of what a data driven insight could be. The ability of data to convey and indicate trends has largely been ignored by most political parties.
I also find the political rhetoric that companies like Cambridge Analytica subverted India's democracy or used illegal methods to obtain personal data and undermine the elections fundamentally flawed. Having worked closely in this space for few years now, it is a humongous task in India to obtain any meaningful data on voters, let alone use it in a sophisticated manner to dupe the voters, the way it has been alleged in the case of US presidential elections.
The typical way in which political parties have legally attempted to collect data on voters are primarily through three methods. Let's start with the basic where the cadre of the party visiting the house of the voter. Then the very recent trend is a missed call campaign to a toll-free number for which anyone is interested to work with a particular party or leader and the last is to look at the retrospective analysis of the data published by the Election Commission. All of the methods listed here, ways which are largely used and are prevalent in the system are uniquely simple and collects basic information. I remember the last time I visited a departmental store chain, or a salon or any other store, I have shared my basic details such as name, number, age, address on more than 10 occasions. Here, none of the three techniques mentioned crosses the privacy boundary.
The methods are extremely manual due to which identifying even 0.5-1% of the electorate is extremely difficult. Therefore, the danger of personalised illegal micro-targeting by using private data is ludicrous and ineffective in the case of Indian elections. Political consulting with data science as its bedrock can bring huge benefits for the political parties and for the voters if it is wholeheartedly adopted in a legal and fair manner.
The trend of wave elections which resulted in one-sided elections from 2014 general elections to the UP elections in 2017 seems to be over in the near-future. Even the most sophisticated use of data and technology would not have changed the results of either the UP election or 2014 Lok Sabha election. However, now voters have been indecisive as evident in the past few close elections of Gujarat or Karnataka signifying development of anti-incumbency against the current government. Even Google trends indicate that with BJP and Congress neck-to-neck in Google searches for MP and Rajasthan which is significant as BJP has always been a much more popular party in Internet. It is in the absence of one-sided elections that the importance of data analytics and technology magnifies as elections are won/lost by close margins.
Similar to how organisations do market research and combine it with consumer data to determine the launch strategy and marketing strategy for a product/service, political parties and leaders should draw out their campaign strategy based on primary research from multiple sources, analysing the existing voter database, various data points associated with it, past election results and polling. In the Gujarat elections, the Congress lost 12 assembly constituencies in the districts of Ahmedabad and Surat by an average margin of 80,000 votes each.
On the other hand, had the Congress got 28,000 votes combined in few other key constituencies which is 0.1% of votes polled in Gujarat election, it would have won 15 more constituencies and formed the government in Gujarat. Therefore, rather than campaigning in those 12 constituencies of Ahmedabad and Surat, the Congress would have been much better off in utilising all its resources in 15 other constituencies. The value of 1 vote in Godhra constituency where the Congress lost by 258 votes is much more than in Ghatlodia constituency where it lost by 1,17,750 votes.
Similar is the case with both the BJP and the Congress in Karnataka. Few votes in key constituencies would have resulted in out-right victories for either parties. In such close elections, all constituencies can't be given equal importance and this is where data science comes into play where key constituencies are identified, and then swing voters convinced.
Segmenting constituencies and targeting those constituencies where few additional swing votes can win the constituency should be the strategy. Elections are a zero-sum and winner-takes-all game unlike other industries where companies have an opportunity to rectify their results every day, every quarter and every year. One loss can send the organisational structure of the political party to a path to oblivion as cadre become demoralised or switch to other parties. The Congress in UP is a good example. Even the BJP with a string of defeats from 2002 were on the verge of extinction in UP till the mass appeal of Narendra Modi reinvigorated the party.
Second area, where political parties could reap the benefits of data science is in the spending done during elections. Exorbitant amount of money is spent in elections. It is estimated that around Rs 10,000+ crore was spent by political parties and candidates in 2014 Lok Sabha elections, although the declared amount is much less. However, through data science, combined with political understanding efficiency can be brought in as to which Lok Sabha seats/Vidhan Sabha seats to campaign more heavily, which booths to target rather than the blanket spending that typically happens.
Also, as more data is accumulated of voters and more insights derived, data science could help in drastic reduction of the phenomenon of bribing of voters that takes place during the elections. If political parties are armed with insights about voters, then the need to bribe voters could be reduced and the spending of political parties in elections could be brought in control. Political parties would instead address the major issues affecting the individual and promise to resolve it rather than bribing the voter to win his vote. Although, campaign finance reforms and source of funding for political have the main role in controlling the exorbitant spending of political parties in elections.
The third area where political parties and political leaders can use data science and technology is in connecting with the issues and aspirations of the electorate at an individual or at least at a household level. In the past, there has been a disconnect between the electorate and the elected MLA/MP.
This is why 2019 election offers an opportunity to transform how elections will take place in India. 2014 elections gave us a glimpse of how social media can impact elections. However, 2019 elections could be the watershed moment similar to what Uber/Ola has done to how people commute or Zomato/Swiggy has done to how people order food.
(Abbin Theepura is a consultant with IPAC)
| Edited by: Nitya Thirumalai
Read full article
Countdown To
Elections Results
To Assembly Elections 2018 Results