Why Technicians and Regional Filmmakers Expect More From National Awards
The National Film Awards were presented on May 3 in New Delhi, but many recipients decided to 'boycott' the ceremony over the president handing over the honour to only a select set of winners.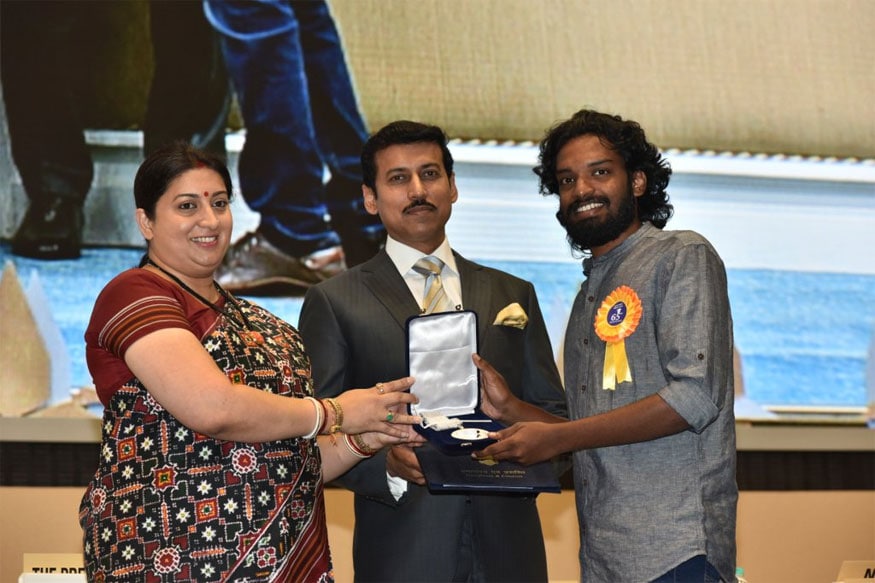 Union ministers Smriti Irani and Rajyavardhan Singh Rathore conferred the Best Cinematography award to Nikhil S Praveen for excellent photography in a difficult terrain in the Malayalam Film Bhayanakam. (PIB India/Twitter)
Over 50 winners boycotted the National Awards this year after learning that President Ram Nath Kovind will be presenting awards only in 11 categories while the rest of the winners will receive their trophies from I&B Minister Smriti Irani, and MoS Rajyavardhan Singh Rathore.
Several technicians, as well as filmmakers and actors, protested against it, saying that it has been a tradition that the President himself gives away the awards in all categories at the National Awards ceremony. While technicians alleged that they are being denied "their moment of glory", filmmakers called this a "symbol of institutions (like National Awards) breaking down".
Many even took to Twitter to express their disappointment, including veteran sound mixer, Resul Pookutty, who tweeted:



If the Govt.Of India cannot earmark three houres if it's time, they should not bother us giving us #NationalAward. More than 50%of our sweat you take it as entertainment tax,the least you could do is respect the values we hold dear!


— resul pookutty (@resulp) May 3, 2018
Resul Pookutty won an Oscar for Slumdog Millionaire in the 'Best Sound Mixing' category in 2009. Academy Awards, like most award shows, also happens to begin with the technical awards saving the 'big' awards like 'Best Actor', 'Best Director' and the 'Best Picture' for the last. On most occasions, the Academy picks out the presenter of an award based on the 'importance' of the award.
In fact, it is not just the Academy, closer home, pick any award show be it the Filmfare Awards, Stardust Awards or IFFA, they all follow the same pattern. Unfortunately, the presenters for technical awards in these shows are mostly obscure B-grade actors/actresses or worst still, sponsors of these shows. It's a sad truth that not just in India, but across the world, film technicians always get a raw deal when it comes to getting recognition for their work. The red carpets are rolled out for stars and as they pose and smile and hundreds of cameras zoom in and focus on them, the technicians are reduced to dressed-up unknown faces in the background.
However, National Awards has been different from the popular award shows and technicians expect more from it. The primary reason for this expectation is that in the past, National Awards has never made them feel less important. For 65 years, National Awards has been a platform that has given recognition to good work in cinema, irrespective of whether the work is onscreen or off-screen.
Technicians have always received awards from the President, which have not only been a moment of personal glory and pride for them, but also a sign of encouragement for all technicians in the Indian movie business. However, this year, the gap between the technical categories and onscreen (and popular) categories was apparent. President Ram Nath Kovind gave away awards in only 11 'major' categories and attended only the second half of the ceremony. Apart from 'Best Editing', no award in the technical categories was presented by the President.
So far, National Awards has also been a champion of the underdog regional film industries that always get overshadowed by Bollywood. Apart from National Awards, there is no other award show that takes into consideration all the small and big regional movie industries in India alongside Bollywood. When a regional film bags a National Award, it isn't just a win for the filmmaker and his team, but also for the entire movie industry he represents. However, The Telegraph reports that this year, in a letter addressed to the President and the government, some artists wrote, "… at the end of the day we feel dejected rather than honored for our work".
The office of the President is surprised by this 'sudden protest'. They claim it is a matter of protocol that has been laid down since Mr Kovind took office and had specified that the President would not attend any ceremony for more than an hour. While there is no arguing government protocol, unfortunately for the National Awards jury, it takes away from all the good works they have done for years.
In India, while most of the award shows are often bashed in the media for being rigged, National Awards have held a place of prestige and credibility for years. By recognizing regional cinema as well as technicians in the same manner as it recognizes mainstream Bollywood or big regional movies, it has shown that it is neither 'classist', nor 'elitist' in its approach and its first prerogative has always been to encourage good cinema. However, unfortunately this year, with only 11 awards being presented by the President, whether the organizers and the jury likes it or not, they have to now put up with the allegations of the awards being 'elitist' and 'classist', which recognizes onscreen and popular categories more than technical ones.
Read full article
Countdown To
Elections Results
To Assembly Elections 2018 Results