Pakistan Polls Are Too Close to Call, Don't Count PPP and Bilawal Out Yet
We have all witnessed brazen engineering and pre-poll rigging. If the analysts say that the results have already been decided, their conclusion must not be far from truth.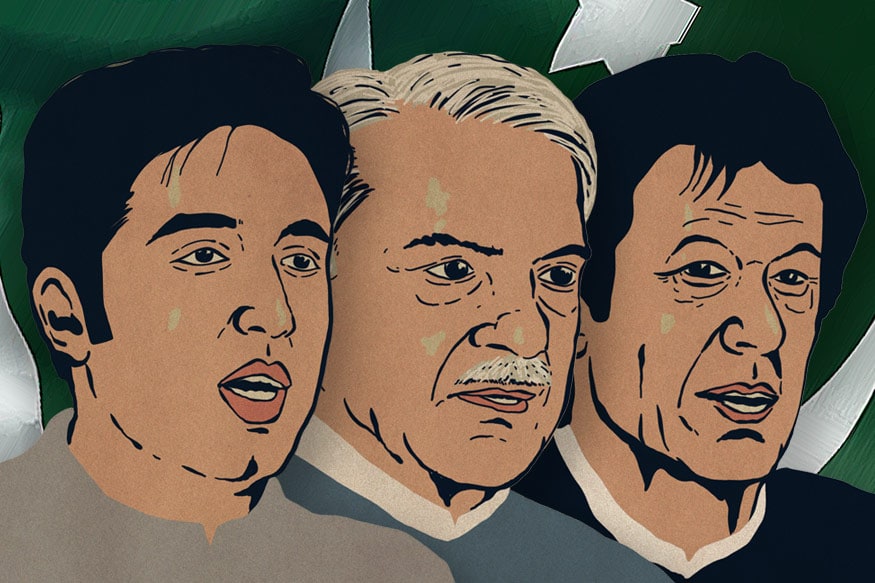 We have all witnessed brazen engineering and pre-poll rigging. If the analysts say that the results have already been decided, their conclusion must not be far from truth.
As over 100 million Pakistanis beeline to cast their votes, everyone is confused and no one can forecast the result. Professional pollsters, experts, and political parties with all their monitoring activities — nobody could not at the end of the day, firmly say which party shall take the lead. However, one thing is certain, these elections can hardly be called free, fair and transparent. No doubt in most of the previous elections, the establishment had its say. So the 2018 polls are no exception.
We have all witnessed brazen engineering and pre-poll rigging. If the analysts say that the results have already been decided, their conclusion must not be far from truth.
The establishment's favourite candidate for the Prime Minister's office seems to be Pakistan Tehreek-e-Insaf's (PTI) Imran Khan. For him, things seem to be too good to be true, everything seems to be going his way. However, at the end of the campaign he was found losing his cool. There were reports of him throwing tantrums in public that nobody could miss. He has also been abusive towards his political opponents, and has been recorded on video shoving a colleague.
Imran's questionable behaviour came to such a pass that the Election Commission of Pakistan (ECP), under its code of conduct for candidates, had to reprimand him more than once. He openly chided his spokesperson, who by all standards had done better than his counterparts. When Imran found empty chairs in his Jhelum Jalsa, it was no fault of his. He was let down by district PTI, its failure to mobilise a few thousand in attendance apparently due to a sudden decline in voters interest in Imran —a fact noted by PTI organisers in a series of meetings.
According to one source, the branding of Imran by the foreign media as a puppet of the generals and the growing perception among the masses that he would be nothing but a stooge for the establishment, the electorate had started having second thoughts about him. His outbursts against local PTI leaders are a sure sign of desperation, showing that everything is not hunky-dory.
Local leaders told journalists that they were themselves surprised at the low turn-out in the final jalsas. They could not find any plausible reason for the fall in number at the peak of campaign. The sharp fall in attendance in public meetings did not seem to be a general trend following campaign fatigue since PPP chairman Bilawal Bhutto Zardari's jalsas and processions seemed to get bigger and bigger until the end.
Once again, this has been attributed to the growing perception that Imran Khan as PM would mean a soft coup has taken place. The generals would be having their cake and eating too, all in the name of democracy. Many of his conservative supporters have also been impacted by his ex-wife Reham Khan's book. However, his last rally in Karachi had a good turn-out.
When the elections were announced, popularity graph of Imran was at its highest and PTI seemed to be on its way to a landslide victory, at least in Punjab. The province is the country's bastion of military and civil bureaucratic power. Its main rival, Pakistan Muslim League-Nawaz (PML-N) led by Shahbaz Sharif was taken for granted, and thought to be a sure loser. Everybody believed that the powers that be did not get rid of Nawaz simply to let the PML-N back through a fair election.
The establishment has used every trick to ensure that the Sharif family and PML-N never return to power. Its mainstreaming of extremists to get them space in electoral politics would give them a very strong lever. Senator Raza Rabbani made an alarming statement the other day seeking an explanation from the ECP as to how it has allowed 250 members of outlawed extremist parties mentioned in the Fourth Schedule to contest elections. It took the ECP some time to offer an explanation.
However, there has been a silver lining in the otherwise dark horizon. Just when the parties launched their election campaigns, the Pakistan People's Party (PPP) — Pakistan's only federal party — was nowhere to be seen. It started very late, its young leader Bilawal had the onerous task of reviving PPP's electoral presence and strengthening it in the country's largest province, which was once the source of its power. Because of Bilawal's hard work, and painstaking campaigning from one corner of the country to the other under the shadow of death, his popularity graph showed a meteoric rise.
Once dismissed as a lacklustre speaker, with each passing day he improved, developed his own populist diction in Urdu like his grandfather Zulfikar Ali Bhutto and his mother Benazir. His public rallies swelled beyond expectations and at the end of the campaign he had emerged first in the race, much to the annoyance of Imran, who started abusing him. "Look at Bilawal, he has never worked for an hour in his life and he wants to be prime minister," he said.
The critics who used to make fun of Bilawal and his language are now full of praise for him. They have given him credit for infusing new life in a dead party. Moreover, by announcing his party's progressive manifesto — the first party to do so — and clarifying PPP's agenda, he has convinced millions of new voters to choose him. He seems to bring a feel good factor with him, and there is a common belief that he is someone who could deliver.
What has made Bilawal shine so bright is the way he has conducted himself in the election campaign. He was not abusive of opponents and talked sense when he raised national issues and urged for a national consensus, since issues are bigger than leaders. Circles close to 'Kaptaan' say he gets furious if anyone tells him that Bilawal is doing well or that he reminds people of Zulfikar or Benazir.
His expression in English is better and throughout the long and tiring campaign, Bilawal never lost his temper, unlike the great Khan. Most alarming for Kaptaan is Bilawal's successful ingress into Punjab where six months back analysts used to say PPP won't win a single seat. One can surely say the party is definitely not over and it will have enough strength to play a substantive role at the Centre.
The writer is the former High Commissioner of Pakistan to UK. Views are personal
Read full article