Pulwama Response: Beyond a Kneejerk Reaction Lies Comprehensive Counter Strategy
Pakistan's proxy war of 'bleeding India through thousand cuts' refuses to stop and we, as a state, have failed to counter this effectively, irrespective of the governments we have had at the Centre or in Jammu and Kashmir.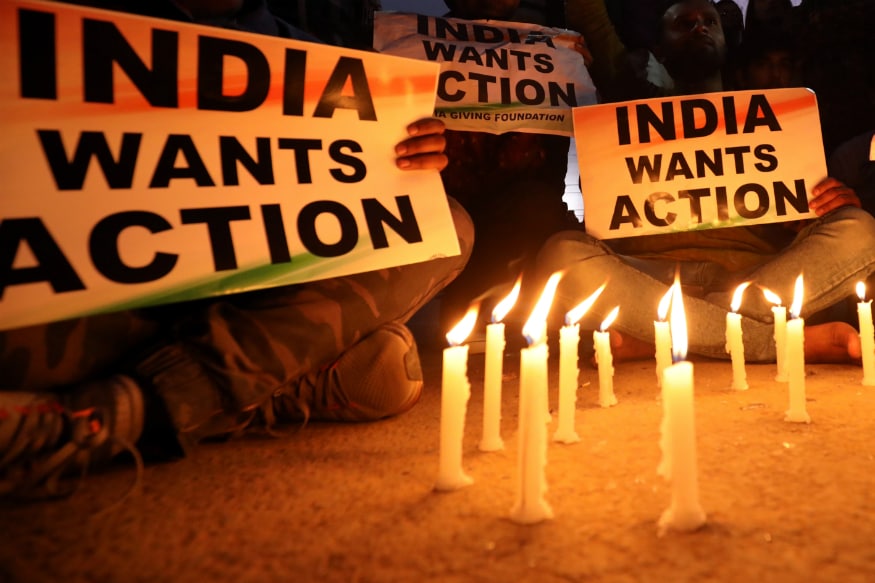 People attend a candle light vigil to pay tribute to CRPF personnel who were killed in the Pulwama attack on Thursday. (Reuters)
Citizens of India are visibly grieved over the recent terror attack in Jammu and Kashmir's Pulwama district that killed at least 40 personnel of the Central Reserve Paramilitary Forces and injured many others when a local youth rammed his explosives-laden car in a convoy bus.
Since then, the clamour for "revenge" has been echoing from several corners of the country.
Though the Indian Army busted the JeM module within 100 hours of the attack, the government's response has been lukewarm: i) withdrawal of the "Most Favoured Nation" status to Pakistan and ii) withdrawal of security of a handful of separatists, besides giving a "free hand to the armed forces".
Pakistan, undoubtedly, is the fountainhead of one of the worst forms of Islamic terrorism in the Indian subcontinent but continues to enjoy undeclared support of some middle-eastern and western powers for serving their respective interests.
What India faces in the Valley means little to these powers as Kashmir still figures as a disputed territory. Hence, terrorism in Kashmir or the rest of India remains the sole responsibility of India.
But have we done enough to either understand it or deal with it, besides leaving it to the security forces in Jammu and Kashmir?
Over three decades of militancy action without strong and consistent political and social intervention has led to terrorism and extreme radicalisation.
However, successive central and state governments have refused to accept the reality and the situation continues to turn grimmer with each passing year.
Response to terrorist acts like the one in Pulwama cannot be responded by knee-jerk actions, but a comprehensive counter-strategy.
Repeat "surgical strikes", "precision air-borne strikes" or "heavy fire assaults" on the Line of Control fall way short of a coherent and coordinated response to an ongoing "hybrid warfare" that has been well-planned and orchestrated by an enemy state on our land.
Response to this form of warfare does not lie completely in the hands of the armed forces, but requires a concentrated national response with a fair amount of persistence.
It demands actions across an extremely wide spectrum of national resources, namely diplomatic, economic, social, scientific and military.
No conventional warfare across the world in more than half a century has yielded any peaceful result.
Responding to Pakistan to instil credible deterrence demands a punitive action that would have a lasting effect. More than resources and capability, it is the political will and consensus, which may deliver the desired results, as the armed forces would deliver with grit and determination only what is "within their capability".
Military action is always the costliest one that needs to be exercised after having exhausted all other options.
This would also require extensive preparation and planning for it to be effective beyond "surgical strikes".
However, the burning issue of Kashmir still would remain unaddressed.
While the clamour for strong punitive action against Pakistan grows, we must somehow assure the Kashmiri population of a sincere settlement of their grievances within the constitutional framework.
Strike we must: be it diplomatic, economic or military lest the Indian population loses complete faith in political class. It must also be visible beyond the "surgical operations".
How, when and where are the domains of experts as the persistent clamour for revenge would only draw a kneejerk reaction that may not yield the dividends as sought by citizens.
The author is a retired major general of the Indian Army and a defence expert. Views expressed are personal.
Get the best of News18 delivered to your inbox - subscribe to News18 Daybreak. Follow News18.com on Twitter, Instagram, Facebook, Telegram, TikTok and on YouTube, and stay in the know with what's happening in the world around you – in real time.
Read full article