Run-De-Dilli: The Secret to Completing a Marathon, Just Run!
Without doubt, running is the best mid-life crisis to have. Especially in Delhi!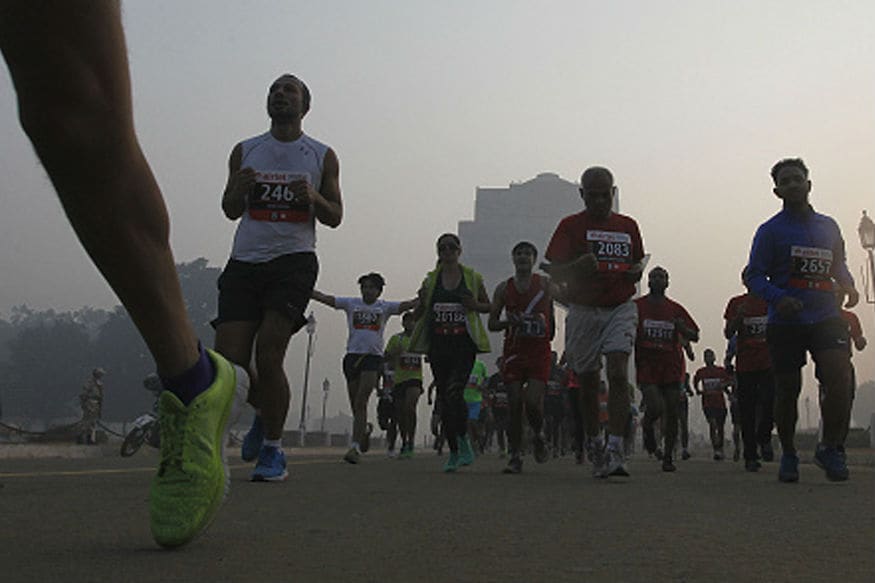 Representative image
Perhaps, they have a screw loose, I thought as I gulped down beer while watching a sea of runners go about their business on Embarcadero. They must have been collegiate athletes, I reasoned on hearing chatter of folks going on a casual 10-km run to clear their minds. I was a healthy 30 something person. Yet, I was unable to run 500 yards without making a pit-stop. A 5-km tempo-run (on-the-trot) seemed like insanity. I was convinced that some people have runner lungs and others could drink like champions. At a deeper level I felt that it would be cool to run a marathon. Then I learned that it was 42.195-km!
A decade later, back in smoggy Delhi, distance running was no longer a consideration. We have a river front, surrounded by swamps. We have roads, littered with unruly drivers. And the weather Gods look kindly upon us at a time when the pollution devils decide to party. Clearly, Delhi is "No City for Running (wo-)Men".
This seemingly logical conclusion cannot be further from the truth. We are a city full of runners and have an overkill of running events. We simply need to be out on the roads before the dawn to take notice.
I stumbled onto Running Rebels on agreeing to show up for a 4:00 am run at Nehru Park. In my defence, I was jet lagged. A month later, the running group invited me for a 10-km race and on a whim I showed up. I had been a gym regular the year before but had never attempted a run that long. The race-day atmosphere carried me to the finish-line. The positive vibe had me join the group. I still have a way to go to run a marathon, but checked off my first half-marathon (21.10-km) last month and I am hoping for a stronger (or a fun) finish at #ADHM2018 on Sunday.
These past three months, I trained with the Rebels, completed a few races and crashed week-end LSDs (long-steady-distance) of larger running groups. I was pleasantly surprised by Delhi's robust running community and culture. The running groups are open, inviting and often free. Despite the calmness exhumed by road-side joggers, distance running is a gruelling sport.
Runners train for speed, strength and endurance. They plan their nutrition, clock their distance and make training strategies leading up to race-week and race-day. These boys and girls are up by 4:00 am to finish training before the sun decides to shine or the motorists decide to honk. They do it four times a week. They possess grit, discipline and a competitive streak. Yet, members are eager to share tips and tools. Almost everyone is racing themselves, not others. They want to crack their PBs or personal best.
All this taam-jhaam is by recreational runners, and not competitive athletes.
I completed a half-marathon in my 40s, a task that seemed impossible when I was half that age. The trick that worked for me was to start using my running shoes for, well, running. Distance running seems to attract an older demographic than other sports. It is one of the few athletic disciplines where more seasoned competitors have a leg up to the fresh legs of youth. The current marathon world record was set in Berlin last month by 33-year-old Eliud Kipchoge. The India record was set by a 32-year-old Shiv Nath Singh who ran bare-foot in 1978! It is common for the top ultra-marathon racers to be closer to 40. The point is, age does not matter.
So if you are thinking it, just run. For every 20-year-old finisher, Lodi Garden & Nehru Park has two people his or her parents' age that can run longer and faster. Apparently, as you age into running, the brain gets better at it, the body gets more efficient at burning fuel and our ability for delayed gratification keeps us from hitting the snooze button and piling on the miles.
If you are a dilli-wala, I am sure you have cursed its traffic, lack of open spaces and the general apathy of its people. This perhaps is more relevant if you moved in from another metro. I will hazard a guess that you have not been a Delhi road runner. Else you would know that we have a world class city architecture, great roads and dozens of running loops across gardens, city-forests and trails. The catch is to set that 5:00 am alarm and get your paisa-vasool before the city goes about its business. Give it a shot this coming winter. If proved wrong, curse me over the lovely tea, friendly chit-chat with morning people or unhealthy snacks on offer at the various street corners.
I would be remiss not to touch upon the pollution levels expected shortly, at the risk of being controversial. The community trains on scientific principles. It is best that influencers not lament that Delhi winters are the best time to train. Yes, we do not sweat as much as in August. But, we do a lot more damage to our lungs. It is unhealthy to run at the Air Quality Index (AQI) expected next month. But then, so is eating Cholla Bhaturas, Samosas and Ladoos! It does not mean that we stop doing so. Instead, we need to educate our ourselves on the extent of harm that can come from running at different AQIs – and then, let it be everyone's decision to carry on or cut back. To the couch potatoes that want events banned out of concern, please sleep in that Sunday and let us adults celebrate our choices.
Without doubt, running is the best mid-life crisis to have. Especially in Delhi!
Daljit S Kochhar is a Director at KT Advisory, a boutique Corporate finance advisory practice.
Get the best of News18 delivered to your inbox - subscribe to News18 Daybreak. Follow News18.com on Twitter, Instagram, Facebook, TikTok and on YouTube, and stay in the know with what's happening in the world around you – in real time.
Subscribe to Moneycontrol Pro and gain access to curated markets data, trading recommendations, equity analysis, investment ideas, insights from market gurus and much more. Get Moneycontrol PRO for 1 year at price of 3 months. Use code FREEDOM.
Read full article