The Government of India has approved the use of two vaccines to help protect individuals from contracting Covid-19, a highly contagious viral infection that is especially dangerous for people with weak or compromised immune systems, including cancer patients. These vaccines have been shown to be safe and effective, and the potential benefits of receiving a Covid-19 vaccine outweigh the known and potential harms of getting infected with the disease.
While the Covid-19 vaccines are generally recommended for cancer patients, specific types of cancer treatment might have an effect on when the vaccine should be received. Cancer patients who get Covid-19 are at a higher risk of complications, hospitalizations and even death compared to otherwise-healthy people who get infected by the virus. That's because cancer patients in active treatment can have a weakened immune system, which makes it harder to fight off diseases such as Covid-19.
Oncologists are in a critical position to provide potentially life-saving information about the Covid-19 vaccine to their cancer patients. Although we don't have specific information yet on how effective the vaccines might be in people being treated for cancer, it's possible that the vaccines might not be as effective in people with weakened immune systems as compared to people with healthier immune systems. Despite this, experts still recommend that most cancer patients get the vaccine because those with a fragile immune system are at risk of severe Covid-19 disease, therefore, getting even some protection through the vaccine is better than not having any.
Ideally, cancer patients who want the shot could get it at their cancer centres rather than at a mass distribution site. But a bumpy rollout and age restrictions have frustrated many. Even with limited data, many cancer experts, medical groups, and doctors are making a big push for vaccinating most cancer patients—especially those who are most at risk during the pandemic. Despite the lack of safety data specifically in patients with cancer, SARS-Cov-2 vaccination is anticipated to be safe.
The most common side-effects reported in clinical trials were pain at the injection site, fatigue and fever. Serious side-effects were rare and some other reported side-effects of the vaccines were headache, muscle pain, chills, joint pain, injection site swelling and redness, nausea and swollen lymph nodes.
Swollen lymph nodes most often occur in the underarm area or in the neck. Since cancer can also cause lymph node enlargement, it's important that cancer patients realize this is a possible side-effect and possibly not a sign that their cancer is growing. The enlarged lymph nodes may feel tender to touch and should resolve on their own, but can sometimes last for several weeks. Covid-19 vaccine recommendations have been summarized in Table 1.
Table 1: Covid-19 vaccine recommendations for cancer patients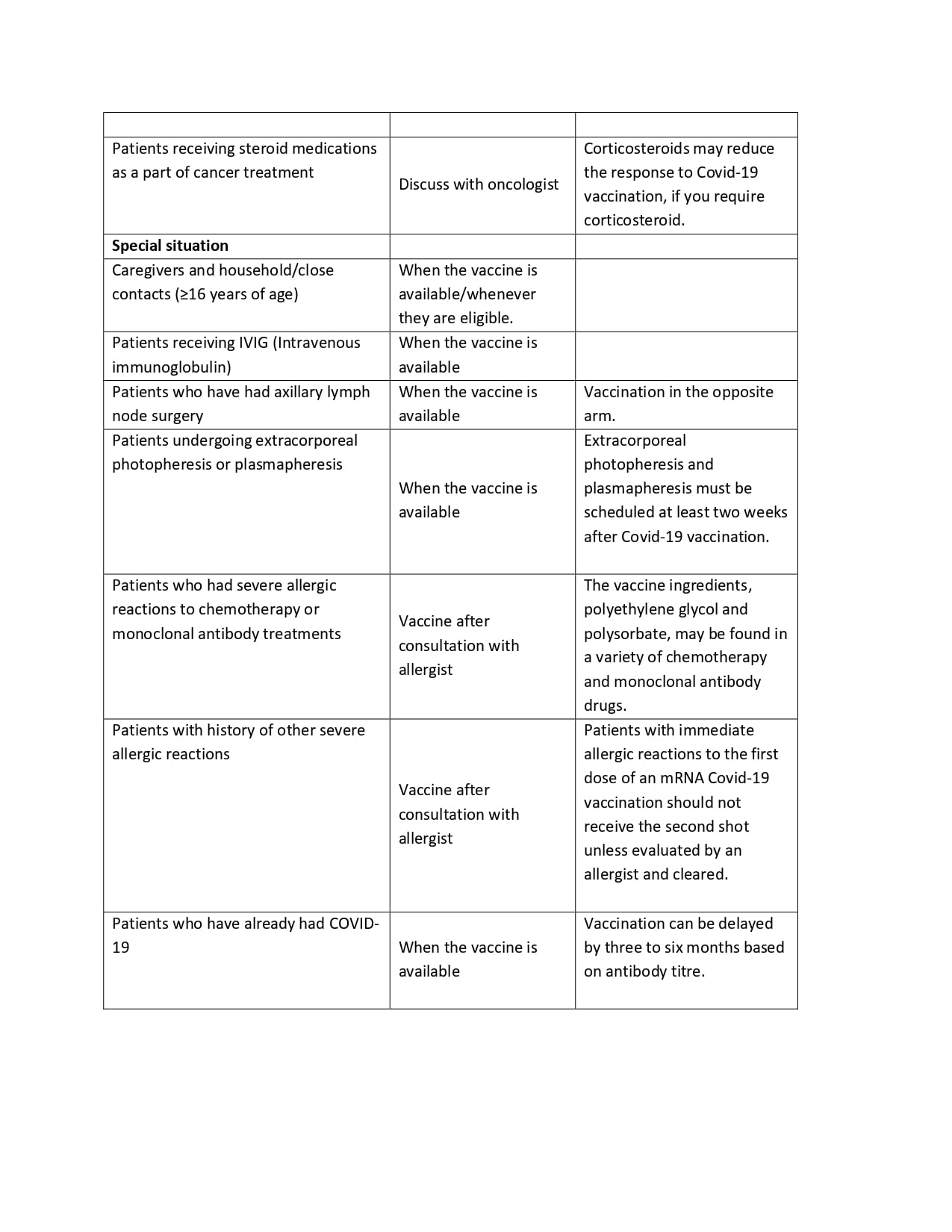 We need to prioritize vaccination among patients with cancer, in case of a limited supply of vaccines. Patients who are on active cancer treatment, those planning to start treatment, and those immediately post-treatment (<6 months) should be prioritized for vaccination. Additional risk factors like patients with advanced age (≥65 years of age), with co-morbidities (chronic pulmonary, cardiovascular, or renal disease), along with social and demographic factors must be considered in prioritizing vaccination. In sum, we expect the leading Covid-19 vaccines to be safe and at least partly effective in patients with cancer. We recommend that patients with cancer receive Covid-19 vaccinations when they become available, acknowledging that while we do not have truly representative data, benefits likely outweigh risks. It's not yet clear if the vaccine will prevent a Covid patient from infecting someone else. Given the potentially blunted efficacy of vaccines, as well as the lack of data thus far on preventing asymptomatic transmission or durability of protection, caregivers of patients with cancer can also be vaccinated. All vaccine recipients must continue social distancing, maintaining hygiene and wearing a mask.
Dr Abhishek Shankar is Assistant Professor in Department of Radiation Oncology at Lady Hardinge Medical College & SSK Hospital, Delhi; Associate Editor, APJCP; Editor in Chief, APJCC, and Founder Secretary of Indian Society of Clinical Oncology. He tweets with @ShankarAbhishek. Dr Shubham Roy is a Fellow at Ummeed Child Development Center, Mumbai. Dr Deepak Saini is Project Officer at Cancer Control and Prevention Division of Indian Society of Clinical Oncology, Delhi. Views expressed are personal.
Read all the Latest News, Breaking News and Coronavirus News here