Virushka Making a Public Spectacle of their Virtuous Act is a Case of Celebrity Vigilantism
Virushka's act of social justice may just have deeper undertones of celebrity vigilantism.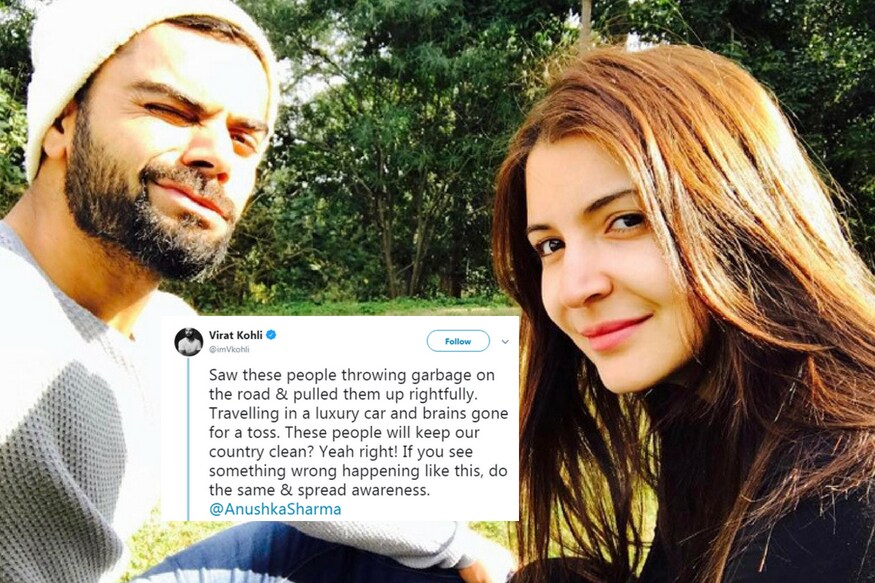 Virushka's act of social justice may just have deeper undertones of celebrity vigilantism.
Thought the ever-expanding xxx-crore club heralded by Sallu bhai was the only bad thing about Bollywood? Well, there is a far more sinister club in the making in B-town. It is called the virtue-signaling club. The newest celebrities to have joined this club is Virushka.
There was nothing more the duo had to prove after they managed the ultimate coup – getting the Prime Minister to attend one of their receptions. Had they just gone about doing their respective jobs well for the rest of their life, no one would have questioned their claim to being a good citizen. But the power couple didn't take things for granted. In between posting love-dovey images on Instagram, they always find the time to remind us they are very much in touch with the Prime Minister and his mission.
The meme-factory that the Prime Minister's fitness video turned out to be was actually a result of Virat Kohli's enthusiastic call to Narendra Modi to take the challenge.
Recently, the couple displayed their sense of duty toward the cause of Swachh Bharat Abhiyan when Anushka Sharma metamorphosed into her NH10 avatar while giving a thorough jhar to a "luxury car owner" for throwing garbage on the streets. Hubby Virat Kohli recorded her glorious altercation with the face of the "luxury car owner" clearly showing. He shared the video on Twitter urging people to do the same if they saw people littering the streets.
Saw these people throwing garbage on the road & pulled them up rightfully. Travelling in a luxury car and brains gone for a toss. These people will keep our country clean? Yeah right! If you see something wrong happening like this, do the same & spread awareness. @AnushkaSharma pic.twitter.com/p8flrmcnba

— Virat Kohli (@imVkohli) June 16, 2018
The couple got a lot of hate for this. Netizens accused Kohli and Sharma of violating another citizen's privacy while trying to promote themselves. Now, it would be wrong to cast aspersions on the couple's intentions. They must have been genuinely outraged, given that Anushka Sharma is also a brand ambassador of Swachh Bharat Abhiyan.
Honoured to be a part of @swachhbharat campaign. Please adopt healthy sanitation practices & construct toilets to ensure #SafetyForWomen 🙏🇮🇳 pic.twitter.com/NESTbTfXAv

— Anushka Sharma (@AnushkaSharma) May 30, 2017
It's also appalling that people have to be reminded that they shouldn't litter the streets. That's the basic requirement of being a good citizen. However, there is no denying that Sharma and Kohli breached their brief by sharing the video on Twitter. Urging their millions of followers to get into altercations with fellow citizens and uploading videos of unsuspecting citizens is not acceptable. It is another form of vigilantism, however, well intentioned it might be. Being the ambassador, Anushka Sharma could have shown the grace of getting down of her AC car, collecting the garbage, and throwing it somewhere appropriate or carrying it back in her car. She could have referred to her good friend Raju Hirani's movie on "gandhigiri" for a tip or two on how to peacefully deal with such nuisance makers.
This is not the first time a celebrity has displayed traits of vigilantism. A couple of years back, Preity Zinta went to town about throwing a man out of the theatre for not standing for national anthem. More recently, Akshay Kumar's wife Twinkle Khanna thought it was funny to upload the picture of a shanty-dweller pooping near the sea in Mumbai, thus justifying the need for making part 2 of her husband's hit film in urban setting.
It's not as if these celebrities have any expert-level understanding of the causes they pretend to champion.
After moving past the topic of patriotism, Akshay Kumar's new obsession with the subject of sanitation has been praiseworthy. He made two films on it and even made rounds of the PMO to discuss the script of Toilet: Ek Prem Katha with the Prime Minister. But the same person also displayed his ignorance on the subject when he uploaded a video paying tribute to manual scavengers and thanking them for "serving" India with the national anthem playing in the background. The video had visuals of sanitation workers neck deep in sewage, working without safety gears – something he felt proud and celebratory about. Kumar quietly deleted the video after being called out without acknowledging his error of judgment. Kumar was yet another example of how NOT to be an ambassador of a government campaign. After all, you don't get to become an expert just because you starred in a movie on sanitation.
Too often, not following the script and taking things in their hands while driving on the streets or updating their Twitter feed, could make them look both arrogant and insensitive.
Owing to their popularity, celebrities are indeed important tools of spreading awareness around issues of public importance. Amitabh Bachchan's baritone is often credited for the success of the anti-polio drive that started in 2002 and eventually made India polio-free in a decade's time. But when celebs confuse their positions as influencers with that of a power-wielder, they are no different from unauthorised vigilante groups.
Any form of authority displayed without accountability breeds fertile ground for vigilantism -then be it the saffron-donning groups harassing couples or celebs uploading videos to show off their public duty.
Read full article
Countdown To
Elections Results
To Assembly Elections 2018 Results