Week After Divorce from BJP, is Chandrababu Naidu's Anxiety Showing?
With a year to go for elections, playing catch-up is hardly going to give the Telugu Desam Party (TDP) any confidence.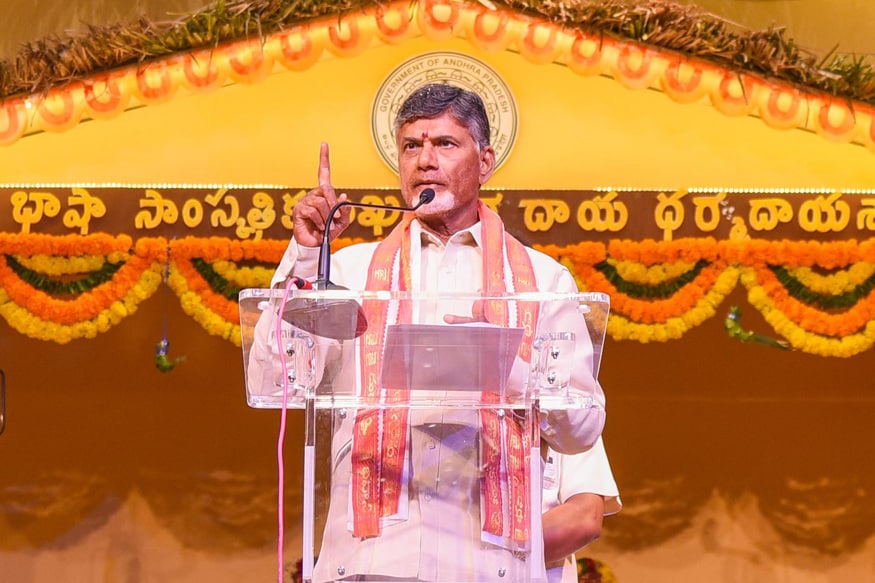 File photo of Andhra Pradesh CM Chandrababu Naidu.
As much as Rs 371 crore was misappropriated in the Rs 1,300 crore Pattiseema lift irrigation scheme in Andhra Pradesh, if the freshly divorced state unit of the BJP is to be believed.
The project, which was completed in 2016, links Godavari with Krishna river water. It takes 80 TMC (thousand million cubic feet) of Godavari water from Pattiseema in West Godavari district to Krishna river, upstream of Prakasam barrage in Vijayawada.
The Telugu Desam Party (TDP) government's claim is that the project will irrigate seven lakh acres in Krishna delta and also fields in parched Rayalaseema. It is a project Chief Minister Chandrababu Naidu is extremely proud of, and the BJP charge is intended to embarrass the Andhra CM.
The BJP has asked for a probe by the CBI or a sitting judge of the Hyderabad High Court. Among those firing on all cylinders is Manikyala Rao, who was Endowments Minister in Naidu's cabinet till the other day. Rao was part of the team that approved all decisions, says the TDP, pointing out that this proves the allegations are politically coloured.
Wearing a self-certified copy of honesty on his sleeve, Naidu uses his daily morning teleconference with select senior leaders to wonder how he was an honest politician so long as he was in the BJP's company and has turned dishonest after parting ways.
If there is one word that sums up the TDP mood after it decided to pull out of the NDA, it is anxiety. At least some of its senior leaders expected that there will be some overtures made by the BJP, reaching out to Naidu, asking him to reconsider. There was none of that.
Making matters worse were sharp barbs from New Delhi. While Union Minister Piyush Goyal said there was no development in Andhra despite monetary help from the Centre, BJP general secretary Ram Madhav alluded to the coup in 1995 in which Naidu overthrew his father-in-law, the late NT Rama Rao, insinuating that Naidu is "known for backstabbing".
It is obvious the calibrated pressure tactics mounted by the TDP made no difference to the BJP, whose leadership, it seemed from their reaction, was not bothered about whether the regional party stayed or walked out.
The manner in which the no-trust vote has been scuttled every day in the Lok Sabha has convinced the TDP that the BJP's bag of tricks is just unfolding in Andhra Pradesh. And it is doing all it can to spread the word that the TDP will be targeted for walking out. So that when the time comes, it becomes easy to wear the halo of a martyr, with an I-told-you-so narrative.
Naidu has warned his colleagues to be wary of cases booked against him, his son Nara Lokesh and other ministers. Making a connection between YSR Congress MP Vijay Sai Reddy's frequent meetings with the PM and Reddy's claim that he would continue to meet Modi till Naidu was dragged to court, the Andhra CM smells a rat.
Actor Pawan Kalyan has fired the first salvo, alleging that Lokesh was involved in corruption cases. This, the TDP suspects, is done at the behest of the BJP.
Opening up another front, Naidu has made a call for demonetisation Part-2, asking the Centre to ban Rs 2,000 and Rs 500 notes. When Narendra Modi announced demonetisation in November 2016, declaring old Rs 500 and Rs 1000 notes as illegal tender, Naidu took credit for the idea. Now, after snapping ties, Naidu wants to convey the impression that other parties may push in high denomination notes into Andhra to buy votes.
The other fear is that pressure will be put on potential investors to move out of Andhra to BJP-ruled states, preferably Gujarat. This, the TDP fears, will be done to cripple the Andhra economy.
Into the mix comes a Tollywood-ish conspiracy theory put out by Telugu actor Sivaji. Making a presentation to the media in Vijayawada on Thursday, Sivaji alleged that a national party with the help of a regional party in Andhra and a popular film actor is planning to corner and finish off the party in power.
Though he named no one, it is obvious whom he was referring to. He concluded by saying that after the job is done in 2019, the film actor will get a berth in the Union cabinet for his efforts, the regional party leader will be sent to jail and a Telugu BJP leader will become CM. Given the pro-ruling party tilt in the narrative, there is little credibility associated with the juicy prognosis. But it gives a sense of how political parties are throwing in everything they can into the mix.
What will also worry the TDP is the manner in which it has let the opposition YSR Congress and Pawan Kalyan set the agenda. If last week Naidu copied their plan to give a no-confidence notice, this week saw him being forced to extend moral support to their plan to block the national highways passing through Andhra for four hours. With a year to go for elections, playing catch-up is hardly going to give the ruling party any confidence.
(Author is a senior journalist. Views are personal)
| Edited by: Nitya Thirumalai
Read full article
Countdown To
Elections Results
To Assembly Elections 2018 Results