News18
»
Other Sports
5-min read
Champion pro-boxer Amir Khan doesn't rule out fighting Vijender Singh
Khan said he is impressed with Vijender, India's first Olympic and World Championships medallist who is now a professional boxer.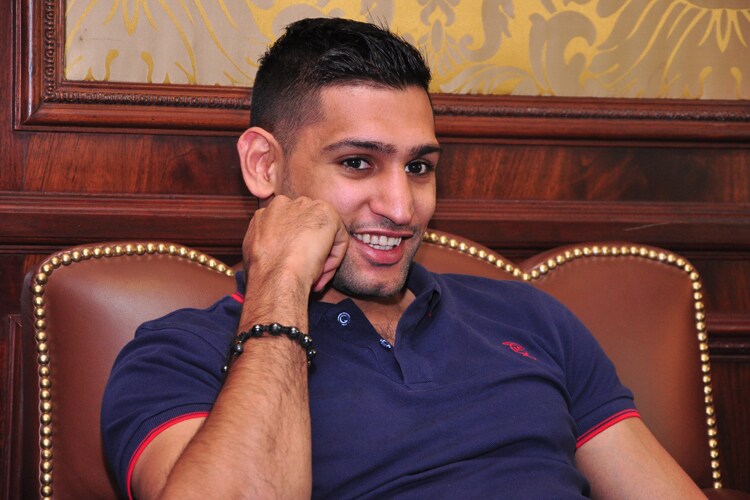 Khan said he is impressed with Vijender, India's first Olympic and World Championships medallist who is now a professional boxer.
From Britain's youngest Olympic medal-winner to the country's high-profile professional boxer, Amir Khan was destined to achieve great feats.
A British boxer of Pakistan origin, Khan was seventeen when he catapulted into limelight with a silver medal in the lightweight category at the 2004 Olympics.
A year later, he made a gamble to turn professional. Leaving a flourishing amateur career behind, Khan took the professional world with a storm and didn't take time to rise through the ladders of professional boxing, winning the WBA light welterweight title at the age of 22 after his life-changing fight against Andreas Kotelnik.
Now 29, the Bolton-based boxer is one of world's highest-paid fighters and has an impressive professional record of 34-3 with titles across three weight division to boast about.
IBNLive.com caught up with this Bolton Wanderers fan and a 'good friend' of Wayne Rooney in a freewheeling chat and he could not stop raving about the country where he has set foot for the first time.
Hugely impressed with the determination of the hardworking Indian boxers, Khan said he is ready to harness the abundant talent present in the grass-roots of India, which, according to him, is not getting the support it deserves.
"India is a beautiful place. I have always wanted to come here. My parents were here in 2010 for the Commonwealth Games and my brother (Haroon) boxed here in Delhi. It's my first time and I think it's an amazing place. I loved it. The people are nice here, very hospitable. It's a lovely place. I never expected it to be this nice. I will definitely be back. I came here with my family. My wife has been here before. It's just brilliant," Khan told IBNLive.com.
In Delhi to attend a friend's wedding, Khan said he plans to start a chain of academies in the country.
"I am here for a friend's wedding but obviously I have many plans. I have my own Amir Khan foundation. I want to do something over here for the needy, for the people who need help. May be go to the villages, may be built something for them. Also my own boxing academy promotion. Next year hopefully we will build gyms. We are in talks at the moment, nothing has been confirmed as of yet. It's all about giving India a chance.
"Indian boxers need more support. They need more people to follow them, support them. With support you become a better fighter. Indian people need to get behind their boxers. The talent is here, you have Mary Kom, Vijender, but they need support. They are not getting that support as much as it's needed," he added.
Khan said he is impressed with Vijender, India's first Olympic and World Championships medallist who is now a professional boxer.
Vijender made a smashing professional debut by knocking out Britain's Sonny Whiting in Manchester last month, ruthlessly demolishing the man who promised to put the Indian through hell at the Manchester Arena.
"Vijender is doing really well. He has won his professional debut. Obviously, the transition was going to be hard from an amateur to professional. But he has done it really well. He is fighting again next month. He has a great future ahead of him. We need more people like Vijender because having more people like him will promote boxing in India.
"Vijender's act will promote pro boxing in India. Because most of these amateur boxers don't know about pro boxing, so Vijender's foray will open the doors for them further. He has won one fight and he has the next one coming up. So yes, I really think he's going to promote it well and he will go a long, long way. In the next five years, I can see a big change in boxing in India. There will be a lot of boxing shows in India. We are happy to do boxing shows in India. There's lot of raw talent," he said.
Khan believed professional boxing, which is still in its early stages in this part of the world, will grow fast.
"I think it will grow and grow fast in Asia, especially with so much talent. There's a lot of good talent in India and Pakistan as well. I am doing the same thing in Pakistan. The thing is they do not have the gyms and facilities for boxers to turn professional. What we are doing to give them a platform. So what we want to do is promote fighting sports in this part of the world. We want to manage and promote professional boxing.
"We need to do that transition period from amateur boxing to pro boxing. In India, what we don't have is a real professional platform. So, have an Amir Khan Academy, have the best trainers, and give them a chance," he added.
When asked if he would like to face Vijender in future, Khan was optimistic and said it will be a "good fight".
"It will be a good fight if it happens. His first couple of years are going to be quite easy. I think by the time I probably call it a day, that's when Vijender will probably come up to the level I am now. You don't expect things. I wish him all the best. He is a good fighter. I will be always behind him if he needs any advice or help. I know he trains in England. My doors are always open for him," he said.
After Khan's long-awaited fight with Floyd Mayweather failed to happen this year, Khan is currently hoping to face Manny Paccquiao in the Filipino legend's final fight next year.
"Hopefully yes. But I have left it to the team. Let the team make it happen. I want the fight. I think Manny is a great fighter; he is a legend in the game. You always want to fight the best in the world. So I think it will be an amazing fight. There's a lot of history there as I and Manny are very good friends," he said.
Get the best of News18 delivered to your inbox - subscribe to News18 Daybreak. Follow News18.com on Twitter, Instagram, Facebook, Telegram, TikTok and on YouTube, and stay in the know with what's happening in the world around you – in real time.
Read full article