News18
»
Other Sports
7-min read
EXCLUSIVE: Shubham Jaglan's success is a story of love, labour and sacrifice
The Jaglan family gets a lump in their throat as each member narrates the story of their sacrifice and determination, which has turned a 10-year-old kid into a double junior golf champion.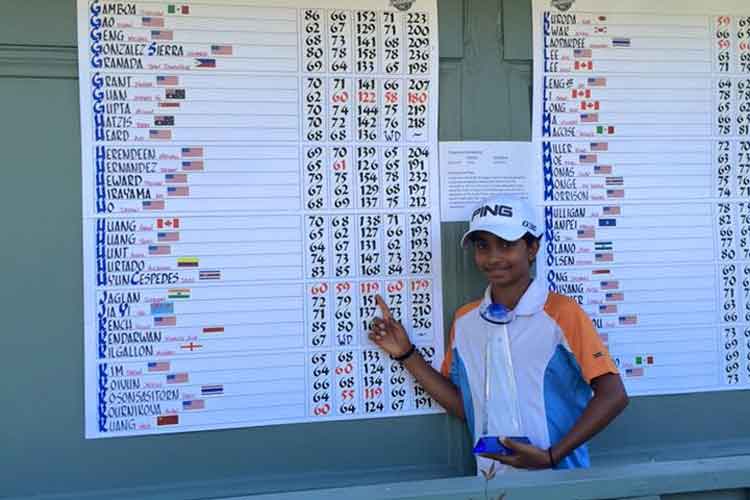 Shubham Jaglan's Facebook
Their eyes well up talking about him. He is away at the moment but they are with him as he climbs every step of the ladder to become a golf prodigy. The Jaglan family gets a lump in their throat as each member talks about the hero of the house - the 10-year-old, double world junior champion Shubham.
Tears rolled out as the small family of four started talking about its youngest and already the most illustrious member who is currently in US and making sure that his family back home, which gave up everything it have for him to pursue his passion, is proud not just about him but also for what they did for him.
Shubham and his father, mother and grandfather make up the small Jaglan world that is now being talked about throughout the world for the 10-year-old's twin titles - the Junior World Golf Championships and the IJGA World Stars of Junior Golf.
Jagpal Jaglan, Shubham's father, is no longer required to ring a bell as milkman. In fact, it's his phone and home bell that keeps ringing now, with media eager to learn the story of his labour in turning Shubham into a champion.
And it's quite a story.
Jagpal, the family's sole bread-earner, gave up his livelihood just to make sure his son didn't have to face any hurdle in his endeavour - even if that meant the family has to lead a poor life.
Jagpal knew what his son is going through. Shubham wanted to be a golfer, and a father took a vow that he won't let his son's passion die down come what may.
He sold his cows, buffaloes and shut down the milk business to be with Shubham every step of the way.
Jagpal took Shubham to Madhuban Golf Course in Karnal and got him enrolled in the academy there. But with better facilities available only in the neighbouring Delhi region, the family decided to move.
With not much left with them having quit their business, Jagpal and his wife Anju rented a house at the Dhobi Basti near the Ashram area in Delhi. And the father chose to become his son's caddie.
"My dad has supported me throughout my life and he is here with me this time too. He has encouraged me a lot. He did it [leaving his occupation] because he wants me to become a world class golfer," Shubham told IBNLive from the US .
Shubham was five-and-a-half years old when his grandfather, Ishwar Singh Jaglan - a bank employee, encouraged him to opt golf as a sport. This was the time when the family lived at village Israna, near Panipat.
Ishwar's decision cropped up after an NRI, Mr. Kapoor, set up a golf academy in Israna. The grandfather then got Shubham admitted there. Unfortunately, the academy lasted only a few months after most of the 50-60 kids training there quit due to lack of funds.
"It was a big step by someone in a village. There was a huge craze among the kids. Around 50-60 students joined the academy, but within three months everyone pulled out. The reason was expensive equipment. The academy was also not well structured. It was a kind of farm. In the end, only 3 or 4 students were left, including Shubham. But it was not enough for the academy to survive, so it was shut out," Shubham's grandfather explained.
But the short stint lit a fire in Shubham, to become a professional golfer. He maintained his routine of getting up in the morning and practicing. All he needed was family support, which was never in short supply. All he needed now was proper training.
"My hard work has paid off. I am so happy. I have competed against the best players here [in the US]," Shubham said. I have also learnt from my mistakes. This is just a beginning and I have to go a long way," he said.
"It is all because of my family's support and my coach who helped me a lot. My golf club DGC (Delhi Golf Club) gave me all the facilities that I required," he said.
Talking about support, it touches one's heart knowing what mother Anju has to say.
"We left our home with not much money. We just wanted our son to chase his dreams. That's it," Anju said. "The [residential] locality here is not good but we are managing. There have been times when I and my husband have slept without a meal to make sure we will arrange two apples for Shubham everyday because he needed a good diet after the practice."
Things started moving when India's former top golfer Nonita Lall Qureshi spotted Shubham. She was left awe-struck and has been coaching Shubham since he was 7.
Impressed by Shubham's seriousness towards the sport, Nonita took him under the wings of the Golf Foundation, run by Asian Games gold medallist Amit Luthra. The Foundation has since been sponsoring all of Shubham's foreign visits as well as his golf kit.
"I am training Shubham for two-and-a-half years. He is a phenomenal talent. I have trained many students but never saw such skills in a seven-year-old kid. He knew the basics and could swing perfectly. I am sure there is something special in him," said Nonita.
"We are thankful to Luthra sir for supporting our son," Shubham's mother said. "He has helped us a lot. Bearing expenses wouldn't have been easy if he wouldn't have helped us. He saw the talent in Shubham and sometimes he also plays with him."
Along with his golf training, Shubham's parents wanted their son's studies to continue, and the events unfolded in a way that every block started fitting perfectly into the script.
One day Anju received a call from a news channel for a special programme on Mother's Day, thanks to Shubham's coach Nonita. There she met Dr. Usha Ram, the Principal of Delhi's Laxman Public School.
"I met Usha madam due to Shubham's coach Nonita Lall Qureshi. She gave me her card and asked me to meet her. Today, my son is studying at Laxman Public School and everything is being provided by them. They take care of everything. I am really grateful to them," an visibly relieved mother said.
Born in a family of wrestlers, Shubham was initially pushed to become a wrestler as his uncle Joginder Pal is a famous Greco Roman athlete. But Anju never wanted that to happen.
"Shubham's uncle Joginder Pal is a wrestler. He often comes with stitches and in even worse condition. He has sometimes required immediate medical treatment too. I saw him crying with pain a lot of times. This is the reason I never wanted my son to opt for wrestling as sport," the mother explained.
Not so educated, Shubham's mother doesn't understand golf. She just knows her son has won something and that makes her happy. Whenever she sees her son's photo in a newspaper or on television, she asks what it is all about.
More importantly, the Jaglan family has left their struggles behind and are living a proud life now.
With an iPhone in his hand, Shubham's grandfather can't stop swiping his grandson's pictures, and then his eyes well up once again.
"Shubam sent this iPhone for me from the US," a proud grandfather declares. "He has also sent an iPad I never dreamt of such things. I didn't know about technology but he told me and pressurised me to operate it," Ishwar said with a smile.
"I now have a Facebook account and I manage Whatsapp too. He sends me pictures from US and I also reply him back. He also told me how to operate it. Honestly, I am living the moment," he added.
With two titles already in the pocket, Shubham will be playing his last tournament of the PGA tour in US next week at the Pinehurst.
IBNLive also got in touch with the tournament director for World Stars, Marty LaRoche, who handed over the winning trophy to Shubham.
Lauding Shubham's incredible victory, LaRoche said: "Shubham is participating in the tournament for the third successive year. He finished runners-up last year and won this year. He is such a talented boy. He will go a long way. He his 10 years old and will touch the sky one day".
"There were 360 kids who have participated from 34 countries. Shubham is a winner. But the best thing I liked about him is that he is a better person than a golfer. That is why he is on the top," LaRoche added.
On being asked about his interaction with Shubham's father, LaRoche said: "I have a lot of respect for him. Despite having financial problems, he has supported Shubham all the way. Nice to see such support."
But this achievement should be just a beginning of what could possibly be India's greatest golf career. All Shubham needs now is support from all quarters, and there doesn't seem to be any dearth of it for the youngster.
Get the best of News18 delivered to your inbox - subscribe to News18 Daybreak. Follow News18.com on Twitter, Instagram, Facebook, Telegram, TikTok and on YouTube, and stay in the know with what's happening in the world around you – in real time.
Read full article
Next Story
Next Story
Also Watch

Popcorn With Smoke, Pizza Dosa And Quirky Food Experiments At Horn Ok Please