It's a story of national shame. National-level boxer Krishna Routh has now been reduced to working as a sweeper in Howrah.
In 1987, Routh was 15 years old when he won a gold medal at the All India Invitational Boxing Championship. Now Routh is 43 and earns a little over Rs 200 a day as a sweeper with the Howrah Municipal Corporation.
This one-time champion now sprays disinfectants in open drains and lives in a one-room house with his wife, three children and brother who is suffering from tuberculosis.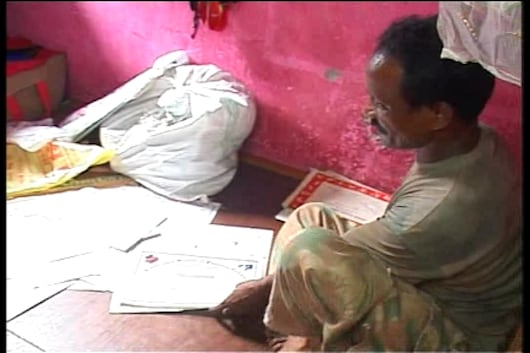 "I do a temporary job with the municipal corporation as a casual employee. My daily wages are Rs. 232, but I sometimes get Rs 4000 or Rs 5000 a month. And I have to feed the entire family," Routh told CNN-IBN.
"I don't get proper wages. My son and daughter are studying, and it's difficult to pay for their studies. If my job is permanent, I will be able to better take care of their educational needs," he added.
Routh has got no help from the government - neither when he was active in boxing nor now. Disappointed, he said all he got was unfulfilled promises.
"I gave interviews at several places but was only given false promises with nothing coming through. I didn't get any job because of my achievement. The government didn't take care of me," he said, adding that he hasn't got in touch with the current Mamata Banerjee government.
"I haven't contacted the Trinamool Congress government yet," he said. "Who should I go with? They have bodyguards. They will say where have you come from? I have never been able to met the mayor," Routh said.
But on Saturday, following CNN-IBN's initiative to bring Routh's miserable condition into light, India's wrestling legend and Olympic silver medallist Sushil Kumar came forward to help Routh.
"Athletes play for the country and win medals for their nation. So it's the responsibility of the country that once his playing career is over, he is well taken care, especially by the department [he works for]," Sushil responded via a phoner.
The champion wrestler also said that the Bengal Chief Minister never steps back from supporting athletes.
"[Mamata] didi supports sportspersons a lot, and she always supported me when she was the Railway Minister," Sushil said before going on to says that he will offer every help possible to Routh.
"Through CNN-IBN I would like to appeal that please take care of this athlete. And whatever I can do for him I will definitely do. I also thank CNN-IBN for taking the initiative [to highlight Routh's condition]. I would urge everyone to step forward and help this athlete," Sushil concluded.
But Routh's love for boxing hasn't died one bit. What he does to keep his love for the sport alive can inspire many.
"For me sports means a lot. I train 40-50 children [in boxing] and I don't charge them, I train them for free every day for two hours. I want these children to progress both in sports and studies and go on to represent the country in Commonwealth Games and Olympics.
"Some of the kids I train have gone on to play national and state-level championships, some have secured jobs for themselves [because of boxing]," Routh went on to add.
For a man who knows he is struggling to make ends meet and earn a square meal, this is commendable.
"My brother is ill, he has TB [tuberculosis]. I got him admitted to a hospital earlier and he recovered. But he is ill again now. I am not able to feed him properly either.
"Even today, we don't have enough in the house to prepare a meal."
Will the government wake up to see the plight of this man remains to be seen.