News18
»
Other Sports
4-min read
Golfer Aditi Ashok wants to scale new heights after meritorious 2015
The first Indian golfer to win LET Q-School says titles in 2015 boosted her confidence a great deal and she wants to translate it into more success in the upcoming season.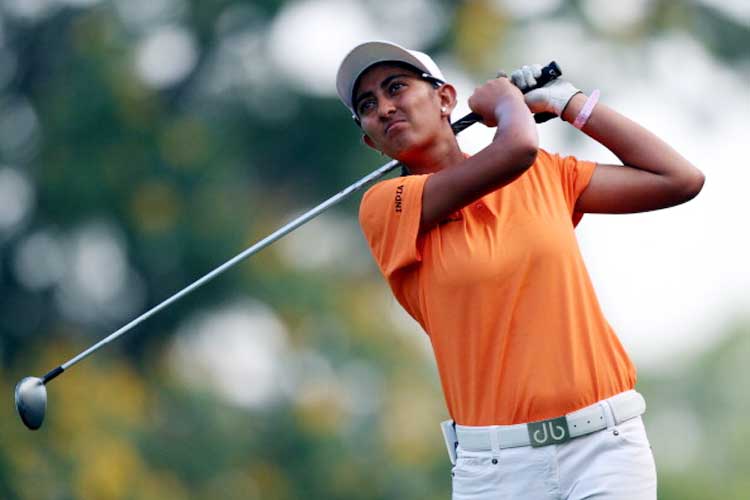 Image Credit: Getty Images.
Amateur Indian golfer Aditi Ashok had been making inroads for last couple of years, but outside Indian golf circle, she was hardly a known figure. But year 2015 turned out to be a game-changer for her.
Aditi started rising to prominence by winning internationally-acclaimed amateur tournaments, and in an overwhelming display of her game, she stunned the golf world by becoming the first Indian to win the Ladies European Tour (LET) Q-School in Marrakech, Morocco, last week.
At 17, the Q-School triumph was an achievement not expected of her. Even if she had returned by booking one of 35 LET cards up for grabs, it would have been a monumental feat by Indian golf standards, but her title victory elevated her status in the national golf circuit to a new level. As the year is about to end and she starts her season on the LET, the Bengaluru girl hopes the confidence she gained this year will guide her to have a good start to the season.
In an interview with IBNLive, Aditi takes the Indian golf fans through her journey that brought her where she stands proudly today.
"I had a plan at the beginning of the year to improve my world amateur ranking, so I played all these elite amateur events. I started by winning the St Rule Trophy, winning a silver medal at the International European Ladies Amateur, winning the Ladies British Strokeplay and also winning the Thailand Amateur.
The world No. 11 amateur continued: "Besides this, I also qualified for my first LPGA event and finished tied 42nd at the Sime Darby LPGA Malaysia. All this gave me confidence, event after event. So yes, it has been a great year and it gives me a lot of confidence going into the next season."
The golfer said she was expecting a ticket to LET when she embarked on the journey to Marrackech, and winning the tournament was above her expectations. "It's an amazing feeling because I came into the tournament obviously wanting to give myself a chance to win but also just wanting to play consistent enough to get a card. Winning it and getting a card is just that much better and I am really happy," said a three-time junior and two-time amateur national champion.
Reaching the pinnacle of Q-School was not an easy ride for Aditi as she had to play five rounds on two golf courses. Her third round of 10-under 62 was a new course record she set with the help of astounding 11 birdies and a bogey. Overall, she shot rounds of 68, 69, 62, 68, 70 for a 23-under 337 aggregate and a three-stroke victory.
"Playing five rounds is tough and playing two different courses is also challenging. It got very windy too on a couple of days, so that was challenging," said Aditi, who is eyeing a ticket to 2016 Olympics where top-60 women golfers in the world will play.
Aditi was seen as a promising golfer since her early days in competitive golf.
She served a notice of her ability as a 12-year-old, when she became the youngest Indian to play at the Queen's Sirikit Cup, the official amateur ladies' tournament in the Asia-Pacific region.
As a 14-year-old she became the talk of the Indian Open, country's only LET event, in 2012 when, entering as an amateur, she finished the best among Indians at tied eighth place. She finished 14th and 13th in the 2014 and 2015 editions of the same tournament to prove that her earlier performance wasn't a fluke.
"I played at the Queen Sirikit for four years in a row till 2014. I have grown a lot since then and progressed with my game, fitness and mental strength. I hit it further now and play much more consistently," she said.
However, she first made global headlines prominently in June when she became the first Asian to win the 2015 St. Rule Trophy and Lawson Trophy at St Andrews Links, Scotland, where she also set a course record.
There was no looking back from there and the subsequent month she settled for a silver medal at the European Amateur Championships in Austria and later clinched the Ladies British Amateur Stroke Play Golf Championship at Leeds, England, in August. On both the occasions she was the first Indian to do so.
Aditi added one more feather to her cap by winning the Thailand Amateur Championships in September. It strengthened her belief that she was on the verge of achieving something more significant and it came in the form of her victory at LET Q-School this month.
"I enjoy playing different courses, especially internationally. I treat every event as just another tournament and do my best. For next year also, I will try to play my best and stay consistent in each event," said Aditi.
However, her quick and eventful journey to success wouldn't have been possible without her dedicated parents who can often be seen accompanying her to tournaments. In fact, in majority of events, it's her father Ashok who can be seen on the bag, and mother Mash following her during rounds. She acknowledges they have been a great helping hand in her path to glory.
"I would credit my mom, dad, golf coach Steven Giuliano and fitness coach Nicolas Cabaret for the success I got in an early age," she signed off.
Get the best of News18 delivered to your inbox - subscribe to News18 Daybreak. Follow News18.com on Twitter, Instagram, Facebook, Telegram, TikTok and on YouTube, and stay in the know with what's happening in the world around you – in real time.
Read full article