News18
»
Other Sports
4-min read

I will perform to my best in Rio, says shooter Prakash Nanjappa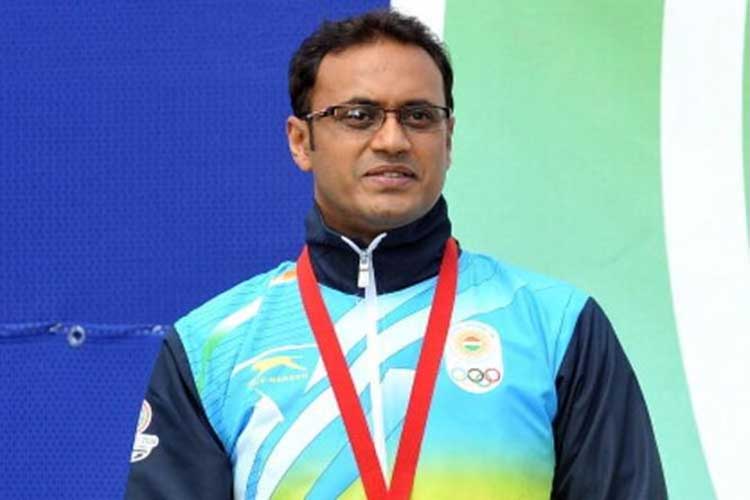 An erstwhile engineer-turned-shooter, a paralytic attack survivor, Prakash Nanjappa's story is an inspiring one to say the least.
The 39-year-old Nanjappa, who was forced to give up the sport due to lack of financial support, has now earned a quota place for the 2016 Rio Olympics - sixth shooter to have earned the country a quota place for next year's quadrennial extravaganza.
Nanjappa achieved the feat after finishing eighth in the finals of 50-metre men's pistol event at the ISSF World Cup in Gabala, Azerbaijan.
Ranked 52nd in the world, with 567 points, he turned out to be the second-best athlete in the qualifications.
Nanjappa, who won a bronze medal in the 2013 ISSF World Cup in Changwon, South Korea, in the 10 metre air pistol event, suffered from a paralytic attack the same year in the right side of his face, during the World Cup in Granada.
Following his recovery, in October 2013, Nanjappa won the silver medal in the 50 metre pistol event in the Asian Air Gun Championship in Tehran.
He had a decent outing last year as well, winning a silver and bronze each at the Commonwealth Games in Glasgow and Asian Games in Incheon, respectively.
The Bangalore-based shooter was gracious enough to take time out and chat with her fans on IBNLive. Enjoy the full transcript of a freewheeling chat.
What should be done to popularise shooting in India?
I believe live coverage and awareness of important events would popularize the sport in the country.
How difficult is this sport to learn?
No sport is easy nor difficult its the passion and dedication that you have to any sport is what it matters.
What made you leave engineering and enter into the sports arena with a not-so-popular sport of shooting?
I made it to national team but lack of financial support made me leave to Canada and I worked for 5 years , but always it was like something missing in life it was then when I spoke to my dad, I figured out that shooting. It was popular among a segment of people but now its catching up because of few great shooters who have made our country shine internationally.
How are you gearing up for Rio 2016? Who has been your mentor?
Well, I am not doing anything special but for sure improving my skills in every aspect.
My father is my mentor and personal coach , right now OGQ is supporting in all the required manner and iam following the plan decided by my coach.
How does it feel to have bagged the Olympic ticket a year in advance?
Getting the quota is important and it doesn't matter when but focus is now on preparation.
Who inspired you to take up shooting?
I saw my father training at home in the prone position and when made fun of him he challenged me to shoot better than him and I did better and also won the gold at the state meet so thats how I got into shooting.
Apart from shooting, which other sport do you like?
I like Badminton and Motor rallies. Also I am sports lover and I have almost touched upon every sport so i like all.
Why Karnataka has not produced more shooters?
We do have good shooters but it's the persistence that matters , along with it there are so many external factors.
How do you rate India's training facilities vis-a-vis Europe and America's?
We have very good international standard ranges in India and the training facilities are almost par to the ranges at mentioned countries.
Mental conditioning is more important than physical in the sport of shooting. What do you do for that?
I do yoga, meditation and mental training with my dad and mental trainer from OGQ.
Whom do you think will be your biggest challenge?
I don't think challenge is with anybody, it's with you alone , improving your own skills is one the key to success. I never approach the competition thinking who would be rather i focus on my performance.
Is shooting a sport for the elite class?
No I don't think so , when I started shooting I never had any weapons of my own , few great and generous people in shooting lend me pistols at the time of competition later on with my friends help I bought my own so I think if you have the passion and dedication ways open up for you.
What is your possibility of winning a medal in the Olympics?
Every sportsperson wants to win no one go to lose. I am preparing myself with full dedication and determination and I will perform to my best.
Who is your favourite Indian shooter and what you expect from them in Rio?
We all are a team and all of us are capable of winning at Rio all are my favourite i just wish and pray that all of us do well meet the nations expectation.
Do you think shooting has become popular after Abhinav Bindra's Beijing Gold?
Yes for sure and it all started from Rajyavardhan Rathore's silver medal and Abhinav's gold and Gagan's bronze and Vijay's silver and many more to come.
What are the changes you will bring into the system if you become the Sports Minister?
This question cannot be answered in one line and more over without understanding the current situation planning becomes difficult , as a person outside the system its very easy to comment however I would defiantly want to provide a better living standard to the athletes who represent our state and our country.
Get the best of News18 delivered to your inbox - subscribe to News18 Daybreak. Follow News18.com on Twitter, Instagram, Facebook, Telegram, TikTok and on YouTube, and stay in the know with what's happening in the world around you – in real time.
Read full article
Next Story
Next Story
Also Watch

IPL 2019: KXIP Vs KKR, Can Russell And Narine Push KKR To Semifinals?