News18
»
Other Sports
3-min read
Interview: If I get to fight Amir Khan, it will be India vs Pakistan, says Vijender Singh
Vijender's next pro fight is still around a month away, and the Bhiwani power house was gracious enough to talk to IBNLive on his Indian visit - about not just boxing, but a lot more.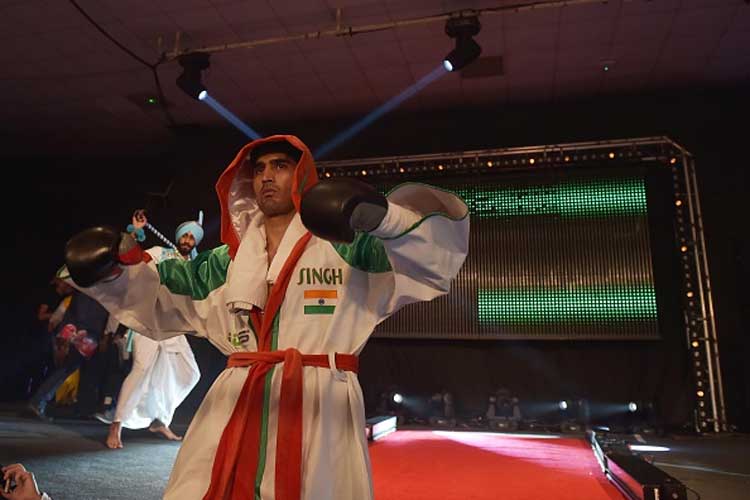 India's star boxer Vijender Singh on Friday met Sports Minister Sarbananda Sonowal at his residence here and discussed about his plans of developing professional- boxing in the country.
Pakistan-origin pro-boxing champion Amir Khan has made no bones about his wishes to fight Vijender Singh in the professional boxing ring one day, and the Indian is equally eager to get that chance, which, according to the Olympic medallist, will be like India vs Pakistan.
Vijender enjoyed a welcome Diwali break at home, free from his rigorous training schedule in the UK, which reaped rich dividends for him in the form of 2/2 wins on his pro-boxing debut.
He beat Sonny Whiting in his first fight and knocked out Dean Gillen in the second, then celebrated with a Diwali vacation at home - relishing Indian sweets, paranthas and lassi before he returns to his protein and carb-high diet.
Vijender's third fight is still around a month away, on December 19. And the Bhiwani power house was gracious enough to talk to IBNLive on his India visit - about not just boxing, but a lot more.
Two out of two on pro-boxing debut. Has Vijender Singh surprised himself?
Yes, even I didn't hope that I would make it 2-0 and that too with a TK and a knockout. So yes, happy with my performance. What I learned, it came good for me in the ring. Even my coaches were surprised; so, of course, I am as well.
How is Bhiwani reacting? Do the taus there know what Vijender is doing in London, what is pro-boxing?
They just know that I am boxing. Whether it's amateur or pro, for them Vijender is boxing. I was punching here and punching there as well. This much they know. They ask, "You won"?. I reply, "Yes, I won." That's all. But yes, they are very happy. They say, "It's 2-0! Buddy, you finish it real quick."
Training is a lot different. What's good and what's difficult about it?
The weather is good. It's really nice. Bad or difficult are a lot of things, be it food, long training sessions. Lots of things that I don't like. But there are a lot of good things as well. When you get a victory, then you start liking a lot of things.
Does turning pro also change what you eat? Has your diet changed dramatically or you get your favourite Indian food?
No. I ate paranthas here after I landed. Four different paranthas I had. Enjoyed it a lot, after so many days. But otherwise diet is totally changed. In UK, we have to be strictly on a protein or carbs (carbohydrates) diet. Once back in India, sweets and paranthas become regular again. But I have changed a lot of things over there.
Did you plan your break around Diwali?
Yes, that's why I came here for a 10-day break, for Diwali, to celebrate with my fellow Indians, my famiily. Sweets are special. There's lot of pollution in India. So I don't burn crackers. I love sweets, had lots of them. I love chocolates.
Amir Khan was in India recently and said you will find it easy initially, but it will keep getting tougher as your go up the ranks of professional boxing. Is that true?
It's absolutely right. It's up to you, up to your promoter, who he is choosing or selecting. Because when you select a fight, then you sit down with your coach and promoter to decide. It depends entirely on you. If you don't like it, simply say, "No, I don't want to fight." It's up to you who you want to fight.
And Amir also wants to fight you one day. What you have to say for that?
It's going to be nice. It will be a very interesting match if we get a chance. 100 percent [it will be India vs Pakistan], it's going to be rocking match. Lots of fun.
Having trained professionally, what changes you want to see at places like Bhiwani to improve Indian boxing?
Lots of changes that are needed in Bhiwani - be it hostel as accommodation, boxing facilities, doctor, nutrition, etc. To be honest, when I started boxing I didn't even know what you need for boxing. I knew nothing about nutrition, didn't know about equipment. But when I reached the national level in Patiala (NIS), then I came to know that you need a dietician, nutrition and other things. But it takes time to learn, and I am still learning.
So there are a lot of things. It's a long list if you want to change. From Bhiwani to London, it's a long way.
Get the best of News18 delivered to your inbox - subscribe to News18 Daybreak. Follow News18.com on Twitter, Instagram, Facebook, Telegram, TikTok and on YouTube, and stay in the know with what's happening in the world around you – in real time.
Read full article