News18
»
Other Sports
3-min read
Michael Schumacher's son finishes third on India debut
Pietro Fittipaldi extended his championship lead with a win in Race 1 ahead of Harrison Newey and an impressive Mick Schumacher.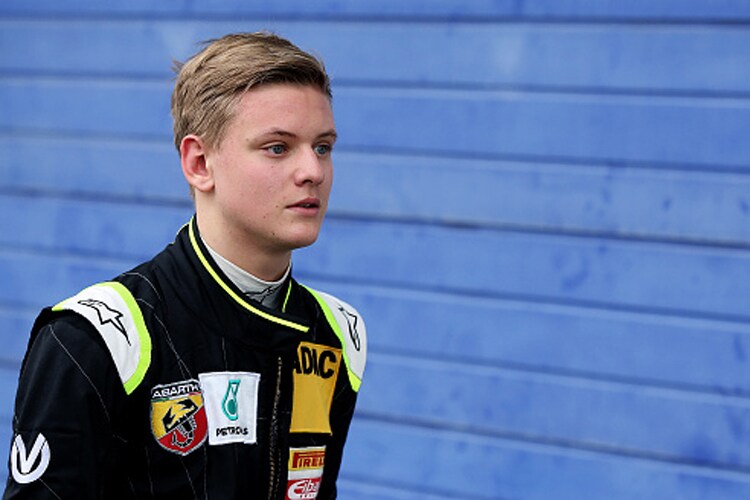 A file photo of Mick Schumacher. (Getty Images)
Chennai: Three legendary motorsport names swept the podium in the opening race of the MRF Challenge final at the Madras Motor Race Track (MMRT) on Saturday.
Pietro Fittipaldi extended his championship lead with a win in Race 1 ahead of Harrison Newey and an impressive Mick Schumacher. Race 2 provided more entertainment with Alessio Picariello colliding with young Indian Tarun Reddy, who was leading the race, on Lap 17.
Nikita Troitckii took the win when both retired ahead of Newey and Russia's Nerses Isaakyan. Fittipaldi currently leads with 207 points, 35 ahead of his closest rival Tatiana Calderon with only two races to go on Sunday. Troitckii is on 166 points, six behind Calderon.
In Race 1, Fittipaldi, starting on pole position, just managed to hold on to the lead into the first corner. Reddy had a rocket start and was alongside Fittipaldi, trying to go around the outside. He ran wide but managed to stay fourth, ahead of Calderon.
On Lap 4, Schumacher got past Reddy when he went wide and Calderon also took advantage to pass the Indian into the final corner. At the front, Fittipaldi and Newey continued to set similar pace but pulling away from third place Picariello.
On Lap 10, Schumacher passed Picariello to move into third. While Newey managed to close the gap, it was not enough and Fittipaldi won to increase his championship lead. Newey finished second with Schumacher third on the podium in his first ever race in the series.
Picariello finished fourth ahead of Calderon and Reddy, who started on the reverse grid pole for Race 2. Russians Nikita Troitckii and Nerses Isakyaan finished seventh and eighth respectively.
In Race 2, Reddy got off to a great start ahead of a fast starting Picariello and Calderon. Schumacher slotted into fourth ahead of Newey. Picariello piled on the pressure on Reddy, trying every possible move to get past.
Behind them, Calderon had a train of cars behind her with Schumacher, Newey and Troitckii all behind, trying to find a way past. On Lap 12 Schumacher, frustrated behind, dived down the inside of Calderon and spun but managed to keep the car going.
The action started on Lap 17 of 20 as Picariello and Reddy collided, putting race leader Reddy out of the race. Troitckii inherited the lead with Newey second and Nerses Isaakyan third.
Troitckii went wide on the penultimate lap which gave Newey a run down in to the first corner. Both were side-by-side but Troitckii just managed to hold on. Troitckii took his second win of the season with Newey in yet another second place. Isaakyan earned his first podium with Calderon fourth, followed by Fittipaldi in fifth and Schumacher recovering well to finish sixth.
"Today was a really good day and I also managed to extend my lead. In the first race, I had a great start and after that it was just about maintaining the pace," Fittipaldi said.
"Newey was really quick but I had some in reserve if needed. In the second race, the start had cars coming from all sides so I decided to take it easy. The end was fun. Tomorrow I start on pole again so look forward to a good race."
Newey was happy to get two runner-up finishes and commented, "Both races were really good and I felt I had a chance to win both. The car has been really quick all weekend so I am hoping to step on the top step of the podium tomorrow."
Schumacher impressed on his debut with a brilliant third place and said, "The two guys were a bit quicker than I was and so they had gone from the start. I had to pass few people first and also managed to get closer to Calderon, who was quick. I am pretty happy to be third. I really like this track and would be happy to show my tricks here."
Read full article
Next Story
Next Story
Also Watch

IPL 2019: KXIP Vs KKR, Can Russell And Narine Push KKR To Semifinals?
Countdown To
Elections Results
To Assembly Elections 2018 Results