News18
»
Partner Content
3-min read
Radio City Initiates a Movement to Empower Women with the Launch of 'StreeDum' Campaign this Diwali
The initiative uses the power of radio as a mass medium to raise awareness against the objectification of women!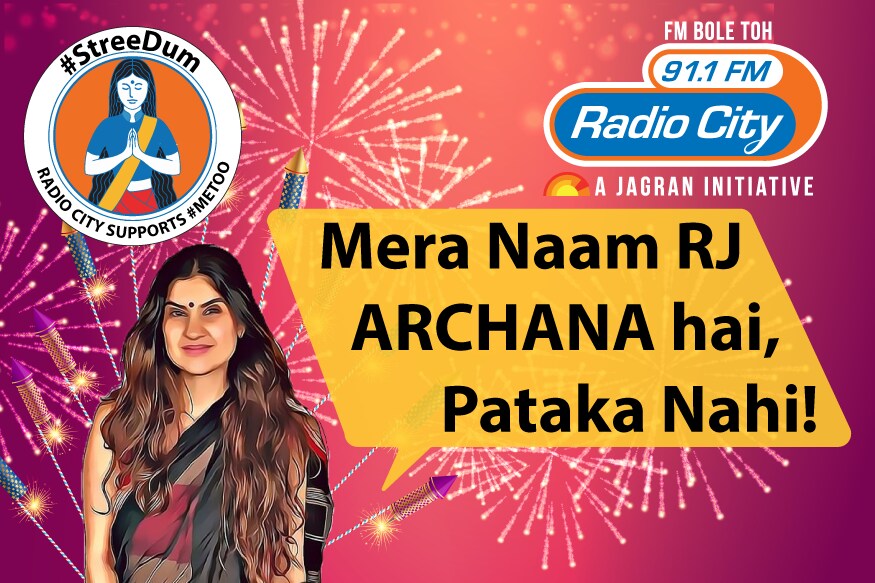 Radio City StreeDum was spread across on-air, on-ground and digital mediums and the idea was to make the topic of sexual harassment and eve-teasing a mass-centric conversation.
This Diwali, Radio City, India's leading radio network, extended its support and displayed solidarity towards the #MeToo movement that has engulfed the country. With a pan-India campaign called 'StreeDum', Radio City decided to raise a voice against the constant objectification of women and positively influence a change in the patriarchal mentality that sees women as objects of sexual gratification.
The aim of the campaign was to bring about a change in the way men view and treat women on a day-to-day basis. Radio City StreeDum was spread across on-air, on-ground and digital mediums and the idea was to make the topic of sexual harassment and eve-teasing a mass-centric conversation. The communication throughout the campaign was to stop men from addressing women as 'patakha', 'bomb', 'fuljhadi', and 'item', and respect them as individuals.
Radio City Mumbai's RJ Archana and Radio City Delhi's RJ Ginnie took the campaign a notch higher with their on-air and on-ground activities. On-air, RJ Archana urged the listeners to share their real-life experiences on RJ Salil and RJ Archana's breakfast show 'Kasa kai Mumbai'. As an extension to the Kar Mumbaikar initiative, she took the campaign on-ground in various locations across Mumbai, where Radio City staged 'Nukkad Nataks' with the theme around objectification of women. Apart from leading a widespread conversation on her show 'Suno Na Dilli', RJ Ginnie went on-ground across different areas of Delhi and spoke about the issue with the Delhi-ites. The 'StreeDum' campaign was also led in Ahemdabad by RJ Aarti. They distributed Radio City branded cracker boxes containing goodies and creative content about an ideal way of addressing a woman.
Commenting on this occasion, Mr. Kartik Kalla, Chief Creative Officer, and Radio City said, "With the 'StreeDum' initiative, Radio City continues to be a forerunner in tackling social issues and bringing about a positive change. We have always aimed at solving citizen-centric problems using the power of radio. Most of us are not cognizant of how unconsciously we perpetuate sexual harassment through seemingly innocuous everyday actions. Each one of us is an agent of change and together we can make a conscious effort to treat women better. I am hoping 'StreeDum' an initiative by Radio City will also see a positive response."
Digitally, female jocks of Radio City started a trend of posing with a firecracker and captioning it 'Patakha yeh hai, main nahi' with the hashtag #StreeDum, while urging other women to spread the word. In addition to that, Radio City collaborated with the digital portal PinkVilla to create a video showcasing the different forms of harassment a woman endures daily. This video also conveys a thought provoking dialogue on how men must change their behaviours and treat women correctly.
In addition to 'StreeDum', this Diwali, Radio City in the northern belt executed the second leg of "CITY KE PATAKHE" across the Uttar Pradesh markets, to spread awareness about the high air pollution index of the state and requested listeners to not use firecrackers.
Radio City has always been a forerunner in addressing social issues and influencing a positive change in the society. This Diwali, in lieu of the #MeToo movement that raised a voice against sexual harassment of women, Radio City decided to spread awareness and create change through the power of radio with its StreeDum campaign.
In the past, Radio City has spearheaded the evolution of FM radio programming by offering content that is unique and path-breaking. The network introduced humour and the concept of agony aunt on radio with Baber Sher and Love Guru respectively. It also initiated the Radio City Freedom Awards for indie talent and provided a launch pad to budding singers with Radio City Super Singer, the first-of-its-kind radio talent show in India. Through its 'Rag Mein Daude City' philosophy, the network has adopted a local approach that resonates with the listeners while inculcating a sense of city pride and infusing local culture and flavour on-air.
Disclaimer: This is a sponsored article and does not necessarily reflect the views of News18.com or Network18. News18.com doesn't hold any responsibility for the content.​
| Edited by: Ahona Sengupta
Read full article
Next Story
Next Story
Also Watch

IPL 2019: KXIP Vs KKR, Can Russell And Narine Push KKR To Semifinals?