News18
»
Partner Content
5-min read
Daily Meal Plans for a Child: How to Ensure Your Child Is Getting the Right Amount of Nutrition
Eating the right foods in adequate quantities helps in weight management and provide your child with all the energy they need for the day.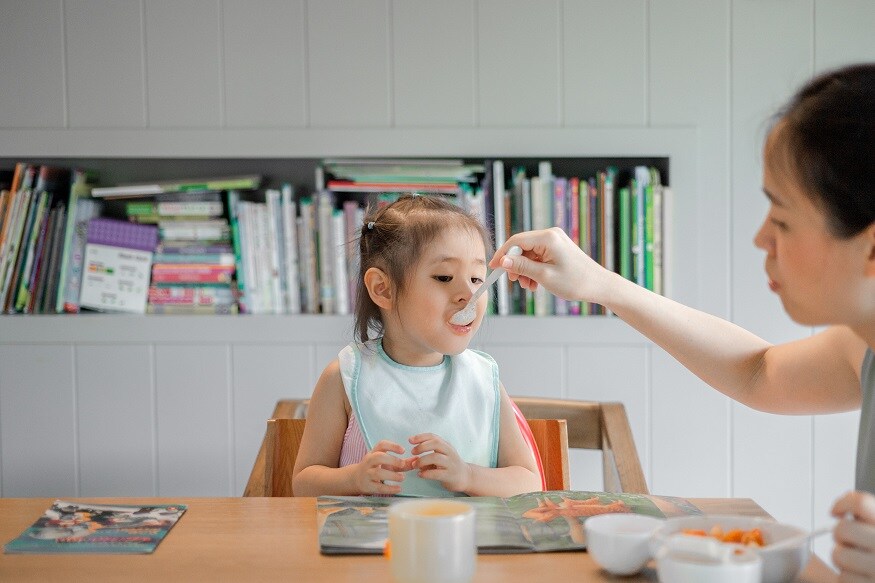 Eating the right foods in adequate quantities helps in weight management and provide your child with all the energy they need for the day.
Taking care of your child's nutritional needs is one of the top priorities of every parent. A healthy diet has a huge positive impact not just on physical health but on an individual's immunity as well.
Calorie Intake: What Is The Right Amount?
Eating the right foods in adequate quantities helps in weight management and provide your child with all the energy they need for the day. However, not every child's required calories or energy intake is the same. It will vary depending on their gender and how active they are overall. Here, we take a look at the estimated calorie intakes needed for male and female children from 2 to 13, according to the physical activity in their lifestyle.
Remember, every child's needs are different and these are just estimated recommended values which are meant to guide parents. Always consult your physician for medical advice if you feel your child is not meeting his or her nutritional needs.
Children aged 2 to 3 years
Sedentary: 1,000
Moderately Active: 1,000 - 1,400
Active: 1,000 - 1,400
Girls Aged 4 to 8 years
Sedentary: 1,200
Moderately Active: 1,400 - 1,600
Active: 1,400 - 1,800
Girls Aged 9 to 13 years
Sedentary: 1,600
Moderately Active: 1,600 - 2,000
Active: 1,800 - 2,200
Boys Aged 4 to 8 years
Sedentary: 1,400
Moderately Active: 1,400 - 1,600
Active: 1,600 - 2,000
Boys Aged 9 to 13 years
Sedentary: 1,800
Moderately Active: 1,800 - 2,200
Active: 2,000 - 2,600
Defining Activity Levels
Here is how to rate your child's activity levels with reference to the figures above. A sedentary lifestyle is one which involves minimum physical activity besides what is required to get around every day. Those who are moderately active usually do everyday activities plus activities equivalent to 2.5 to 5 kilometers of walking a day at a moderate pace of about 5km/hour. Children are considered to have an active lifestyle if they do physical activities more than 5km at about 5km/hour of walking, along with their everyday activities.
Meal Planning
Here's what you need to keep in mind to ensure that your child's daily meals are balanced and wholesome.
● Make sure your child is getting the right amount of calories for their age, gender, build and activity levels. Be aware of serving sizes to ensure that your little one is not being under- or over-fed.
● Include fruits and vegetables, both cooked and raw and in a wide variety, to meet their vitamin and fibre needs as well as keep them satiated without having consumed calorie-dense snacks that are low on nutrition.
● Dairy is important for calcium needs and should be included in a child's diet provided they are not lactose intolerant.
● Adequate protein is essential for muscle growth and cell repair and can be sourced from fish, meat, poultry, nuts and seeds.
Quick and easy options for daily meals that your child will love
Breakfast
● Upma made with Rava and vegetables and an apple
● Idli with coconut chutney and an orange
● Whole-grain/whole-wheat bread such as chapati with peanut or almond butter and sliced fruit such as apple or banana
● Cooked oats with fruit such as strawberries and milk
● Eggs with vegetables such as capsicum or spinach and fresh orange juice (without added sugar)
● Whole-wheat toast with hard-boiled eggs
● Smoothies with a mix of fruit and milk or curd
Lunch
● Rice with palak dal and curd
● Vegetable or chicken pulao with raita made with cucumber, tomato and onion
● Lean meat such as chicken with whole-grain toast or bread
● Soup made with vegetables with breadsticks or toast
● Pita bread and hummus
● Nut butter on whole-wheat bread topped with fruit
Lunch add-ons and snacks
● Cheese and crackers
● Carrot sticks
● Cucumber sticks
● Tomatoes
● Handful of nuts or grapes
● Curd
Dinner
● Chapati with peas and paneer bhaji
● Dal with mixed vegetable bhaji and multigrain phulkas
● Homemade pizza or wraps (use paratha or chapati) loaded with vegetables
● Spaghetti with vegetables and meat/nuts
● Grilled chicken with baked potato
● Burgers/cutlets made with homemade meat or vegetable patties on whole-wheat buns
● A cup of milk after dinner with a little honey or gur is a soothing drink for kids before bedtime
Foods To Include In Meals
Grains
Grains are full of carbohydrates, which are a good source of energy for your child and are required for growth. Choose whole-wheat and whole-grain bread, pasta and noodles to maximize the fibre from meals. Grains also include cereal, rice and oats. When feeding your child, try to stay away from refined foods such as sugar-laden breakfast cereals, cookies and cakes.
Fruit and Vegetables
Include about five portions of vegetables and fruit in your child's daily diet. Fruit and vegetables are filled with vitamins, minerals and fibre. They're also low in calories and fruits can be used to satisfy sweet cravings without resorting to unhealthy choices like pastries and confectionery.
Fat
Fat often gets a bad reputation when it comes to eating healthy. However, fats are an integral part of a child's diet and are needed for brain development and growth. It also aids in the absorption of vitamins A, D, E and K. What is important to remember is to choose the right kinds of fats, such as those found in avocados, fish, nuts and vegetable oils like olive oil, canola oil and soybean oil.
Dairy
Dairy products such as milk, curd and cheese are great ways to include vitamin A, D, B1, B2 and B12 into your child's diet. Dairy is also a good source of calcium and is crucial for bone growth and health in children.
Meat and Beans
Poultry, meat, eggs and fish are rich sources of proteins. Vegetarian sources include soya, beans, nuts, seeds, cheese, milk and curd. These foods also contain an abundance of nutrients needed for growth and development, including vitamin B12 and iron.
Paying Attention To Overall Health
Nutritious food is not the only weapon you can equip your child with to aid their growth, development, mental health and immunity. Other factors include a stable family life with love and engagement to aid their emotional well-being and regular exercise and activity to help their bodies grow and develop. Also extremely important is proper healthcare, especially timely vaccinations, to boost their immunity and keep them free of highly-contagious and dangerous yet preventable diseases such as chickenpox, hepatitis B and influenza.
This is a partnered post.
Get the best of News18 delivered to your inbox - subscribe to News18 Daybreak. Follow News18.com on Twitter, Instagram, Facebook, Telegram, TikTok and on YouTube, and stay in the know with what's happening in the world around you – in real time.
Read full article