News18
»
Partner Content
6-min read
From a Usual College Group to Leading a Business Group
The story of these young men started in college in 2004 where they all first met. They were part of the first batch at CIT, Rajnandgaon (in Chhattisgarh).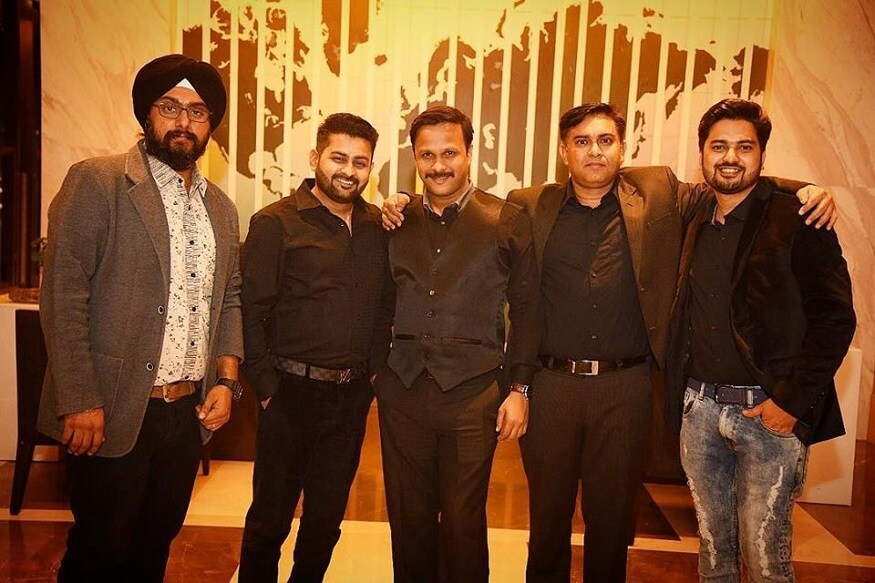 Their strong bonding, love for each other and the ultimate guidance of their mentor and company CEO have all left indelible marks on each of them.
Four friends, who stood by each other like pillars, are now the co-founders of one of Chhattisgarh's leading companies in the service sector called Konsole Group. These four friends-cum-brothers – namely Aman, Zama, Suyash and Pushpendra – had dreamt of running their own company and providing the best services to the country. Indeed they proved their mettle, and the company has completed its 10th year this March. Their strong bonding, love for each other and the ultimate guidance of their mentor and company CEO have all left indelible marks on each of them.
The story of these young men started in college in 2004 where they all first met. They were part of the first batch at CIT, Rajnandgaon (in Chhattisgarh).
Like many other groups in college, this group also had a good-looking guy (Zama), a kind-hearted paaji (Amandeep), a technology enthusiast (Suyash), and a smart and witty guy (Pushpendra). Zama, who came from Bhilai, was very famous in college. He belonged to a middle-class family and was good at studies throughout his school days.
He completed his graduation in electronics and telecommunication. His family expected him to support them, financially. After graduation, he got a well-paying job in a leading IT firm, but he declined the offer to set up his own startup. He now heads the sales and marketing department, seeking political clients for the organization.
The tech-savvy Suyash comes from a family of public-sector employees. He was always too eager to bunk classes and experiment with different things (which reminds me of the film "3 Idiots"). He was also inclined towards technology and foresaw its potential growth in the near future. Currently, Suyash heads the IT and finance departments of the organization.
Pushpendra, on the other hand was gifted with a strategic brain – something which was evident during his college years. He had good relations with almost every the professor in college. He also knew all the tricks to ace the exams in college. Currently, he directs the first real-estate magazine of Chhattisgarh and the PR strategies for political clients.
The kind-hearted and down to earth, Aman had a soft nature and was always ready to help others. He was very active in college union activities, cultural programmes etc. His family was in the bakery business – and he took a major decision by not continuing with the family business to start something of his own. Presently, he looks after the digital marketing projects of the government clients.
There were also two men who had to quit due to certain circumstances. Eventually, the six lads developed a good mutual understanding which created the foundation of their friendship. They were very active, had the latest knowledge, had good networks and participated in college activities together.
In 2006, they all went to IIT Bombay, where the 'business ka keeda' bit them. They went to Bombay because of a robotics project. They worked on this together – and that was the first time they realised that they wanted to do something of their own, for their own selves. By the fifth semester, Suyash was very clear that he would not do a job. Eventually, he managed to convince Aman, Zama and Pushpendra too.
After this, they started to brainstorm on various startup ideas. When the other students bunked lectures, enjoyed get-outs or watched movies, these boys used to beat their brains in order to come up with the best idea for a startup. The discussions mostly happened in canteens, hostel rooms, tea stalls, and even washrooms. The famous movie "Guru" (released in 2007), inspired them and boosted their enthusiasm even more.
However, they also did face a lot of pressure from their families, regarding taking up jobs and not doing businesses. The period after the recession of 2008 was the worst time for them, since the number of jobs in the market had significantly gone down. That same year, they completed their graduation. Despite all the stumbling blocks, the one thing which remained constant throughout was their unity.
Be it any activity or any business, they did it together. Amid all the discussions and meetings, they came up with the company's name. Initially, they had decided on Konsole Indya, but as the organisation expanded and more companies came under its umbrella, it became the Konsole Group. The thought behind the organisation was to express their patriotism by facilitating the best services in India.
One day, they got to know about a Delhi-based company providing wireless WiFi services. They decided to take up the franchise. Consequently, Konsole was the first to put up a WiFi testing tower in Raipur, Chhattisgarh. They invested a lot of time and money in this, and continued with it for three months. But it did not yield the outcome they expected. The situation became so bad that they had to suffer a loss of ₹12 lakhs. As all of their families weren't exactly financially sound, this was no less than a lightning bolt for them.
During this time, every one of them contributed as much as they could. Aman mortgaged his bike, Zama applied for a bank loan which was denied, so he had to source it from other people. Pushpendra and Suyash got backing from their family and friends. There also came a time when some of them wanted to quit, but the other boys continued to motivate them to take more risk for successful results in the future.
At the same time, because of some disagreements and fights, two out of the six of them did not continue any further. But the rest of them never gave up – and their friendship stood the test of time. The next big opportunity came their way when they went to Indore to explore business alternatives. Here, they were introduced to the concept of bulk SMS services and its marketing.
Through thorough scrutiny and research about its growth prospects in Chhattisgarh, they decided to commence the business by selling bulk SMS in Raipur first. Aman and Suyash looked after the technical parts, while the marketing end was handled by Pushpendra and Zama . Zama and Pushpendra had to travel daily from Bhilai to Raipur to meet clients and seek new opportunities. Due to this, they had very limited time to communicate and discuss the day-to-day activities. So, they used to meet at the railway station overbridge and plan the strategies for the coming days. According to Aman, the best place for their 'board meetings' was the foot overbridge.
In due time, they met Harpreet Singh Dhody, who is now the CEO of the organisation. He got to know about their story and struggles, and he is really fond of the four men. Since then, he has guided them in various aspects, especially on the management front because that was something they all lacked.
On March 18, 2008, they all set up Konsole Indya. As the business progressed, the need for employees also increased. The company needed funds for expanding and taking a new office in Raipur, for which they had applied for a loan. Unfortunately, the bank denied the loan on the grounds of the blood relations and the caste of the four directors of the company. It was a very disappointing phase for all of them because they had never thought of this.
Despite all these incidents, their brotherhood and love for each other surpassed the boundaries of caste, faith, and religion. And their bond was further strengthened. Since then, the company has reached milestone after milestone. Now, Konsole Group is the leading media and branding company of the state with 150+ employees. Recently, the company completed 10 years of survival and growth.
Befittingly, the company does not address its employees as 'staff' or other such names, but as 'Konsolers'. One can never miss the unity between all Konsolers, which Aman, Zama, Pushpendra and Suyash embody.
Disclaimer: This is a sponsored article and does not necessarily reflect the views of News18.com or Network18. News18.com doesn't hold any responsibility for the content.
Get the best of News18 delivered to your inbox - subscribe to News18 Daybreak. Follow News18.com on Twitter, Instagram, Facebook, TikTok and on YouTube, and stay in the know with what's happening in the world around you – in real time.
Subscribe to Moneycontrol Pro and gain access to curated markets data, trading recommendations, equity analysis, investment ideas, insights from market gurus and much more. Get Moneycontrol PRO for 1 year at price of 3 months. Use code FREEDOM.
| Edited by: Ahona Sengupta
Read full article
Next Story
Next Story
Also Watch

IPL 2019: KXIP Vs KKR, Can Russell And Narine Push KKR To Semifinals?