News18
»
Partner Content
2-min read
Polio Prevention: Understanding how it works!
Eradicating polio once and for all will prove the power of immunisation.
Eradicating polio once and for all will prove the power of immunisation.
The benefits and risks of Oral and Inactivated polio vaccines that you should know about.
Once universally feared, Poliomyelitis (polio) is a highly infectious disease that now exists only in a few poor and backward pockets of the world. When the poliovirus infects a person, it invades the nervous system causes symptoms like fever, fatigue, headache, vomiting, stiffness in the neck, pain and weakness in the arms and legs. In many cases, it can cause paralysis and even death. Once contracted, there is no cure for polio.
This is why In May 2012; the World Health Organisation (WHO) put the eradication of Polio on top of their public health emergencies list.
What is Poliovirus?
The world came together and joining forces in the fight to eradicate Polio. Unlike many other viruses, it is possible to wipe out Polio from the world entirely. There are three strains of wild poliovirus - Type 1, 2 & 3. All of these depend on unvaccinated human hosts to grow and spread. However, none of these strains can survive outside a person's body for long. Type 2 Polio was eradicated in 1999, and there have been no recorded cases of Type 3 across the world since 2012 as well. How was this made possible?
Oral Poliovirus Vaccine (OPV) & Inactivated Poliovirus Vaccine (IPV)
There are two types of Polio vaccines - Inactivated Poliovirus Vaccine (IPV) and the Oral Poliovirus Vaccine (OPV).
Oral poliovirus vaccines (OPV) are the most popular form of vaccines used world-over. The attenuated viruses in OPV can replicate in the gut but are too weak to enter the central nervous system, unlike the wild virus. This enables us to develop a stronger immune response against the virus.
Since Type 2 wild poliovirus was eradicated globally in 1999, bivalent OPV will soon replace trivalent OPV globally to significantly reduce the risk of paralysis that may occur from reintroducing the previously eradicated type 2 strain via the vaccine.
Developed in 1955 by Dr Jonas SalkIn, the Inactivated Polio Vaccine (IPV) on the other hand, contains the dead poliovirus strains of all three types. IPV works as a preventative measure by producing antibodies in the blood to all three types of poliovirus. In case of an infection, these antibodies stop the virus from entering and wreaking havoc in the central nervous system.
Let's take a look at some key differences between the two types of Polio vaccines.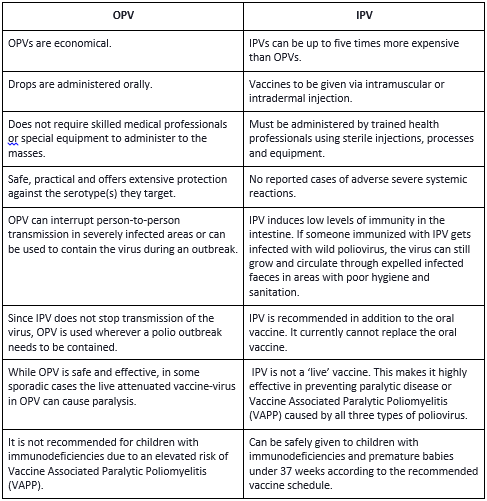 According to the World Health Organisation, between 2010 and 2015, vaccines saved close to 10 million lives globally. This year over 17 crore Indian children under the age of five years will receive immunisation under the 2019 Pulse Polio programme. As part of the Universal Immunization Programme and Mission Indradhanush, more than 3.39 crore children and 87 lakh pregnant women have already been vaccinated.
But the goal remains to achieve more than 90% immunization across the country. Eradicating polio once and for all will prove the power of immunisation. Our triumph over the disease rests on three key things - awareness, availability of vaccines and cooperation between the people and health workers.
To know more about the recommended Polio vaccines for your child, talk to your paediatrician today.
This is a partnered post.
Get the best of News18 delivered to your inbox - subscribe to News18 Daybreak. Follow News18.com on Twitter, Instagram, Facebook, Telegram, TikTok and on YouTube, and stay in the know with what's happening in the world around you – in real time.
Read full article