Strap: Millennials, assemble. We've got some big news for you. The OPPO F17 Pro is here to redefine the smartphone experience and take it a notch above for sure. With the sleekest design, superb specs and 6 AI portrait cameras, this is your dream smartphone.
Smartphones have become a crucial part of our lives. From storing memories of our loved ones to getting our daily tasks done, our reliability on the pocket-sized computers is increasing. And in the ever-evolving market for smartphones, one brand that is leading the charge with technological innovation is OPPO. The brand is known for introducing some of the industry firsts in its wide range of products. It comes as no surprise that it has taken it further with the launch of its latest product, the OPPO F17 Pro.
Since the launch of the F series by OPPO, the product line has been a hit with the masses, especially young millennials and trendsetters. The series has relentlessly showed its dominance when it comes to design and camera capabilities. It has given us a glimpse of what can be achieved with technological artistry.
The OPPO F17 Pro is the sleekest smartphone of 2020. It looks great and packs a punch with its wide arrays of features. From OPPO's 30W VOOC charging technology to AI cameras that breathes in more life to your pictures, this is one smartphone that has it all. Here is why you need to bring the OPPO F17 Pro home as soon as possible.
Sleekest design
Undoubtedly, the biggest reason to pick up the OPPO F17 Pro is its sleek design. The smartphone is as slim as it gets with a thinness of just 7.48mm, weighing merely 164 grams. It's no less than an engineering wonder to be able to thin out a smartphone to that extent and make it as lightweight as well. But the real marvel is how the R&D team at OPPO created a grip that's made to impress, starting with an industry-first '220-degree rounded edge design technique' to elevate your smartphone experience.
The F17 Pro also comes with a Shiny Matte texture on the back that helps you hold the smartphone comfortably, so you never have to worry about losing your grip. The unique texture also reflects light to create mesmerising patterns that you will find hard to look away from. Furthermore, the F17 Pro uses a new optical coating technique that increases the coating depth from 250 nanometers to 400 nanometers on its fingerprint-resistant finish.
Pair that with a bright and colourful 6.43-inch Super AMOLED FHD+ display that adds more screen space on the front and you've got a drool-worthy smartphone just by the looks of it. Not to forget the In-Display Fingerprint Unlock 3.0 that unlocks your device in less than half a second. Pretty impressive so far but there's so much more to the F17 Pro.
Superb camera capabilities
Once the design wows you, get ready to be blown away by the F17 Pro's camera capabilities. OPPO is known for setting new benchmarks when it comes to smartphone cameras it's no different this time. The smartphone is equipped with six AI cameras- a dual punch hole and four cameras at the back. The cameras on the back are a 48-megapixel main sensor, an 8-megapixel ultra-wide sensor, and a pair of 2MP mono sensors. On the front, the F17 Pro comprises of a 16-megapixel main camera and a 2-megapixel depth sensor.
The quad camera set-up on the back has 2×2 array, with pin-point symmetry that adds to the design. Each camera makes use of OPPO's AI algorithm to deliver pictures and videos of the highest quality. Indeed, the F17 Pro is ideal for clicking incredible portrait shots thanks to its impressive features
AI Colour Portrait: This mode ensures that each picture you click becomes a work of art. You can fade the background of any image while keeping the subject in focus. The end result is a detailed and stylistic portrait that you'll fall in love with.
AI Super Night Portrait: You can take selfies whenever you want, irrespective of the lighting environment. This mode will brighten any selfie that you take with HDR and facial recognition to give you photos that are clearer, sharper and brighter.
AI Night Flare Portrait: This mode makes use of HDR algorithms and the Bokeh effect to brighten up your photos taken in low-light conditions.
Dual Lens Bokeh: This feature lets you add the Bokeh effect in photos with multiple people and even in videos. It leverages both the 16-megapixel main camera and the 20megapixel sensor to provide you with Instagram-worthy clicks.
AI Super Clear Portrait: You will never discard your hastily taken selfie shots just because it came blurry. With this feature, your quick selfies are taken care of, thanks to F17 Pro's AI facial reconstruction technology.
AI Beautification 2.0– This mode is customised for Indian beauty preferences and preserves the natural skin tones in the photos.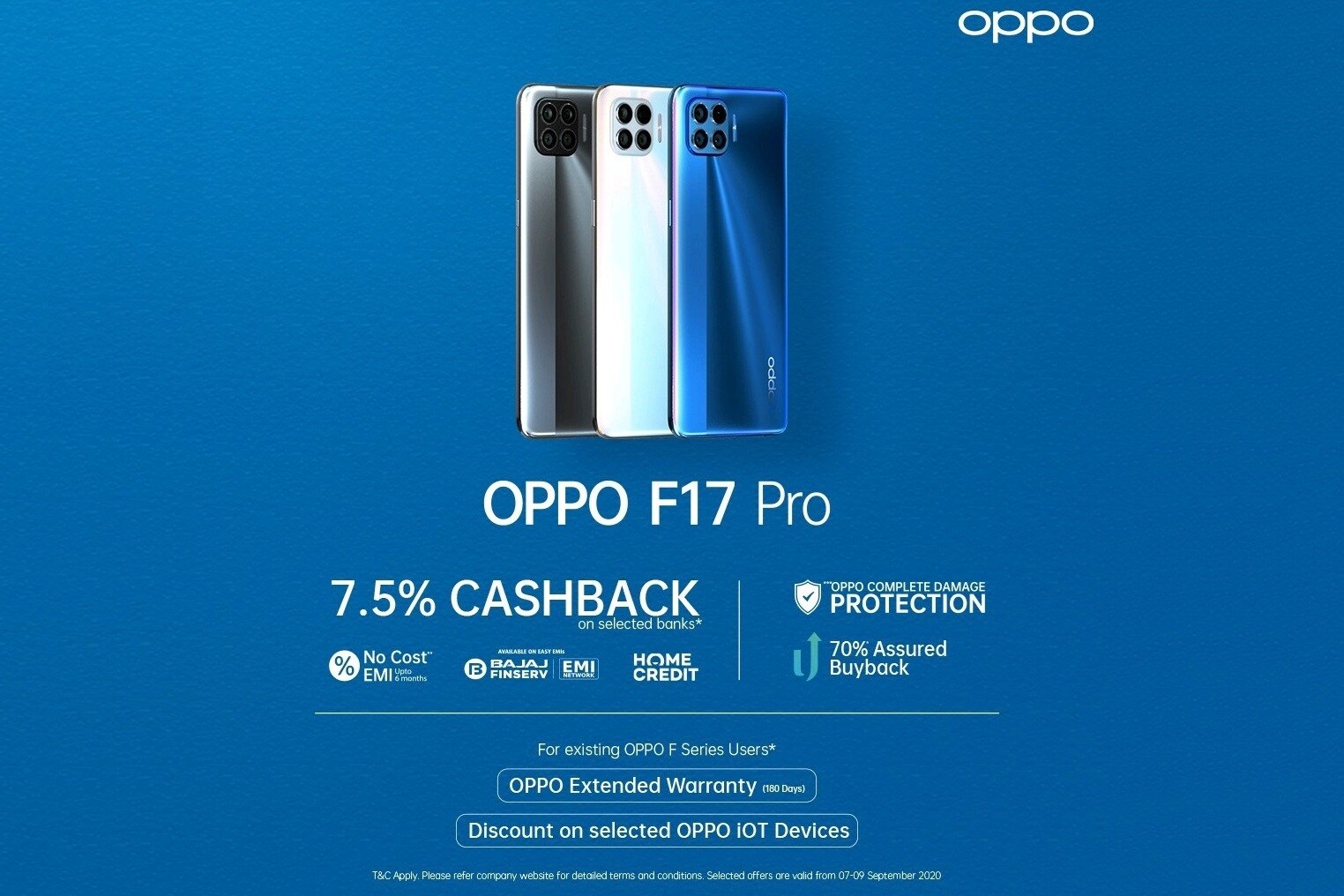 Fantastic performance
Under the hood of the brilliant F17 Pro is the powerful MediaTek Helio P95 chipset that not only processes images and videos quickly but also enhance the gaming quality by eliminating lags. The exclusive HyperEngine technology provides your smartphone with intelligent networking, rapid touchscreens and vibrant visuals. With this technology, you can play even the heavy-loading games with seamless functionality.
Multitasking becomes easy as the smartphone is equipped to handle multiple applications at the same time. You can jump from one task to another seamlessly without facing a lag. Whether you're playing Minecraft or watching a show on Netflix, the OPPO F17 Pro provides a smooth and efficient smartphone experience.
Smooth charging
The OPPO F17 Pro features a powerful 4000 mAh battery. While large smartphone batteries tend to take more time to charge, OPPO has taken care of this with its proprietary charging technology. The F17 Pro is equipped with its 30W VOOC Flash Charge 4.0. The fast charging solution coupled with its impressive battery ensures that your five minutes of talk time lasts five hours. And it takes just 53 minutes to go from zero to full charge.
The F17 Pro also features the AI Night Charging. The smartphone's AI algorithm detects the waking time of the user to complete 100% charging at an AI-determined morning wake time. The smartphone comes with the TUV Rheinland Certified Safety Charging System that guarantees safety and security for VOOC 4.0. The fast charging solution and safety system ensures that your smartphone never heats up no matter what you do.
ColorOS 7.2
The OPPO F17 Pro comes a range of innovative, easy-to-use features, thanks to the brand-new Color0S 7.2. With this operating system, the F17 Pro gets a smooth and uncluttered user interface along with the anti-lagging algorithm. The algorithm detects and clear data that causes memory errors which leads to freezing.
The smartphone introduces a more lightweight Infinite Edge design with a number of customizations. From providing a more immersive gaming experience to a smart assistant and enhanced security, the ColorOS 7.2 offers an ultra-smooth application navigation.
Air gestures
The F17 Pro also supports Air Gesture that allows you to get to your most-used apps and games as quickly as possible. You can pick up your calls from 25-50 centimeters away by simply waving your hands. It's that easy.
What's the verdict?
The OPPO F17 Pro is a device that's got everything that new-age trendsetters look for. It is a technological marvel that marries precise engineering with best-in-class features. This is a device meant to leave you speechless with awe, whether you're watching your favorite streaming show on its widescreen, getting the perfect shot each time or simply recharging with ease.
What are you waiting for? Buy your OPPO F17 Pro as soon as it hits retail stores and online channels on September 7.
This is Partner Content.