14 Years After Defeating Deve Gowda, Tejaswini May Take on Son Kumaraswamy for BJP
Reacting to the possibility of Tejaswini taking on him, Kumaraswamy said that no one could defeat him in Ramanagara.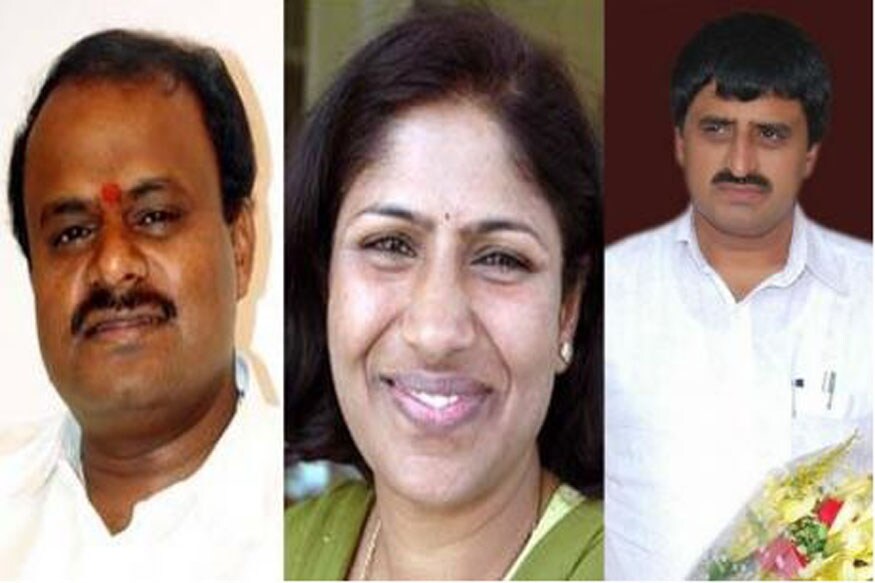 While HD Kumaraswamy (left) may have to contest against Tejaswini in Ramanagara, he will have to face MLA CP Yogeshwar (right) in Channapatna. (Photo: News18)
Bengaluru: Tejaswini Gowda had defeated former Prime Minister HD Deve Gowda in her maiden Lok Sabha election from Kanakapura on a Congress ticket in 2004. Now, she is back to take on his son and former chief minister HD Kumaraswamy in Ramanagara Assembly seat, this time with the BJP.
According to sources, the BJP has almost finalised the decision to field her against Kumaraswamy from Ramanagara in the outskirts of Bengaluru. Kumaraswamy is hugely popular in the constituency and had won by a margin of over 25,000 votes in the previous election.
Before taking on Deve Gowda in the 2004 Lok Sabha elections, Tejaswini was a famous reporter and anchor at Udaya TV, a Kannada infotainment channel. The then chief minister, SM Krishna, and his man Friday D K Shivakumar, had fielded her against the formidable former Prime Minister in Kanakapura.
In what was a shocking upset, she had defeated Deve Gowda, that too by a decent margin. Fortunately for Gowda, he had also contested from his bastion Hassan and retained a chair in the Lok Sabha.
In 2009, H D Kumaraswamy had taken revenge on her by defeating her from the same Kanakapura seat. After the 2008 delimitation of constituencies, Kanakapura was renamed Bengaluru Rural.
Alleging sleaze and favouritism, Tejaswini had quit the Congress to join the BJP in 2014. She had famously said that only women who satisfy their male colleagues can grow in the Congress party. She had also actively campaigned for the BJP in Uttar Pradesh Assembly elections of last year.
A firebrand public speaker, a law graduate and a PhD from Bangalore University, Tejaswini has been openly taking on the Gowda clan for a long time.
Speaking to News18, Tejaswini said that she was ready to contest from any seat her party decided. "I am a brave woman. The Gowda clan's dadagiri won't work with me. I have been fighting them for a long time. I am willing to take on anyone, including Kumaraswamy," she said. However, she gave an evasive reply when asked if she has been offered a party ticket this time.
Reacting to the possibility of old nemesis Tejaswini taking on him, Kumaraswamy said that no one could defeat him in Ramanagara. The JDS state chief is also contesting from neighbouring Channapatna that is also in the Ramanagara district.
The BJP has fielded film star and sitting MLA CP Yogeshwar from there. He was an associate member of the Congress party in the Assembly and had switched sides recently. BJP has a negligible presence in Ramanagara constituency and has lost the deposit many times in the past.
| Edited by: Aakarshuk Sarna
Read full article