16 'Kingmaker' Seats That Will Decide Fate of Parties Fighting Poll Battle in Madhya Pradesh
A seat or constituency that votes for the political party which eventually forms the government is called a bellwether seat. Madhya Pradesh has 16 such seats.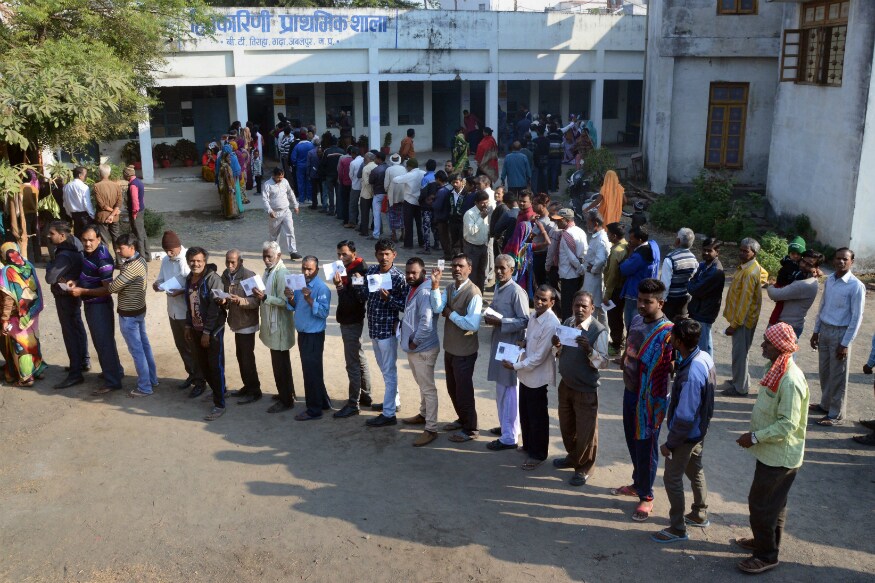 People wait with their identity cards to cast votes for the Assembly elections, in Jabalpur, Madhya Pradesh, Wednesday, Nov 28, 2018. (PTI Photo)
The Bharatiya Janata Party (BJP) is facing a stiff challenge from the Indian National Congress in the Madhya Pradesh Assembly elections.
The state is voting today to elect a 230-member assembly. Counting of votes is scheduled for December 11 along with Chhattisgarh, Mizoram, Rajasthan and Telangana.
The saffron party has been in power in the central Indian state for 15 years and is expected to be hit by a tide of anti-incumbency. Opinion polls have suggested the possibility of the election going down to the wire.
Chief Minister Shivraj Singh Chouhan, who has held the state's top office for 13 years, remains popular among the voters. Mayawati-led Bahujan Samaj Party (BSP), who had refused to ally with the Congress, could also dent prospects of either sides.
The poll result in these states are likely to have a major impact on the 2019 Lok Sabha polls. A win in Madhya Pradesh would widen BJP's advantage, while a win for the Congress would give it a major boost going forward. A win in MP would also allow Congress to present itself as the dominant party within the opposition alliance.
To get a sneak peek into what the election result could turn out to be, political observers have been studying opinions and reactions of voters in Madhya Pradesh's bellwether seats.
By definition, a seat or a constituency that votes for the political party which eventually forms the government is called a bellwether seat. While there is no scientific basis to this, bellwether seats usually act as markers for the final result.
16 Bellwether Seats
Madhya Pradesh has 16 such bellwether seats. There are three seats showing a bellwether trend for 24 years (six assembly elections), six seats showing a bellwether trend for 29 years (seven elections), another three have been bellwether seats for 34 years (eight elections) and four that have been bellwether seats for 37 years (nine elections).
However, their bellwether tendency has been analysed for the Vidhan Sabha elections and not for the Lok Sabha polls. Here a look at the seats and the number of years or elections they have shown bellwether trend for:
6 elections — 24 years
Bijawar, Chhattarpur district
Gwalior East, Gwalior district (This includes the erstwhile Gwalior constituency)
Susner, Agar Malwa district
7 elections — 29 years
Badnagar, Ujjain district
Barwara, Panna district
Betul, Betul district
Ghoradongri, Betul district
Hoshangabad, Hoshangabad district
Jawad, Neemuch district
8 elections — 34 years
Manawar, Dhar district
Naryoli, Sagar district
Sausar, Chhindwara district
9 elections — 37 years
Khargone, Khargone district
Nepanagar, Burhanpur district
Niwas, Mandla district,Sendhwa, Barwani district
Get the best of News18 delivered to your inbox - subscribe to News18 Daybreak. Follow News18.com on Twitter, Instagram, Facebook, Telegram, TikTok and on YouTube, and stay in the know with what's happening in the world around you – in real time.
| Edited by: Divya Kapoor
Read full article