2017: A Year When Celebrating Christmas in Delhi Assembly Became an Act of 'Courage'
Delhi Chief Minister credited Speaker Ram Niwas Goel for transforming the Assembly from a 'dull' to a 'vibrant' space that celebrates festivals of all communities.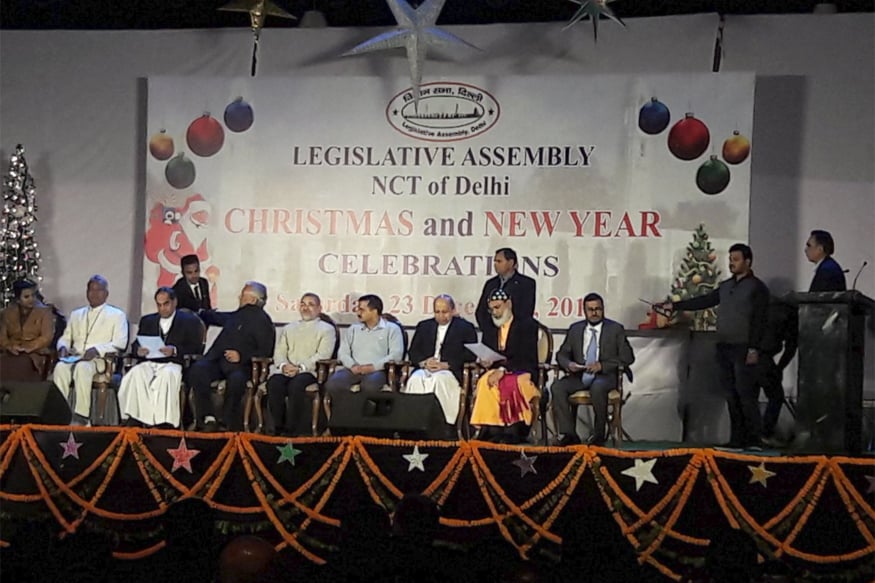 Delhi Assembly celebrates Christmas. (Photo: Rupashree Nanda | CNN-News 18)
New Delhi: On December 23, the Delhi Legislative Assembly celebrated Christmas for the first time since inception. In attendance were chief minister Arvind Kejriwal, his deputy Manish Sisodia, Justice Kurian Joseph, Archdiocese of Delhi Anil Joseph T Cuoto and Archbishop of Faridabad Kuriakose Bharanikulangara. The twilight celebrations were understated but symbolic.
Justice Kurian Joseph made it to newspaper headlines when he congratulated the Delhi chief minister, for "daring to organise a celebration of this kind in the legislative assembly premises".
Justice Kurian Joseph thought it was fitting to reiterate what another speaker, the Archbishop Bharanikulangara had said just a while ago, "This is all the more pertinent when there is no other government body in this capital city that dares to organize such an event on Christians".
Delhi Chief Minister credited Speaker Ram Niwas Goel for transforming the Assembly from a 'dull' to a 'vibrant' space that celebrates festivals of all communities. Kejriwal said, "India is like a bouquet of flowers of many religions, castes and communities where if even one flower is removed, the idea of India will not survive...and some people are trying to spoil this bouquet."
Justice Kurian Joseph also recalled the time, years ago, when he was the Chief Justice in Himachal Pradesh and despite the number of Christians being 'very, very few, marginally few', the whole of Shimla celebrated it and nobody bothered about whether one was a Christian, or a Muslim or a Jain or a Sikh. "...the very meaning of Assembly is where people meet irrespective of religion, irrespective of politics, irrespective of community. So this is a real Assembly today where on Christmas we have gathered to celebrate a wonderful celebration of the people," he said.
Speaker after speaker articulated the feeling of isolation and estrangement among Christians. "The reason is obvious. In some parts, the political environment has become hostile to the spirit of shared festivals," said Ashis Nandy, political scientist and social theorist. On Delhi government's initiative, he said, 'it acknowledges in some sense, directly or indirectly, that there is a necessity for this kind of an initiative in contemporary India'.
Political commentator Ajay Bose said the AAP is trying to be different to create a talking point. "Everything has become political and after this (NDA) government came in, they made religion very political, there is an overall Hindu coloring to this government and that is dictating other parties in their attitude towards religion," he said.
Political analyst Manisha Priyam said the government should not be seen as publicly celebrating private beliefs and faiths of citizens. "The government should be sending a signal of goodwill for the citizens to celebrate their private beliefs and faiths."
Get the best of News18 delivered to your inbox - subscribe to News18 Daybreak. Follow News18.com on Twitter, Instagram, Facebook, Telegram, TikTok and on YouTube, and stay in the know with what's happening in the world around you – in real time.
| Edited by: Bijaya Das
Read full article