2017 UP Assembly Elections: All You Need to Know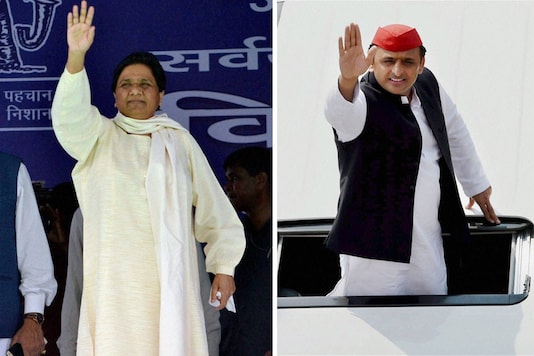 File photo of Mayawati and Akhilesh Yadav (Photo: PTI)
Amid the political turmoil, Uttar Pradesh is likely go to polls between February-March this year.
Last Updated: January 04, 2017, 13:32 IST
Edited by: Rini Sharma
FOLLOW US ON:
Amid the political turmoil, Uttar Pradesh will go to polls between February-March this year.
With a population of over 19.98 crore, the state is being ruled by Samajwadi Party with Akhilesh Yadav as its Chief Minister.
The main contenders in 2017 Uttar Pradesh Assembly polls are Bahujan Samaj Party, Samajwadi Party, Congress and BJP.
The state has 403 Assembly seats out of which 85 are SC seats.
Here is a look at the challenges, advantages and strategies of different parties which are preparing to go to polls.
BSP
CHALLENGES
- Split in core votebank of Dalits
- Alternatiove of upper caste because of quota in promotion, misuse of SC/ST Act
VOTE BANK
- Dalit, specially Jatavs. Most backward castes, a chunk of Brahmins and Muslims.
STRATEGY
- Give maximum tickets to Brahmins, Muslims and Dalits to form a wonning caste combination.
- Activate party cadre and booth level committees
- Besides early ticket distribution, Maya also launched her campaign from Agra.
MAYA SKILLS
- Mayawati is the undisputed star campaigner of the party. She will be a clear winner if voting takes place on law and order. Public appreciates her administrative skills.
- In case of a hung house, she can get support of both Congress and BJP to form government.
BJP
- ADVANTAGE: Election management by Amit shah; rejuvenated cadre; presence across the state
- DISADVANTAGE: Lacks of CM face, growing public disillusionment over local MPs and Centre
- SUPPORT BASE: Brahmins, Rajput, Vaishyas and MBCS
- STRATEGY: Winning backwards & SC votes
- Performance in Vidhan Sabha 2012: 15.3% votes & 47 seats
- Performance in Lok Sabha 2014: 42.63% votes & 71 seats
- CM candidate of BJP in UP: Firoz Varun Gandhi, Smriti Irani, Yogi Adityanath Maharaj, Rajnath Singh's son Pankaj.
SP
CHALLENGES
- Poor public image of non-performing ministers, sitting MLAs and party office bearers
- Alternative of upper caste because of quota in promotion, misuse of SC/ST Act power tussle in Yadav family
VOTE BANK
- Yadav, Muslims, a chunk of Kurmis and Rajputs
STRATEGY
- Field fresh faces
- Stitch region wise alliance with small parties
- Management of votes
CONGRESS
STRENGTHS
- TOP LEADERSHIP: Sonia Gandhi and Rahul Gandhi
- INCLUSIVENESS: The Congress does not claim to be the torchbearer of one particular caste or religion but tries to accommodate all
- REACH: Though small in number, a Congress cadre exists in every district of the state
WEAKNESSES
- Divided state leadership
- No big faces
- Intense factionalism
- Weak organisational structure at ground level
- Poor public connect of senior leaders
- Fields rebels of other parties from seats where it lacks winnable candidates, leading to disillusionment among workers
VOTE BANK
- Dalits, Brahmins and Muslims
STRATEGY
- Rallies, yatras and road shows at regular intervals. After the second phase of the yatra ends on October 9, congress vice-president Rahul Gandhi will start his campaign with a public meeting
- The party is planning to start the ticket distribution process at least two months in advance. This will be a departure from the past, when tickets were usually allocated at the last moment
- Present and former MPs will be asked to name candidates for at least two assembly segments in their constituencies. The idea is to identify 100 seats where the party can put up a good show
KEY LEADERS
- Ghulam Nabi Azad (General Secretary), Sheila Dikshit (Chief Ministerial Candidate), Raj Babbar (State Chief), Sanjay Singh (Campaign Committee Chief), Pramod Tiwari (Coordination Panel Head), Salman Khurshid, Jitin Prasada, PL Punia, Sriprakash Jaiswal, Rita Bahuguna Joshi And RPN Singh
Next Story