2019 is Not 2014, RSS Push for BJP Won't be as Intense: Shridhar Damle
In an interview with News18, Shridhar Damle, who has co-authored the book 'RSS: A View to the Inside' with Walter Anderson, says the Sangh is unlikely to repeat its cadre mobilisation of 2014, but won't stop pracharaks from helping the BJP.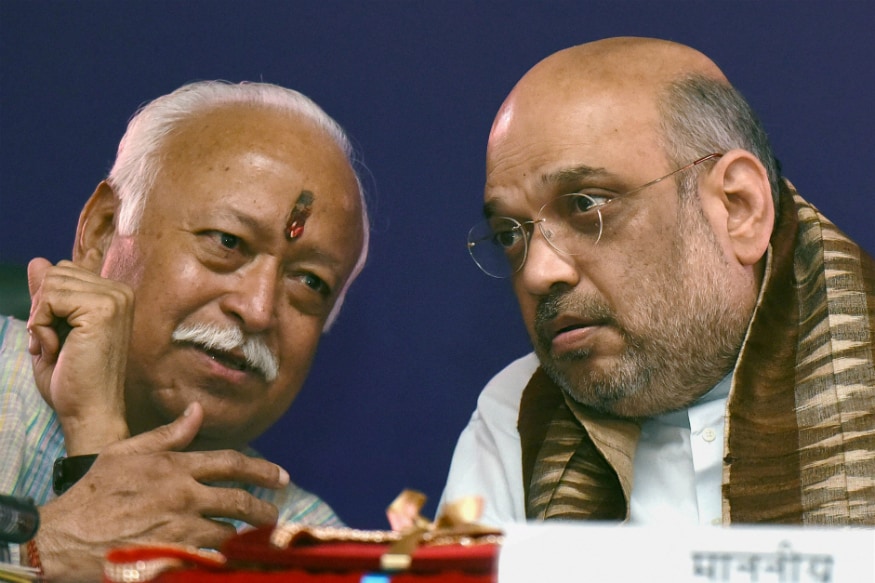 File photo of RSS patron Mohan Bhagwat with BJP chief Amit Shah. (PTI)
New Delhi: Shridhar Damle, along with Walter Anderson, has been acknowledged for his scholarship on Rashtriya Swayamsevak Sangh (RSS). Damle has not only closely observed the Sangh for several decades now, but also spent time with several Sarsanghchalaks (RSS chiefs) as well as pracharaks across the country.
With his experience, Damle can talk about the Sangh with an authority that very few outside the Sangh can boast of.
In their opening remarks the authors of the just released 'RSS: A View to the Inside' claim that "...to understand India therefore requires the understanding of the RSS". That is exactly what we try to do in this interview with the Marathi-speaking Chicago-based scholar.
Edited excerpts:
In a section of the book, you describe the uneasy relationship between AB Vajpayee and KS Sudarshan, the fifth RSS chief. In another section of the book, you describe Narendra Modi "as arguably the most influential figure in the Parivar's history". There has been speculation about the fraying relationship between PM Narendra Modi and current RSS chief Mohan Bhagwat as well. How do you see their relationship?
At the end of the campaign for 2014 General Elections, Modiji visited Bhagwatji in Delhi at midnight. He was the last person Modiji met at the end of his campaign, which was symbolically a meaningful and humble gesture.
Modiji has been a pracharak and knows the sort of respect that a Sarsanghchalak holds. If you observe closely, you'll find that the Sarsanghchalak has subtly criticised Modi on policy matters. But it isn't like the way it used to happen between Sudarshanji and Vajpayeeji, when Vajpayee and his ministers were being called 'incompetent' and 'traitors' by the RSS. I have never seen anything like that between Modi and Bhagwat.
Both know each other personally and understand each other's limitations and responsibilities. Bhagwat's father was the prant pracharak of Gujarat. He was the one who mentored Modi as a pracharak. There is mutual respect between the two.
Sangh holds a great deal of respect for the PM's chair. Besides, there are forums like Samanvay Samiti through which policy level differences are sorted out. Ministers often hold meetings with members of the Sangh. Unscheduled, informal meetings are also being held regularly.
For instance, on land acquisition bill, there were reservations expressed by Sangh bodies like Bhartiya Mazdoor Sangh (BMS) and Bhartiya Kisan Sangh (BKS). Six meetings were held between members of the Sangh and the government. Finally, government had to back down on nine out of 11 points raised by the BMS and BKS. The system is smoother now.
During Vajpayee's time, his ministers made promises but couldn't honour them because the bureaucracy was against them. But in Modi's time, the bureaucracy is also coordinating.
Many, including his own daughter, couldn't stop talking when Pranab Mukherjee visited the RSS camp in June. There was speculation that the RSS had shown that it did not depend entirely on the BJP and had friends elsewhere too. Why do you think the RSS invited him for that function and why did he agree?
The Congress as a political outfit has had the most number of the Hindutva-minded people. The RSS has always established contact and remained in touch with people from all political parties. The RSS inviting non-Sangh people is not a new phenomenon.
Even after Independence, they used to invite Congress leaders like KM Munshi, Gangarao Deshpande and S Radhakrishnan to their functions. As per my knowledge, Balasahed Desai, the right-hand man of Yashwantrao Chavan (Maharashtra's first Chief Minister) also accepted RSS invitation, despite being a popular Congress leader.
The RSS had established contact with Mukherjee back in 1984 through Vajpayee and Advani. Vajpayee always remained in touch with him before, during and after his tenures as prime minister. Mukherjee had invited Bhagwatji to the President's House and Bhagwatji would visit Mukherjee every time he visited Kolkata.
But why Pranab Mukherjee?
Mukherjee has never been shy of meeting people. His doors have always been open. He was a good administrator and Sangh always appreciated that. Mukherjee was not the first Congress leader to have been in touch with the RSS.
Rajiv Gandhi met Bhaurao Deoras at least six times. The RSS was in touch with Narasimha Rao since 1938 when he was rusticated from Osmania University for singing Vande Mataram. He was taken in by Nagpur University and that's when he got in touch with the Sangh. He was always polite whoever he spoke to.
In the end, I think all the criticism over Mukherjee's visit only helped the RSS, BJP and Modi. Congress made it an issue unnecessarily. Baba Amte's grandson, for instance, had also visited RSS camp. Did anyone create noise about that? How many people know about it?
You say in the book that RSS has put all its might behind BJP before general elections only twice — in 1977 in the elections following Emergency and in 2014, and that the Sangh is unlikely to repeat it in years to come. Could you tell a bit about why and how RSS worked in 2014. Also, you're ruling out possibility of Sangh mass-mobilising its cadre before 2019?
2014 was a special case because the bogey of 'Hindu terrorism' had been brought to life. Had the Congress and its allies come to power for a fourth time, RSS would have felt quite uncomfortable.
It was back in 2009, after Congress' second victory in general elections, that RSS had decided to do something about 2014. It wasn't because of Amit Shah that the BJP secured 73 out of 80 seats in Uttar Pradesh. Shah came to UP only a year before the polls.
In 2010, a senior prant pracharak was called from Assam to Uttar Pradesh. When he started with a booth-level programme, the BJP barely had 10% strength at the booths. This person mobilised lakhs of people with help of other pracharaks and created the booth-level programme which he then passed on to Amit Shah. It was because of his and other RSS workers' tireless efforts that BJP swept UP and was able to wipe out other parties.
Also let's understand that in 2014, Sangh never asked people to vote for the BJP. It only asked people to come out and vote. In 2009, BJP had lost because in urban areas voter percentage had fallen to 38%. The Sangh and its cadre helped to raise this to 57%. I think urban seats will be the main challenge for BJP next year as well.
So will the RSS not repeat its performance in 2019?
I don't think so. Sangh really likes all its affiliates to develop their own infrastructure. Now that RSS created and passed on the booth-level infrastructure to the BJP, it would like the party to help itself in the 2019 Lok Sabha elections. But RSS does give its pracharaks the freedom to help the BJP in their individual capacity. If the pracharaks have the means to do it, they can. The Sangh is not going to ask its cadre across the country to work for BJP this time. Maybe in some regions or for some issue, the Sangh might extend its help.
Will RSS be uncomfortable with a non-BJP government, were the Mahagathbandan to come to power?
Yes, perhaps it would be an emotional setback for the Sangh. But RSS has seen a lot of ups and downs. They can work with anybody. RSS work is not strictly bound by the ideology of the government that comes to power. Anyway, the BJP is not Sangh's lifeline. They don't depend on government financially or otherwise.
2025 is going to be a very special year for the RSS. That's when it will complete 100 years. What do you think would the Sangh like to have accomplished by that time? Will Mohan Bhagwat still be chief then?
Both Modi and Bhagwatji will turn 75 in 2025. Both have talked about retiring from active public life at that age. In all probability, that is when they will pass on the mantle to the next generation. Bhagwatji had said that if health does not fail him, he will retire at 75. But there could be an exception, we can't say for sure yet.
The RSS is working on several long-term projects, which it would like to see bearing fruit around that time. There is a project to connect with aborigines from around the world. Last year, they held meetings with representatives of 36 countries for this. If enough support comes locally, the RSS would like to establish better relations with Islamic countries because that is the need of the hour.
But most importantly, they would like for the country to change to Japanese-style small industry setup. The RSS will also work on emphasising family values, environment, promoting organic farming, getting rid of the caste system, abolishing surnames everywhere. And they would like some curbs on reservation to be placed by then.
| Edited by: Sana Fazili
Read full article