Municipal Corporations

9/10

TRS

8

INC

0

BJP

1

AIMIM

0

OTH

0
MUNICIPALITIES

114/120

TRS

96

INC

9

BJP

3

AIMIM

2

OTH

4
Refresh Data
21 interesting facts about Haryana CM-designate Manohar Lal Khattar
Bharatiya Janata Party's Karnal MLA Manohar Lal Khattar will atke oath as the Haryana Chief Minister on October 26.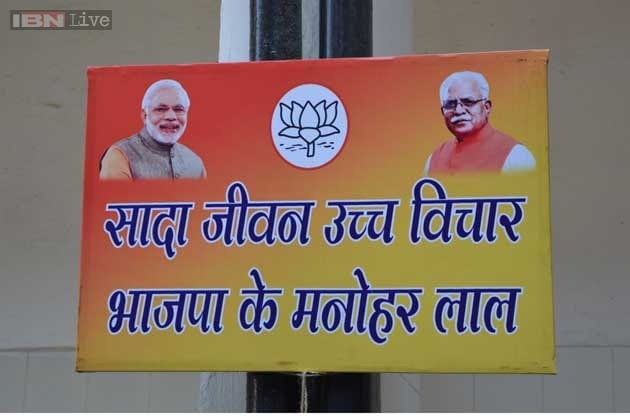 Bharatiya Janata Party's Karnal MLA Manohar Lal Khattar will atke oath as the Haryana Chief Minister on October 26.
Bharatiya Janata Party's Karnal MLA Manohar Lal Khattar will atke oath as the Haryana Chief Minister on October 26. Here are 21 interesting facts about his life:
1) Manohar Lal Khattar was born in 1954 in Nindana village in Rohtak in Haryana.
2) His father Harbans Lal Khattar used to stay in East Punjab (Now Pakistan). After partition in 1947, Harbans Lal came to Rohtak with his father (Manohar Lal's grandfather) empty-handed.
3) Manohar Lal's father and grandfather initially worked as labourers. After making some money, they opened a shop in Rohtak. Manohar Lal was born in Rohtak.
4) After making some money from the shop, Harbans Lal bought agricultural land in Banyani village and left the Nindana village.
5) Harbans lal didn't want Manohar Lal to study much. He wanted him to help him with agriculture. But Manohar lal wanted to be a doctor. He borrowed money from his mother and completed high school from Pandit Neki Ram Sharma Government College in Rohtak.
6) Manohar Lal came to Delhi to prepare for his medical entrance. He used to stay with his relatives, who had fabric business in Sadar Bazaar. Manohar Lal felt that it will take at least 7 to 9 years of studying before he becomes a doctor and therefore, it was better to get into business.
7) He then borrowed money from his father and set up his own shop of clothes in Sadar Bazaar. The shop brought him profits and he soon returned his father's money. He also got his younger sister married and called two more relatives to help him with his cloth business and study.
8) Amidst this, Manohar Lal completed graduation from the Delhi University. This is when he got information about the RSS.
9) He joined the RSS in 1977 at the age of 24 years.
10) He met many saints and RSS workers in 1979 in Prayag (Allahabad) at the VHP Smaagam. He went for Triveni Darshan and decided to stay with the Sangh through his life.
11) In 1980, he became a full-time worker of the RSS and decided to stay a bachelor all his life even as his family, especially his mother, protested.
12) After working in the RSS for 14 years, he was called to work in the BJP and became the organisational minister of Haryana in 1994.
13) In 1996, he helped BJP form the government after talks with Bansilal's Haryana Vikas Party. When he observed that things were not going well with Bansilal, he convinced the BJP high command to take back the support.
14) he then tied up with OP Chautala and in 1999, the NDA won all 10 Lok Sabha seats from Haryana.
15) His first interaction with Prime Minister Narendra Modi happened in 1996. Modi was then Haryana in charge. Thereon, Modi gave key responsibilities to Khattar wherever he went.
16) Modi called Khattar to manage his first election in 2002 in earthquake-hit Bhuj. It was crucial for Modi to win Bhuj as Keshubhai Patel was removed due to mismanagement. Bhuj was a Congress stronghold, yet BJP managed to win 3 out of 6 seats.
17)In 2002, Khattar was for the first time given responsibility outside his region. He was made in charge of the Jammu and Kashmir elections. A few years after, the BJP won 11 seats in the Assembly elections there.
18) In 2004, the RSS established an election programme to help the BJP and Khattar was made the incharge of 12 states including Delhi and Rajasthan. After this assignment he was made the Regional Organisational Minister of J&K, Punjab, Haryana, Chandigarh and Himachal Pradesh.
19) He then got the responsibility of Bastar in Chhattisgarh. The party won 10 out of 12 seats in the Assembly elections. Thereafter, Khattar was given the responsibility of several Assembly elections.
20) In the 2014 Lok Sabha elections, he was made the head of the Haryana Election Committee of BJP. He also fought the Assembly election from Karnal and defeated Independent candidate Jaiprakash Gupta by 63,773 votes.
21) Khattar will now take oath as the Haryana CM on October 26. After Modi, he is the first BJP leader to have won his first election and become the Chief Minister.
Get the best of News18 delivered to your inbox - subscribe to News18 Daybreak. Follow News18.com on Twitter, Instagram, Facebook, Telegram, TikTok and on YouTube, and stay in the know with what's happening in the world around you – in real time.
Read full article