24-Hour Helpline, Parking Lots: Main Takeaways From AAP's MCD Manifesto
Aam Aadmi Party (AAP) National Convener and Delhi Chief Minister Arvind Kejriwal on Wednesday released the party's manifesto for the upcoming Municipal Corporation of Delhi (MCD) elections.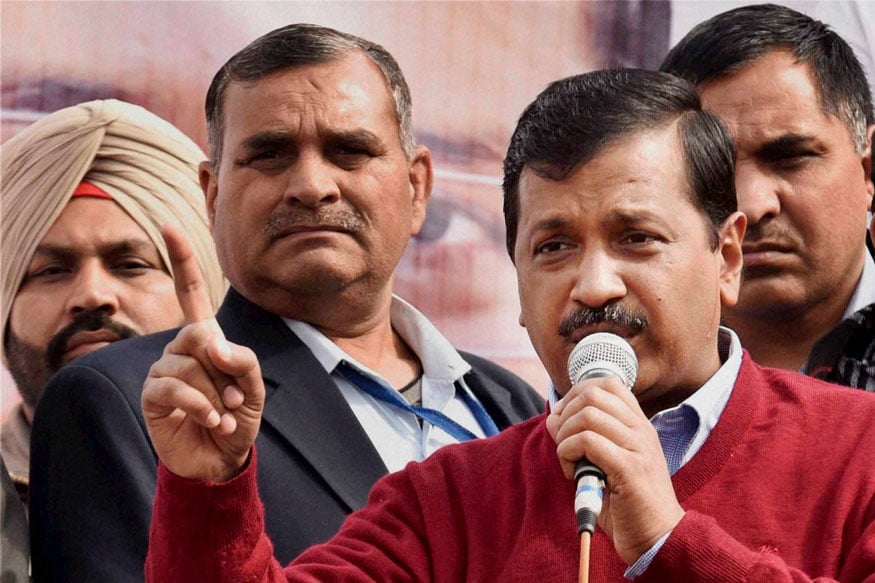 File image of Delhi Chief Minister and Aam Aadmi Party (AAP) national convener Arvind Kejriwal. (Image: PTI)
New Delhi: Aam Aadmi Party (AAP) National Convener and Delhi Chief Minister Arvind Kejriwal on Wednesday released the party's manifesto for the upcoming Municipal Corporation of Delhi (MCD) elections.
Kejriwal announced a slew of measures to be undertaken if AAP is voted to power in the civic body, including an end to landfills by 2019 and welfare measures for safai karamcharis (sanitation workers).
Here are some key takeaways from the AAP's MCD blueprint:
Citizen services:
The AAP has promised to create "hawking zones" for street vendors "to ensure that they do not face harassment at the hands of the Police and officials". The party has also promised to regularize weekly bazaars at pre-defined places near residential areas.
Kejriwal, during his press conference, promised to set up a "single, unified public grievance helpline" for the Delhi government and the MCD with a "turnaround time of 48 hours". He also said the Delhi government's measure of providing free water and cheaper electricity has not yet benefited tenants. This, he said, will be implemented once the AAP is in power. The party has promised construction of new parking lots across Delhi and "crackdown on illegal parking mafia". AAP said it will also make and approve layout plans to regularize unauthorized colonies. Other "citizen services" included constructing new auto stands for auto-rickshaw drivers, charging points for e-rickshaws and abolition of factory licenses in industrial areas.
Resident Welfare Associations:
AAP announced that development work under the MCD would only be carried out "with the permission of Resident Welfare Associations (RWAs). "A one-size-fits-all approach towards development will not work in Delhi. AAP will ensure that the RWAs and citizens will have the power to decide how to spend the funds allocated to the councillor of their ward and on which development works," the manifesto reads.
Education:
Kejriwal announced that in the MCD, AAP would give a huge boost to the education sector in Delhi. In addition to building new schools and hiring more teachers, AAP has promised "education for every child in Delhi".
Safai Karamcharis:
The manifesto promises a slew of welfare measures for the safai karamcharis, including health insurance, a fixed deposit of Rs 50,000 for their children and free equipment for when the workers are on duty.
The most crucial of all promises, perhaps, is that AAP, if voted to power in the MCD, would ensure that salaries reach the workers' accounts by the 7th of every month. Another crucial promise is the regularization of the nearly 40,000 'substitute' sanitary workers.
The MCD had recently faced a severe crisis with sanitary workers going on strike. The East Delhi Municipal Corporation (EDMC), which employs 19,048 sanitary workers (the highest of the three Corporations), saw five strikes in a span on two years. This had raised a stink in Delhi and had prompted a blame-game between the AAP-ruled Delhi government and the BJP-run MCD.
The AAP manifesto, yet to be released, says, "If AAP is elected to the MCD, we will (ensure) the employment of more safai karamcharis, regularization of 'substitute' (contractual) safai karamcharis, guaranteed payment of salaries of safai karamcharis by the 7th of every month ."
Garbage disposal:
A promise that Kejriwal has repeated in almost all his public meetings found mention in the manifesto. The AAP has claimed that it will rid the streets of Delhi of garbage within a year. Additionally, it has promised to halve all landfills by 2018 and completely eradicate them by 2019. It has also promised to build "state-of-the-art" public toilets, clean drains regularly and conduct regular fogging in MCD colonies to eradicate dengue and chikungunya from the city.
'Corruption-free MCD':
Lashing out against the BJP, which has ruled MCD for ten years, the AAP had recently released a booklet titled 'MCD – most corrupt department'. In its manifesto on Wednesday, the AAP promised to "eradicate corruption" from the civic body. AAP promised that those who wanted to make "minor modifications" to their house or construct houses in plots of land smaller than 500 square meters would not have to come to the MCD. Additionally, AAP would ensure that the process to apply for licenses will be moved online. Kejriwal promised that his party would "turn the MCD's losses into profits".
House tax waiver:
The promise, which has perhaps become the centerpiece of the AAP campaign in Delhi, found a place in the manifesto. AAP promised to waive house tax for all Delhiites.
Get the best of News18 delivered to your inbox - subscribe to News18 Daybreak. Follow News18.com on Twitter, Instagram, Facebook, Telegram, TikTok and on YouTube, and stay in the know with what's happening in the world around you – in real time.
| Edited by: Ashish Yechury
Read full article