70% Turnout in Chhattisgarh's Red Belt as People Ignore Maoist Threat; 2 Naxals Killed in Encounter
In the first phase, voting was held in 18 of the 90 Assembly seats in Chhattisgarh.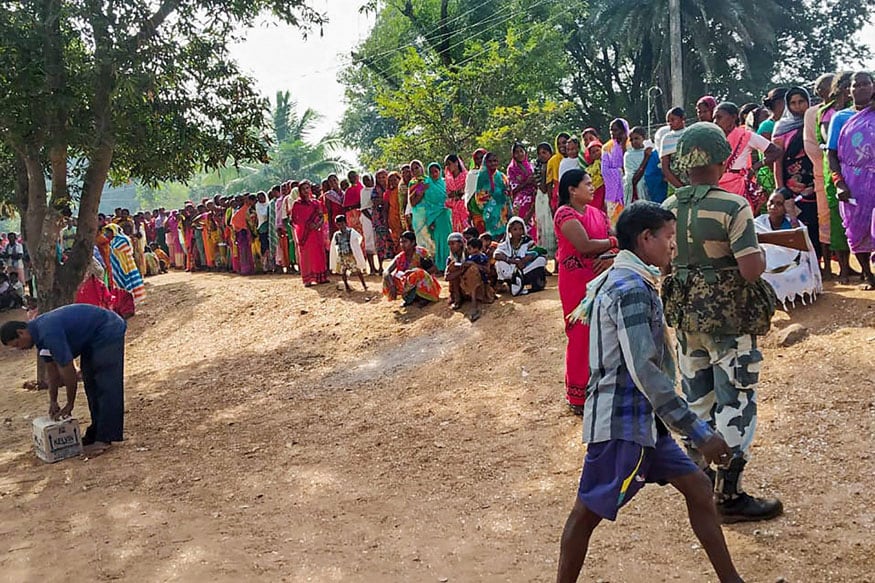 People wait in queues to cast their votes during the first phase of Assembly elections in Chhattisgarh (File photo: PTI)
New Delhi: Around 70 per cent voter turnout was registered in the first phase of the Chhattisgarh Assembly polls, the Election Commission (EC) said Monday.
The turnout was likely to go up as the final figures were yet to be received, Senior Deputy Election Commissioner Umesh Sinha said.
In the first phase, voting was held in 18 of the 90 Assembly seats in Chhattisgarh.
Till 5.30 pm, the overall voter turnout was 58.55 per cent, the EC said.
Giving the break-up, the poll panel said a voter turnout of 61.47 per cent was recorded in Kondagaon, 63.51 per cent in Keshkal, 62 per cent in Kanker, 58 per cent in Bastar, 49 per cent in Dantewada, 70.14 per cent in Khairagarh, 71 per cent in Dongargarh, 71 per cent in Dongargaon and 72 per cent in the Khujji constituency.
The Chief Election Commissioner OP Rawat said the polling was peaceful in the state. "In comparison to earlier elections, this elections have been singular achievement of the people working in fields. Attempts were made to create fear among people but enthusiasm in voters was appreciable" Rawat said.
Of the 18 seats, 12 were reserved for Scheduled Tribes (STs) and one was for the Scheduled Caste (SC) category.
The second phase of polling in 72 seats will be held on November 20 and the results will be announced on December 11.
Meanwhile, two Naxals were gunned down on Monday evening in an encounter with security forces in Sukma district of Chhattisgarh, police said.
Two other rebels were caught from the encounter site, an official said.
The gunfight took place in forests near a village under Pushpal police station limits when a team of the District Reserve Guard (DRG) was returning after discharging election-related duty, Sukma Superintendent of Police Abhishek Meena told PTI.
A group of ultras opened fire on the DRG team near Mudwal village, located 500 km from state capital Raipur, triggering the gun-battle, he said.
After the guns fell silent, the bodies of two Naxals were recovered from the site, Meena said, adding that two firearms were also seized.
Two others Naxals were caught alive from the spot, the police officer said.
Sukma is one of the eight Naxal-affected districts where polling was held Monday in the first phase of elections covering 18 assembly seats. PTI TKP
| Edited by: Sana Fazili
Read full article