GET Stock

Quotes


8 Ministers, TMC's Madan Mitra Among Heavyweight Losers in Bengal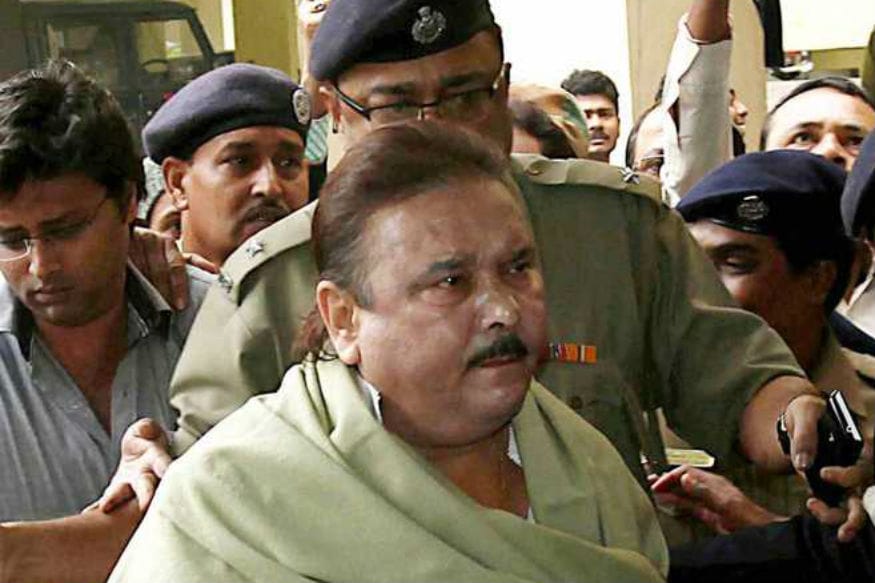 Madan Mitra (File Photo) lost his Kamarhati seat by 4198 votes to CPI-M leader Manash Mukherjee.
Quick Read
Kolkata: A number of heavyweights including eight ministers, jailed ex-minister Madan Mitra, Indian soccer icon Bhaichung Bhutia and CPI(M) state secretary Surjya Kanta Mishra bit the dust in the West Bengal Assembly elections on Friday.
West Bengal Food Processing Minister Krishnendu Narayan Chowdhury lost his Englishbazar seat by a heavy margin of 39,727 votes against Independent candidate Nihar Ranjan Ghosh who was supported by Left-Congress alliance.
Chandrima Bhattacharya, Minister of State for Health, and Law and Judicial Affairs, also failed to retain her seat from North Dumdum as she lost to CPI-M's Tanmoy Bhattacharya by 6,549 votes.
In Jadavpur, Power Minister Manish Gupta who had defeated the then Chief Minister Buddhadeb Bhattacharjee in 2011, lost to CPI-M's Sujan Chakraborty by 14,942 votes.
PWD Minister Sankar Chakraborty conceded defeat from Balurghat by a narrow margin of 1450 votes.
Minister Sabitri Mitra lost Manickchak seat by 12603 votes to Congress leader Mohammad Mottakin Alam.
Madan Mitra, who is in judicial custody in the multi-crore Saradha chit fund scam case, lost his Kamarhati seat by 4198 votes to CPI-M leader Manash Mukherjee.
It is for the first time in the state that a high-profile candidate fought Assembly elections from jail.
The former state Transport and Sports minister, whose name also figured in the Narada sting operation, was arrested by the CBI in December, 2014.
Minister for Mass Education Extension and Library Services Abdul Karim Chowdhury lost from Islampur seat to Congress candidate K L Agarwal.
Textile Minister Shyamapada Mukherjee lost from Bishnupur to Congress leader Tushar Kanti Bhattacharya by a narrow margin of 891 votes.
Backward Class Welfare Minister Upendranath Biswas, former CBI Joint Director, fared badly against Congress candidate Dulal Chandra Bar who polled 12,236 votes more than him.
CPI-M state secretary Surjya Kanta Mishra, who was the opposition leader in the outgoing Assembly, lost his Narayangarh seat to TMC's Prodyut Kumar Ghosh by 13,589 votes.
Former Indian football captain and Trinamool candidate Bhaichung Bhutia lost the Siliguri seat by 14,072 votes to Siliguri mayor and former CPI-M minister Ashok Bhattacharya.
Things also didn't work out for Indian midfielder Nabi, who has been the skipper of Indian Super League side Mumbai City Football Club.
The Trinamool candidate lost by a narrow margin of 1392 votes from Pandua seat to CPI-M candidate.
Bengali filmstar Soham Chakraborty was unlucky too as a small margin of 616 votes went in favour of Sujit Chakraborty of CPI-M.
In Asansol South, retired army colonel Diptanshu Chaudhary, who had fought in the Kargil War, came at number three position. He was fighting on a BJP ticket this elections.
Loosers also include actors Locket Chatterjee from Mayureswar and Joy Banerjee from Suri. Both were from BJP.
Jadavpur University professor Ambikesh Mahapatra, who was once arrested for circulating, emails mocking Chief Minister Mamata Banerjee, lost by 24,294 votes to Trinamool's Sovan Chatterjee.
Famous Santhali actress Birbaha Hansda lost as Jharkhand Party (Naren faction) candidate to state tribal affairs minister and Trinamool leader Sukumar Hansda retained his Jhargram seat in the Left-Wing extremism affected area by a heavy margin of 55,228 votes.
Nationalist leader Netaji Subhas Chandra Bose's grandnephew Chandra Bose, who was pitted against Chief Minister Mamata Banerjee on a BJP ticket in Bhabanipur seat, stood at number three.
Total of 26,299 votes were polled in his favour in the constituency where BJP president Amit Shah had campaigned.
Read full article