A Little Bit of Arvind Kejriwal in Rahul Gandhi's Gujarat Election Campaign
Much like Kejriwal in the 2015 campaign, Rahul has drawn on the Mahabharata to pitch the battle for Gujarat as one between "truth and falsehood", in which the Pandavas (read Congress) would win.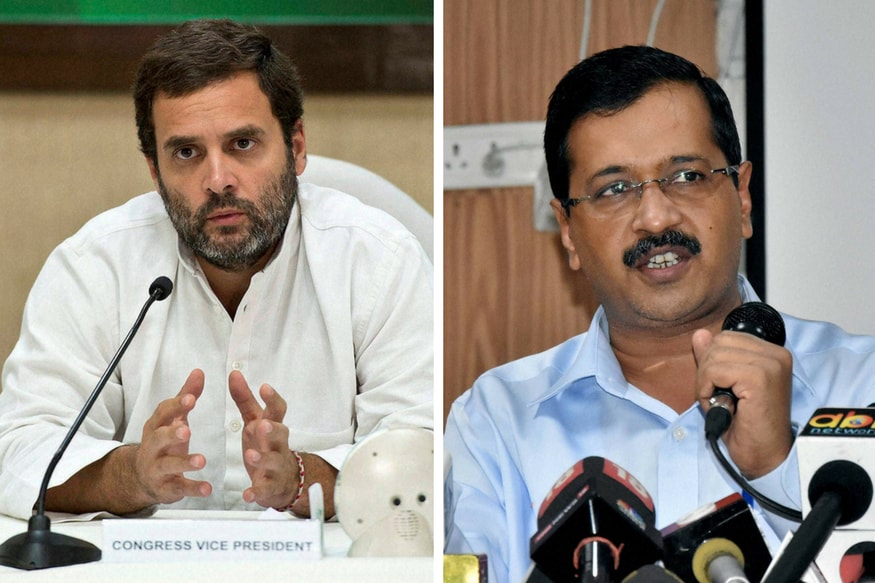 File photo of Rahul Gandhi and Delhi CM Arvind Kejriwal. (PTI)
New Delhi: It is the Modi show in Gujarat's election theatre and going by the fierce attack the Prime Minister has unleashed on the Congress it appears that the party's president-elect, Rahul Gandhi, has emerged as the challenger on the PM's hometurf. Rahul has demonstrated a tenacity, toughness, humility and humour that has not gone unnoticed.
Cut to 2013 — after Aam Aadmi Party's historic debut, Rahul revealed that he was impressed with the new party in the way it involved a lot of non-traditional people, learn from them and, in fact, would better them in ways that cannot be imagined.
In 2015, it was Arvind Kejriwal who had emerged as the challenger to Prime Minister Narendra Modi in Delhi Assembly elections and with a tally of 67 of 70 seats, delivered first blow to Modi's 'larger than life' persona.
In Rahul's Gujarat 2017 campaign, one hears, echoes of Kejriwal.
Much like Kejriwal in the 2015 campaign, Rahul has drawn on the Mahabharata to pitch the battle for Gujarat as one between "truth and falsehood", in which the Pandavas (read Congress) would win. And like Kejriwal, who never fails to give deadlines for fulfilling promises when elected to power, Rahul has promised to waive off farmers' debt "within 10 days of coming to power" in Gujarat.
In 2014, Kejriwal had toured Gujarat and sought an appointment with Modi who was the Chief Minister then. After failing to get an audience, Kejriwal had posed 17 questions to the CM. In 2017, in the last lap of campaigning, the Congress president-elect posed a question a day for the PM.
Swaraj — empowering the citizen to take decisions hitherto taken by governments — is one of the cornerstones of Kejriwal's politics. Now, in Gujarat, Rahul also says, "We will take decisions after asking you, we will not take any decisions unilaterally".
After becoming CM, Kejriwal called Modi a "coward and a psychopath", but did not call him names during the run-up to 2015 Delhi Assembly polls. Pushed to the wall with his decisions being checkmated by the then Lieutenant Governor of Delhi, Kejriwal responded with posters, "woh pareshan karte rahein, hum kaam karte rahenge."
Now, hear Rahul, "No matter what the Prime Minister says about me, I won't utter even a single bad word about the Prime Minister." He went on to disarm critics with his "we will defeat you with love".
On the last day of campaign, Rahul, addressing a press conference, said that all sections of Gujarat's society are in agitation mode, "the Patidars, the backward castes, other backward castes...". Here is Kejriwal, a while ago — "Modi government is constantly fighting everyone – students, farmers, Dalits, minorities, Delhi government, middle classes"!
In response a question in the same presser, Rahul asked why was the PM "silent on corruption in speech after speech, why doesn't he speak on Jay Shah?". Kejriwal had tweeted something similar, "Two years ago you (Modi ) promised corruption-free governance but are silent (like Manmohan ji) on Vyapam, Lalitgate, Mallya, Khadse".
Abolition of contract system is a huge commitment of AAP ever since 2013. Now, Rahul Gandhi also promises to abolish contract system and fix pay (of teachers) in Gujarat.
But these are not the only Kejriwal effects on Rahul who is finally emerging from the shadow of his former self. "Why don't you ask (the PM) on the Rafale deal, he has changed the whole deal for one businessman...Why don't you ask (BJP) about Amit Shah's son?...You see Modi ji everywhere, not me because we don't have money..."I know there's pressure on you (media)". The manner in which Rahul puts the media on the backfoot is very Kejriwalesque.
| Edited by: Aditya Nair
Read full article
Countdown To
Elections Results
To Assembly Elections 2018 Results