GET Stock

Quotes


A Walkover in Shikaripura Not Comforting For Yeddyurappa As Shimoga Witnesses a Fierce Battle
Yeddyurappa hopes that the people of Shimoga district will vote for the BJP keeping in mind that he will be the chief minister once again if the party is voted to power.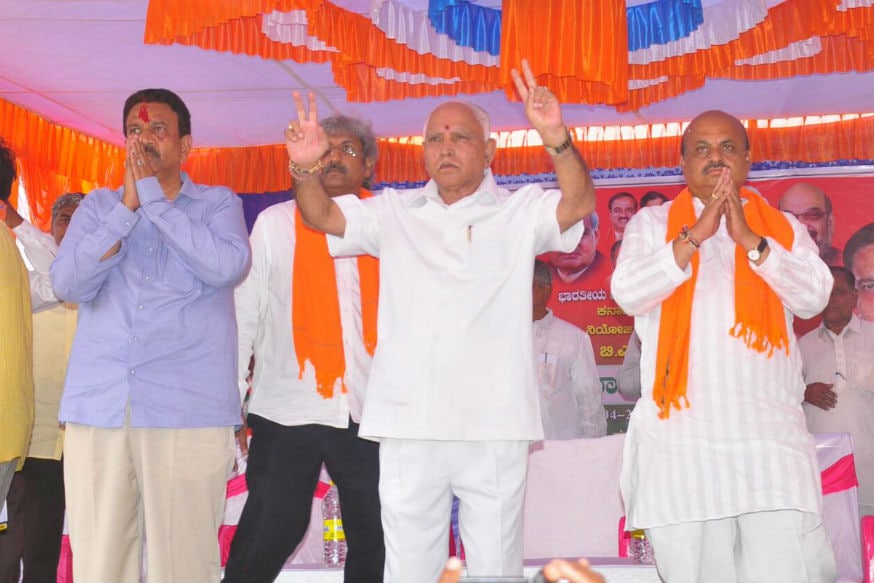 BJP's chief ministerial candidate BS Yeddyurappa during a campaign rally in Karnataka.
Shimoga:
Gouja, a middle-aged agriculture labourer from Ambligola village says there is no election in Shikaripura. He feels that there is no contest this time and BS Yeddyurappa will easily win from here for the eighth term.
Speaking to News18 he said, "I don't know about rest of the state. Here he will win. Both the Congress and JDS have fielded ordinary candidates. We don't even know them. And Yeddyurappa has done something for Shikaripura in the last 35 years."
The same feeling echoes across Yeddyurappa's fiefdom in Shimoga district. Whoever News18 spoke to agree that Yeddyurappa will easily win from here irrespective of what happens in rest of Shimoga and Karnataka.
The Congress has fielded a local municipality member Goni Malatesh and the JDS has pitted a low profile leader Baligar against BJP's chief ministerial candidate and former chief minister.
Even some hardcore Congress members agree that Yeddyurappa will surely win from his seat. Some even float "adjustment" theories. According to them the Congress has fielded a lightweight candidate against him just to ensure Yeddyurappa's victory. They argue that some Congress leaders want Yeddyurappa to be active even if the BJP loses because without power he can turn against the party.
Shimoga district Congress president T N Srinivas rubbishes these conspiracy theories calling them imagination of some jobless people. The local BJP unit also dismisses such claims.
Unlike chief minister Siddaramaiah, who is fighting from two tough seats – Chamundeshwari and Badami, Yeddyurappa is seeking re-election from his strong base and spending most of his time on campaigning across Karnataka. His son and current MLA B Y Raghavendra is managing father's election and is supremely confident of a big win.
Speaking to News18 he said that Yeddyurappa would win by over 50,000 votes and the election is a just a formality in Shikaripura. The seat is dominated by the Lingayats and more or less they are siding with him. They have backed him in every election since 1983 except 1999.
The situation is not so rosy for the BJP in the remaining six Assembly seats in Shimoga district and Yeddyurappa is worried about that, say family sources.
His one-time disciple turned rebel K S Eshwarappa has finally secured BJP's Assembly ticket from Shimoga City much against Yeddyurappa's wishes.
Eshwarappa, who lost to Congress' K B Prasannakumar in 2013 Assembly polls, has locked horns with the Congress and JDS in this urban seat.
Shimoga City is a Muslim and Brahmin dominated seat, and Prasannakumar is a Brahmin. Even though a lot of people from both the communities are reportedly unhappy with him, he may win because majority Muslims and Brahmins finally vote for him, says Ramesh a local Congress worker.
"Together they have almost a lakh votes. Eshwarappa is a Kuruba and they have some 20,000 odd votes. The JDS candidate is a Lingayat. Lingayats are not happy with Eshwarappa and he may face trouble," Ramesh said.
Eshwarappa has been sending SoS messages to Yeddyurappa to come and campaign for him and the latter has agreed to canvass towards the end, said a local BJP leader.
In Sagar Assembly seat the Congress has re-nominated 86-year-old Revenue minister Kagodu Thimmappa. The BJP has fielded former minister Haratalu Halappa, who was recently acquitted in an alleged rape case. It has angered former BJP MLA Belur Gopalakrishna and he has defected to the Congress vowing to defeat the BJP.
"Had the BJP fielded Gopalakrishna, there would have been a big fight. Halappa is no match to Kagodu Thimmappa and we are confident of a comfortable win from Sagar" said D N Prasanna, a local Congress leader.
But Halappa exudes confidence about his victory. Speaking to News18 he said, "Unlike Gopalakrishna, I am a development oriented politician. I have good support among all castes. I will win."
In Thirthahalli Assembly seat, the Congress has re-nominated former minister Kimmane Ratnakar. The BJP has fielded former MLA Araga Jnanendra and the JDS has given ticket to an alleged scamster R M Manjunatha Gowda. The locals feel that the real contest is between Congress and JDS.
"The BJP is currently in third place. Its candidate will not win. Ratnakar is a gentleman and he will win again," said Lakshminarayana, a local Congress leader.
Even local BJP leaders are not hopeful of their candidate's win who has already lost twice to Ratnakar.
In Soraba, next to Shikaripura, the two sons of late chief minister S Bangarappa are facing each other for the fourth time.
The sitting MLA Madhu Bangarappa is contesting on the JDS ticket and his elder brother and former minister Kumar Bangarappa is trying his luck on the BJP ticket. The Congress has fielded a political novice Thallur Raja against the two warring brothers.
The constituency is once again witnessing a fierce fight between two brothers and local punters are betting on Madhu Bangarappa. Since Kumar Bangarappa quit the Congress to fight on the BJP ticket at the behest of Yeddyurappa, the BJP stalwart has thrown his weight behind him.
Shimoga Rural is witnessing a triangular contest and all three candidates are claiming victory even before the voting. The sitting MLA of the JDS Sharada Pooryanaik claims that she will comfortably win from here and the BJP candidate is pinning his hopes on 50,000 Lingayat votes in this constituency reserved for the Scheduled Castes.
In Karnataka's Steel Town Bhadravathi, old rivals, sitting JDS MLA Appaji Gowda and former Congress MLA B K Sangameshwara are once again facing each other. The BJP which never managed to win this seat in its history has fielded a new face. But the local political analysts feel that the real fight is between the Congress and JDS and the BJP has no chance of making it to Assembly this time.
Commenting on Yeddyurappa losing ground in his own Shimoga district, senior Congress leader K Diwakar said: "In 2008 there was a massive Yeddyurappa wave and the BJP won five out of seven seats in Shimoga district. In 2013 Yeddyurappa had left BJP, the saffron party drew a blank and Yeddyurappa's KJP won only Shikaripura. Between 2008 and 2018, the BJP seems to have ceded the ground to JDS and the Gowdas, whose party won three seats in 2013. And the JDS is in a serious fight in four seats this time."
However, Yeddyurappa hopes that the people of Shimoga district will vote for the BJP keeping in mind that he will be the chief minister once again if the party is voted to power.
| Edited by: Ashutosh Tripathi
Read full article