Ankit Bhardwaj, who claimed himself to be an an AAP worker, attacked sacked Delhi minister Kapil Mishra on Wednesday. Mishra, who was on an indefinite hunger strike, said he was not hurt and does not want to name anyone.
In an open letter to Kejriwal, Mishra, suspended from the Aam Aadmi Party (AAP) after allegations that he saw the Chief Minister accepting Rs 2 crore in cash from Health Minister Satyendar Jain, said he was on a "Satyagraha" at his home.
Read More
May 10, 2017 11:53 am (IST)
AK, after MCD disaster, had conceded his party was to blame.
Why suddenly then, the re-entry of EVM issue?
Simple- Satyendra/ Tanker scam

— Dr. Harsh Vardhan (@drharshvardhan) May 10, 2017
May 10, 2017 11:52 am (IST)
Make no mistake friends- the entire EVM drama is to divert attention from gross irregularities and corruption by the Delhi AAP government.

— Dr. Harsh Vardhan (@drharshvardhan) May 10, 2017
May 10, 2017 10:21 am (IST)
Suspended Aam Aadmi Party leader, Kapil Mishra is sitting on a hunger strike today. "Today, I will be starting my hunger strike. Please give all the details of your cabinet ministers' foreign tours. I will only drink, I will not eat any thing. Where was the money spend? You were the one who said that we don't have money to fight elections, then where did the funding come from? How did they all go on on foreign tours? They took foreign tours only because Arvind Kejriwal told them to. I got a call from an international number, where the person threatened to kill me. I have also received a lot of abuse through WhatsApp messages," says Kapil Mishra. The former Delhi water minister added, "This is not a Hunger Strike. This is Satyagrah."
May 10, 2017 10:12 am (IST)
RECAP | Arvind Kejriwal promises an 'expose of a major controversy' in the Delhi Assembly's special session, which took place yesterday. During the assembly, AAP leader Saurabh Bhardwaj brings an EVM to the house and does a live demonstration of how with minor tinkering the machine could 'successfully' be hacked. The BJP and ECI retorts that the EVM used by the AAP was just a prototype of the machine used by the Election Commission and that the 'hacking' could not stand.
May 10, 2017 10:06 am (IST)
RECAP | The BJP, citing a CNN-News18 report, in its press conference attack the Arvind Kejriwal-led Aam Aadmi Party. "The AAP has given false information to the Income Tax Department. The party's own cabinet minister is ready to testify against them. We must ask why Kejriwal should continue after all these revelations," said Delhi BJP chief, Manoj Tiwari.
May 10, 2017 9:57 am (IST)
RECAP | Kapil Mishra, after coming out of the CBI office says "The Aam Aadmi Party got illegal funding in Punjab and the tickets were sold during the MCD Elections." He also said, "Raghav Chadha, Ashish Khetan, Sanjay Singh, Satyendar Jain and Durgesh Pathak all conducted foreign tours. The details of which should be revealed. Sanjay Singh even did some illegal dealings in Russia."
May 10, 2017 9:39 am (IST)
RECAP | Kapil Mishra claimed that he has filed 3 FIRs with the CBI, in connection with the Aam Aadmi Party Corruption. Mishra during a press conference says he has written an open letter to Arvind Kejriwal, where he asks for the AAP Chief's blessings to file an FIR against him and then went on to accuse him of protecting Congress leader and former Delhi CM, Sheila Dikshit in the tanker scam. The former Delhi water minister also asked for Kejriwal's resignation and challenged him to fight an election against Mishra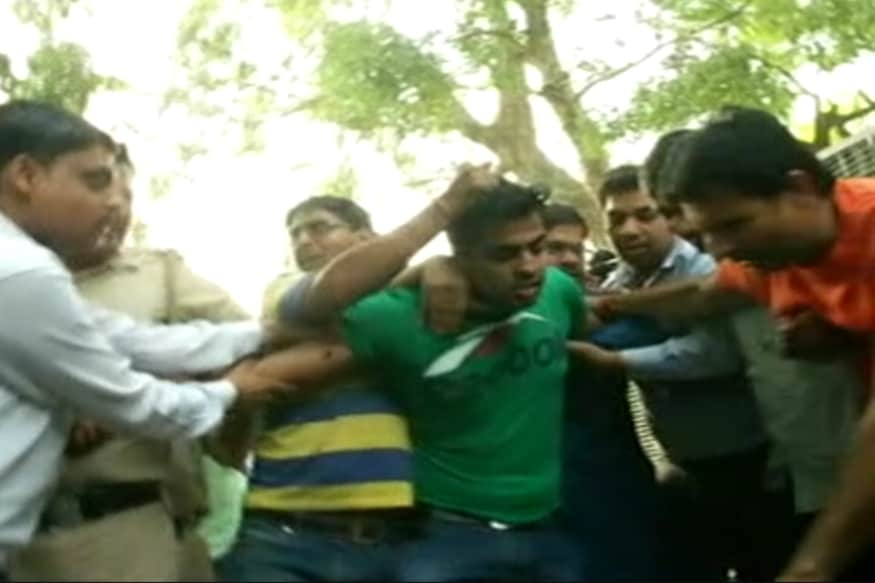 Kapil Mishra's attacker caught by supporters of the ex-minister.

As it happened.


15 Sep, 2019 |

Bangladesh Tri-Nation T20I Series

AFG
vs
BAN
164/6

20.0 overs

139/10

19.5 overs

Afghanistan beat Bangladesh by 25 runs

14 Sep, 2019 |

Bangladesh Tri-Nation T20I Series

AFG
vs
ZIM
197/5

20.0 overs

169/7

20.0 overs

Afghanistan beat Zimbabwe by 28 runs

13 Sep, 2019 |

Bangladesh Tri-Nation T20I Series

ZIM
vs
BAN
144/5

18.0 overs

148/7

17.4 overs

Bangladesh beat Zimbabwe by 3 wickets

12 - 15 Sep, 2019 |

The Ashes

ENG
vs
AUS
294/10

87.1 overs

225/10

68.5 overs

England beat Australia by 135 runs

06 Sep, 2019 |

New Zealand in Sri Lanka

SL
vs
NZ
125/8

20.0 overs

88/10

16.0 overs

Sri Lanka beat New Zealand by 37 runs