AAP Infighting: Kejriwal, Sisodia Meet Kumar Vishwas; PAC Meet at 11am
The rift within the Aam Aadmi Party remains unresolved even as senior leaders tried to reach out to Kumar Vishwas.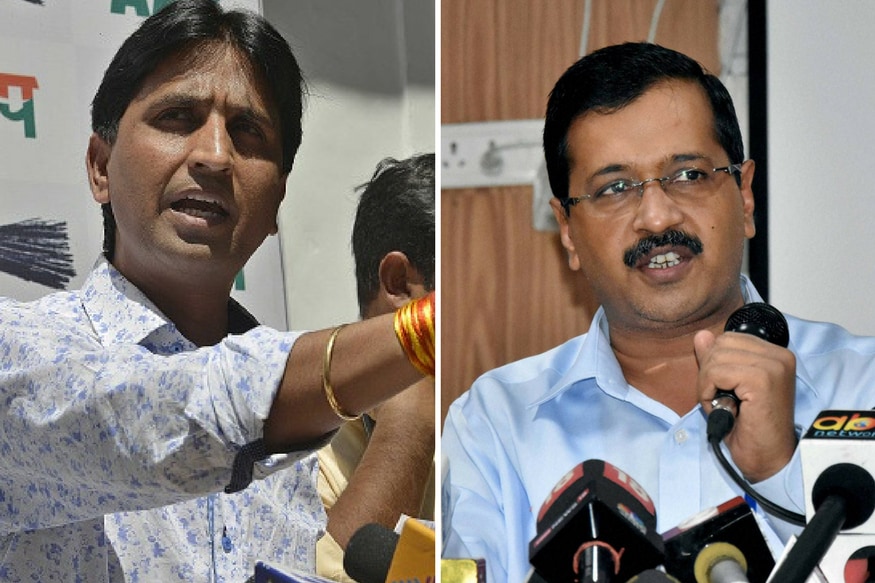 File photos of Kumar VIshwas and Arvind Kejriwal.
New Delhi: The rift within the Aam Aadmi Party remains unresolved even as senior leaders tried to reach out to Kumar Vishwas.
Delhi Chief Minister Arvind Kejriwal and his deputy Manish Sisodia reached Vishwas' residence late on Tuesday night and brought him along to the CM's residence for a meeting that went on for about an hour. Ministers Kapil Mishra and Imran Hussain were also present. A visibly upset Vishwas was later seen leaving the CM's residence.
The AAP has called for a meeting of its Political Affairs Committee on Wednesday. Vishwas will attend the meeting.
On Tuesday, Vishwas had said that he was disappointed with how the party dealt with Okhla MLA Amanatullah Khan's statement on him being a BJP agent. He also said he would decide his next course of action by the end of the day.
"Had such an allegation been made against Arvind Kejriwal that person would have been kicked out of the party," Vishwas had told CNN-News18.
Khan had alleged that Vishwas was conspiring to split the party and was planted by the RSS and the BJP.
"It's not just one MLA. I think someone else is behind it. After six continuous losses, our movement against corruption has been corrupted. Arvind Kejriwal and Manish Sisodia know that I don't want to be CM, deputy CM, or the party chief," he said.
Sisodia had hit out at Vishwas, saying "We are hurt by Kumar Vishwas' statements. No one had asked him to apologise."
Sisodia also said that Vishwas was making it a personal issue now, and he should have come to the Political Affairs Committee meeting to iron out the differences.
The deputy CM also denounced Vishwas' assertion that the party was founded by the trio - Arvind Kejriwal, Manish Sisodia, and Vishwas himself. "The party was not founded by the three of us but by thousands of workers," Sisodia added.
AAP is a democratic party and all members have the right to bring up any issue they feel like. It is up to the party to decide if it wants to take action or not," party spokesperson Ashutosh told the press on Tuesday.
Sources in the party said that Khan's statements had done more good than bad for Vishwas, who had decided to skip the PAC meeting on Sunday.
"If Vishwas is given a larger role in the party, I will support it. We are a democratic party," said Alka Lamba, AAP MLA from Chandni Chowk.
Soon after Khan's allegations, there were a series of unofficial meetings at deputy chief minister Manish Sisodia's residence on Sunday, attended by chief minister Arvind Kejriwal and senior AAP leaders Ashutosh, Gopal Rai, Sanjay Singh and several MLAs.
Later, Sisodia, Sanjay Singh and Alka Lamba paid a visit to Vishwas at his Ghaziabad residence. Despite visits from the leaders, Vishwas had refused to attend the crucial PAC meeting till Khan was sacked. Khan, soon after entering the PAC meeting, resigned from the committee.
Get the best of News18 delivered to your inbox - subscribe to News18 Daybreak. Follow News18.com on Twitter, Instagram, Facebook, Telegram, TikTok and on YouTube, and stay in the know with what's happening in the world around you – in real time.
| Edited by: Puja Menon
Read full article